Heart's Desire
What do you desire?
Go ahead, fantasize. I'm sure many things come to mind. Now that you've fantasized, quiet the images racing through your thoughts, and get really still.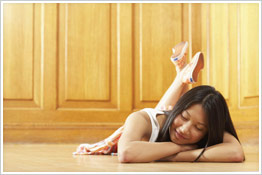 Now, what is your "heart's desire"?
My mom asked me that question during a critical moment in my life. We were together, reading our Bibles, studying, and praying for me. She looked up from her rocking chair and continued: "What do you really want?"
As I sat on the floor, I listened to God and truly put aside everything I thought I desired (and I had a pretty major desire). It took a lot of humility and trust, but the answer came to me clearly and persistently.
"I want to do God's will," I replied. It was that simple and that profound.
She looked down at the Bible and read:
Thou hast given him his heart's desire, and hast not withholden the request of his lips. (Ps. 21:2)
I cried. I was not sad; I was overwhelmed by God's love. God would give me (indeed, already had given me) my "heart's desire." He would not withhold anything from me that I truly desired, nor would He put me in a position that would jeopardize my ability to do His will, to follow Him with my whole heart.
God kept His promise.
This passage has remained an inspiration to me. It assures all of us that if desires come from our hearts, and not from our whims, God will fulfill them.
It's important to understand the meaning of "heart's desire." Our desires have to be honest and sincere. Most importantly, they have to include God. If we specify and outline exactly what we want down to the minutest detail, we will most likely miss what God has planned for us.
We may think we want a sports car for a cool ride. But, maybe we really want it to become more popular. So then, don't we really want companionship? Or maybe we just need transportation. Companionship and transportation are honest desires; a sports car probably falls under the "fantasy" desire category. We want to lose weight, get fit, and look better. But why? Maybe we want to attract a boyfriend or girlfriend. Don't we really want a stronger sense of self-worth, a clearer picture of identity and value? Don't we want to be satisfied with who we are? What does the heart truly want?
We have to be honest with ourselves in order to let our hearts speak.
So, let's ask again, "What is my heart's desire?" We may have to dig deep and get beneath the surface. We may have to examine our answers and the motives for wanting what we want. But the process is rewarding. When we know the genuine answer to that question, we can rest assured that God will indeed answer our requests.
Let's look at how the Bible reveals how God answers the desires of our hearts. Here are only a few examples. Feel free to scroll down to see if one of your desires is listed.
GOOD RELATIONSHIPS
Do we wish we had a boyfriend, a girlfriend -- someone to love and from whom to feel love?
I and my Father are one. (John 10:30)
Jesus' affirmation defines true companionship as eternal unity with God. If we understand our relationship with God, our oneness with our Father, then we will have a strong foundation upon which to build harmonious and lasting relationships.
Or do we wish that our current relationships were better?
For where two or three are gathered together in my name, there am I in the midst of them. (Matt. 18:20)
If God is in the "midst" or center of our relationships, then there isn't room for argument, division, discord. There's only room for love.
If we desire friendship, then we must be a good friend to others and follow Jesus' example:
A man that hath friends must shew himself friendly: and there is a friend that sticketh closer than a brother. (Prov. 18:24)

Greater love hath no man than this, that a man lay down his life for his friends. Ye are my friends, if ye do whatsoever I command you. (John 15:13, 14)
Are we doing what Jesus has commanded us to do -- to love God and to love our neighbor?
FAMILY
Do we desire to have a family or to feel closer to our own?
God setteth the solitary in families. (Ps. 68:6)

For whosoever shall do the will of God, the same is my brother, and my sister, and mother. (Mark 3:35)
These statements certainly expand our concept of family. A true family does God's will.
BEAUTY
Do we desire to be more good looking? Where are we looking to find beauty? In a gym, a drugstore, a salon? Perhaps we need to look in a better place.
Honour and majesty are before him: strength and beauty are in his sanctuary. (Ps. 96:6)
What are our models for beauty? Athletes? TV and movie stars?
One thing have I desired of the Lord, that will I seek after; that I may dwell in the house of the Lord all the days of my life, to behold the beauty of the Lord, and to inquire in his temple. (Ps. 27:4)
God's beauty provides the best, most consistent model -- perfection! How do we become beautiful?
And let the beauty of the Lord our God be upon us. (Ps. 90:17)
Isn't it incredible to think that God's beauty is "upon us"? The more we "let" God beautify our thoughts, words, actions, and lives, the more beautiful we are. And if God's beauty isn't enough for us, then we need to examine our concept of beauty, ourselves, and God.
EMPLOYMENT
Do we desire a job or a fulfilling career? What are we doing to understand our real job in life?
Study to shew thyself approved unto God, a workman that needeth not to be ashamed, rightly dividing the word of truth. (II Tim. 2:15)

And that ye study to be quiet, and to do your own business, and to work with your own hands, as we commanded you; That ye may walk honestly toward them that are without, and that ye may have lack of nothing. (I Thess. 4:11, 12)
f we think of ourselves as being employed by God, we can rest assured that we have plenty of work to do -- to understand the truth. What is more, this means that we have the best boss in the world -- a boss with unlimited resources who will mentor us with infinite patience and guide our every move; a boss who trusts us, sees our inherent value, and appreciates our individuality.
PURPOSE, OR BEING GOOD AT SOMETHING
Do we desire to understand our purpose in life, to have our own niche, or to be good at something?
But unto every one of us is given grace according to the measure of the gift of Christ…. And he gave some, apostles; and some, prophets; and some, evangelists; and some, pastors and teachers…. (Eph. 4:7, 11)

Now there are diversities of gifts, but the same Spirit…. But the manifestation of the Spirit is given to every man to profit withal. (I Cor. 12:4, 7)
Every one means every one. Not one person is left out. God needs each and every one of us, and he needs us to be our own, unique, individual selves. Each one of us expresses God's beauty, intelligence, grace, completeness, excellence, creation differently. As a result, we are all vitally significant to God and to the rest of creation. Our purpose is to express and glorify God.
MORE TIME
Do we feel we need more time to get work done? Do we desire time to spend with family, friends, God? Maybe we need to see what takes up our moments and days and then prioritize.
But, beloved, be not ignorant of this one thing, that one day is with the Lord as a thousand years, and a thousand years as one day. (II Pet. 3:8)
If we spend more time with God, we would discover that the constraints, or limits, of time disappear. We would discover that we have "a thousand years," or infinity, to get everything done that we need to do. Things will become easier because we are moving in His rhythm. As we make our family more important than things, we have more "time" to be with those we love.
WEALTH
Do we believe we need wealth -- more money so we can give to others or support ourselves?
Blessed is the man that feareth the Lord, that delighteth greatly in his commandments. His seed shall be mighty upon earth: the generation of the upright shall be blessed. Wealth and riches shall be in his house: and his righteousness endureth for ever. (Ps. 112:1-3)
Wealth is not simply an abundance of money. Real wealth is the result of delighting in God's commandments, in following God's laws. Wealth does not come from accomplishments made without God, as this next passage reveals:
And thou say in thine heart, My power and the might of mine hand hath gotten me this wealth. But thou shalt remember the Lord thy God: for it is he that giveth thee power to get wealth, that he may establish his covenant which he sware unto thy fathers, as it is this day. (Deut. 8:17-18)
We know that a man in the Bible who was known far and wide for his wealth never asked for it. When Solomon had the chance to ask God for whatever he wanted, he let his heart speak and asked for "wisdom and knowledge." And because of this, God responded:
Because this was in thine heart, and thou hast not asked riches, wealth, or honour, nor the life of thine enemies, neither yet hast asked long life; but hast asked wisdom and knowledge for thyself, that thou mayest judge my people, over whom I have made thee king: Wisdom and knowledge is granted unto thee; and I will give thee riches, and wealth, and honour, such as none of the kings have had that have been before thee, neither shall there any after thee have the like. (II Chron. 1:11-12)
INSPIRATION, UNDERSTANDING
So maybe we're like Solomon. Do we desire more "wisdom and knowledge," creativity, inspiration, or ideas? Do we wish we understood life better, God better?
But there is a spirit in man: and the inspiration of the Almighty giveth them understanding. (Job 32:8)
Inspiration and wisdom come from God and therefore, never run out. Because inspiration is unlimited, we will always know what we need to know when we need to know it so long as we are accepting God's gift of understanding.
DOING GOD'S WILL
What if I really just want to do God's will? How will I know if it's God's will?
For this cause we also, since the day we heard it, do not cease to pray for you, and to desire that ye might be filled with the knowledge of his will in all wisdom and spiritual understanding. (Col. 1:9, 10)
The prayers of the disciples are living prayers. They are still effective and meaningful for all of us today.
Now the God of peace . . . [m]ake you perfect in every good work to do his will, working in you that which is wellpleasing in his sight, through Jesus Christ; to whom be glory for ever and ever. (Heb. 13:20, 21)
We indeed can hear God's voice and do His will because God created us to hear and understand Him. He is powerful enough to make us understand Him.
GIVING, MAKING A DIFFERENCE
Do we want to contribute something to the world, to make a difference, to leave a lasting mark, to invent something that will change our society? Or do we want to give others a lasting gift because they have given so much to us?
Every good gift and every perfect gift is from above, and cometh down from the Father of lights, with whom is no variableness, neither shadow of turning. (James 1:17)
One of the best ways we can give to others is to realize that God gives to all of us unconditionally. He is forever blessing us, always giving us everything we need so that we can give to the world.
TRUST
Do we desire to trust in God more? Most important in having our desires fulfilled is knowing, believing, and being confident in God. We have to learn to trust that when our prayers are sincere, honest, and God-directed, they are effective.
Therefore I say unto you, What things soever ye desire, when ye pray, believe that ye receive them, and ye shall have them. (Mark 11:24)
Too often we pray without expecting immediate, practical, and effective results. Prayer is not an "I wish" statement. Prayer is an affirmation of everything God is, an understanding that he meets all of our needs, a listening session to God telling us how much He loves us and provides for us. When we expect to have our real desires fulfilled, we will not be surprised when our hearts find peace in God.