Hopeless? Never!
"It's hopeless!"
… is a sentiment we hear, often accompanied by a heavy sigh of frustration, usually meaning we're at the end of the rope. We are sure that there's no bright side, no possibility for a solution, no way to get out of the misery we or others are experiencing.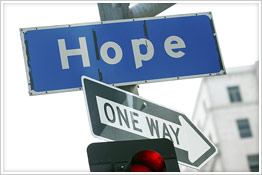 But what exactly is hopeless?
Saving a friendship? Finding a job? Feeling loved? Getting along with our family? Recovering from a terminal illness? Establishing peace in troubled regions of the world? Starting over? Continuing after we've lost a loved one?
And for whom is it hopeless?
Certainly not for God! -- or for God's beloved children (all of us) when we trust in Him.
Nothing is hopeless for God and His children!
There are too many examples of people who have beaten the odds and proven that nothing is hopeless. Lance Armstrong proved that you can beat cancer and win the Tour de France seven times. I know people who have been restored to full health and mobility after a stroke. Others, who were broke, have turned totally to God and ended up making millions. Moses parted the waters of the sea and led the children of Israel to freedom. And Jesus (whom the shepherds and wise men recognized as the savior they had hoped for) proved that life is eternal, raising the young man, Jairus' daughter, Lazarus, and himself from the grave. 
But if we believe
that we have to solve all of our problems on our own,
or that no one else can really help us,
or that no solution really exists,
then, indeed, we have decided to feel hopeless. If this is the case, our hopelessness is really based on our ignorance or forgetfulness of God's ever-present and all-powerful love for all of His children.
The Psalmist writes:
Why art thou cast down, O my soul? and why art thou disquieted within me? hope thou in God: for I shall yet praise him, who is the health of my countenance, and my God. (42:11)

Happy is he that hath the God of Jacob for his help, whose hope is in the Lord his God. (146:5)
When we hope in God, we discover that God is:
our health,
the source of our happiness,
our forever Helper.
Now the fact is that God is the source of our health, happiness, and help even if we don't hope. But without hope, we don't benefit. It's like being out in the middle of a huge lake in a small little boat with a broken motor, not knowing that there are oars tucked away out of view in the side panels. The oars are there -- all the time -- to help, but because we don't see them, we become discouraged and lose faith that we can ever get home. But if we have hope and start searching, we find the oars and row back. It may take a lot of work, and we may have to fight fatigue. But with hope and those oars, we feel buoyed and find the strength to row to shore. Hope saves us.
Hope is "the highest degree of well-founded expectation of good" (Webster, Student Reference Dictionary). When we have hope, we actually believe that we can obtain that for which we hope. We expect good things to happen to us. We "trust;" we "feel confident;" we "look on the bright or sunny side;" we have "faith" (Rodale's Synonym Finder).
Now faith is the substance of things hoped for, the evidence of things not seen." (Heb. 11:1)
Hope requires us to:
look beyond the testimony of the senses -- what we see with our eyes;
acknowledge that there is a power and presence greater than us, which is God;
refuse to believe that any situation is out of God's control;
trust in this power, God, which our five senses cannot comprehend;
allow ourselves to see and feel spiritually so that we can experience the calm that comes with feeling God's overwhelming love for us.
Hope asks a lot of us, but it doesn't require of us anything we cannot do. For when we know our reward, it makes the struggle bearable. When we realize that nothing can kill our spirit, because nothing can kill God, the Author of our spirit, joy, life, we have found a hope that cannot be taken away from us.
What does hope in God do for us? Hope gives us:
rest and gladness (Ps. 16:8-10);
courage and strength (Ps. 31:24);
a guardian, as God watches over us (Ps. 33:18);
a listening ear, as God hears us (Ps. 38:15);
health (Ps. 42:11);
a sure hiding place and protection (Ps. 119:114);
mercy and redemption (Ps. 130:7);
happiness (146:5);
supply (Jer. 17:7, 8);
grace (Rom. 4:16, 5:2);
salvation (Rom. 8:24; I Thess.5:8);
evidence of God fulfilling His promises (Rom. 4:16-25; 15:4, 5; Heb. 6:11-20);
peace (Rom. 15:13);
eternal life (Titus 1:1-3);
our rights as an heir of God (Titus 3:7);
an incorruptible, undefiled, unfading inheritance in heaven (I Pet. 1:3-6);
purity and love (I John 3:1-3).
Why wouldn't we want to hope! Hope enlightens our life!
Sometimes we may find ourselves either stuck in or looking at situations that seem pretty desperate. Or we may feel that we've been waiting for a long time for some sign of hope, which hasn't come yet. Well, what happens if we give up, if we fall for the doubt and despair? No good thing; that's for sure! Instead, we invite, even encourage, defeat and failure. We find ourselves living among shadows of uncertainty, spiraling deeper into darkness and fear. That's no place to live. So we must never give up! A single ray of light can shatter this sense of darkness. And even the plant which has been cut down can grow again, as Job reminds us:
For there is hope of a tree, if it be cut down, that it will sprout again, and that the tender branch thereof will not cease. (14:7)
If we ever feel that our dreams, desires, supply, health, happiness, or life has ever been cut away from us, may we tend to the garden of our lives, water our roots, and encourage the tender branch of our being to reach out to the light that will break the darkness and enable our lives to grow again. And during this Christmas season, may this be part of our prayers for our human family. Let's think on this … and have hope:
Blessed is the man that trusteth in the Lord, and whose hope the Lord is. For he shall be as a tree planted by the waters, and that spreadeth out her roots by the river, and shall not see when heat cometh, but her leaf shall be green; and shall not be careful in the year of drought, neither shall cease from yielding fruit. (Jer. 17:7, 8)