Sure-Fire Travel Tips
Traveling is one of the good things in life. We get to see different places, meet other people, and learn about different cultures within our own country and in other countries. It enriches our lives. But sometimes, traveling can be stressful and not as harmonious as we would like. So how can we ensure that our trips will be fun, joyous, harmonious, productive, and full of love?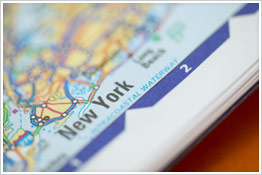 Purpose
As we begin our planning, we might think about why we're taking the trip. While on the surface, it may be to go on a family vacation, spend fun time with friends, see a different part of the world, conduct business, or help family members, our purpose is really directed by God. And even if we don't want to go on the trip, or we don't like what's planned, let's remember that Paul explains that "whatsoever ye do, do all to the glory of God" (I Cor. 10:31). The purpose of any trip is to glorify God.
Prayer
Rather than worry about how to ensure a problem-free trip, or fret about family harmony and safety, or wish you could do something else, pray! See the adventure through God's eyes.
Be convinced that there's nothing that God cannot handle. Understand that because everyone is God's child, harmony is natural. So, we should expect harmony.
Truly realize that there is nothing to fear, since God is absolutely everywhere. The 91st Psalm always gives comfort and security (read below).
Know, without a shadow of a doubt, that God governs everyone on the road, in the airports, at the hotels, in the country, around the world. We're all in our right place!
Trust that God will meet all our needs: "my God shall supply all your need according to his riches in glory by Christ Jesus" (Phil. 4:19).
Whatever else comes to thought to shake or rattle us, rather than worry, pray.
Preparation
Proper preparation and planning is essential for a successful trip. There's lots to do, and it varies with each trip. Practical preparation is important in helping things run smoothly. Making running "to do/to bring" lists that we keep close by and check before we leave goes a long way toward helping us do and bring everything we need. But covering all the logistical bases is not a full-proof way to ensure a successful and happy trip. If we really want to prepare for our trip, then we must prepare our hearts. We read, "The preparations of the heart in man, and the answer of the tongue, is from the Lord" (Prov. 16:1). When we allow God to prepare our hearts, we hear His answers, and all the details fall into place.
Attitude
As we allow God to prepare out hearts, we allow Him to enrich us with attitudes that will bless. This then, is the sure-fire way to have a harmonious and memorable trip -- to prepare our hearts, our thoughts, our attitudes by allowing God to fill us with His everlasting Love. Why are our thoughts, our attitudes, so important? Well, we can't always determine or control what happens on a trip: the flight may get delayed or cancelled; the car may break down; there may be a traffic jam; the hotel reservations may be messed up; luggage may get lost; the bag with all the cameras may have gotten left at home, you name it. But the one thing that we can always control and affect is our attitude -- how we think about, respond to, or react to a situation. Our attitudes can either increase stress and strife or bring peace and joy. What's the point of blaming someone for leaving something at home? Will it help magic it there instantaneously? What's the point of stressing out if a flight is delayed? Will it make it suddenly on time? No! But aligning our thoughts with God and having a good attitude certainly can make a difference and bring about positive results.
Listen to God for everything -- even for what to bring and wear. It may sound silly, but if we practice listening to God for the little things, we'll be more likely to know His voice when He's telling us what to do about the "big things."
Trust in God to take care of every detail of this trip. It's God who's really in charge, not us, parents, business associates, etc. God has told us, "I will direct all [your] ways" (Isa. 45:13). Knowing this, we can turn every aspect of the trip over to God, whose plan is always better than our own anyway.
Be joyous, no matter what! The Bible tells us, "Make a joyful noise unto the Lord, all the earth: make a loud noise, and rejoice, and sing praise" (Ps. 98:4). The Psalmist doesn't advise us to feel and act grumpy, complaint-filled, stressed, frustrated, etc.
Express love in all you do and towards all those with whom you come into contact. Jesus really expected us to "love one another as I have loved you" (John 13:34).
Put others first. Paul reminds us, "Be kindly affectioned one to another with brotherly love; in honour preferring one another" (Rom. 12:10). So, rather than thinking about ourselves and what we want to do, let's make sure we ask others what they want to do, which may mean that we let go of what we want to do. But don't worry: if what we want to do is a right activity, we can't be punished; we can only be blessed.
Help others. Look for things you can do to help those with whom you're traveling and those you might meet along the way. If you've ever been in a situation where you've felt stranded, you know what it means to have someone help you. Also, the one who helps receives an amazing gift from reaching out to others -- a tremendously generous feeling that is unexplainably wonderful.
Seek harmony in every situation and relationship. No arguing, no yelling, no bickering, no blaming, no name-calling, no fault-finding, no criticizing -- none of that is allowed!

The Psalmist tells us to "seek peace, and pursue it" (34:14).
We're also told, "Let nothing be done through strife or vainglory; but in lowliness of mind let each esteem other better than themselves….Do all things without murmurings and disputings" (Phil. 2:3, 14).
And Jesus explains the reward of those who seek peace and harmony: "Blessed are the peacemakers: for they shall be called the children of God" (Matt. 5:9).

Speak kindly to each other with a gentle tone of voice. It's helpful to remember: "A soft answer turneth away wrath: but grievous words stir up anger" (Prov. 15:1). If we have an accusatory, blaming, condescending, or insulting tone of voice, the people we're speaking to will not hear what we say; they'll only hear the tone in our voice. So if we really care about the message we're sending, we want to make sure we send it with love.
Emphasize the good that's going on. Point out what's right. We tend to experience what we see, so if all we do is expect problems and focus on what's going wrong, we'll tend to see problems and have a pretty miserable time. But if we look for good, we'll find good and bring good into our experience.
Be courteous to everyone, including all family members, business associates, friends, people on the road, and those serving at airports, hotels, amusement parks, etc. It's amazing how far a smile and courtesy go and how little criticism and blame do.
Express gratitude for just about everything. Don't complain if things don't go your way or aren't what you expect. This doesn't mean that you don't try to rectify a bad situation. This just means that you have a positive attitude and work out the problem from a standpoint of gratitude rather than frustration. Complaining makes things worse.
Thank those who are helping you for what they've done.
Let go of the past. What is done is done. Don't mull over mistakes. Figure out how to start fresh. It's easier when we trust in God: "And he that sat upon the throne said, Behold, I make all things new" (Rev. 21:5).
Be calm in stressful situations. Without a sense of calm trust that things are going to work out, it's incredibly difficult to think straight. If all we're doing is paying attention to the voices of worry, concern, and fear, we may miss God's angel messages which are telling us exactly what to do.
Bring excitement to the trip. Turn mundane things into games. Don't give into feeling bored or announce it. Boredom means we're not using our imagination well enough and are relying on others to entertain us, and that's a pretty selfish attitude, which really produces nothing but sorrow and strife.
Plan ahead to bring things that will make the trip enjoyable.
Be flexible and willing to change plans, adjust time schedules, look at something differently, help with clean-up, food preparation, baby-sitting, etc. A willing attitude helps; rigid will power hurts. It's a well-known fact that it's easier to steer a car that's in motion. So allow thoughts and actions to move. We may find that we end up in an incredible place.
Have a sense of adventure. Not everything may go as planned, so it's great to turn everything into an adventure.
Appreciate what's around us. It may be different, but we can always find something to learn and appreciate from new surroundings. Let's not miss an opportunity to expand our horizons, knowledge, and sense of our world.
Respect others, their opinions and desires. Act and speak respectfully in all ways. This also includes what we wear. We want to make sure that we wear clothes that respect those around us, that don't draw the wrong kind of attention to us (either too sloppy or too revealing). For a good reason, Jesus said, "Take no thought for your life, what ye shall eat; neither for the body, what ye shall put on. The life is more than meat, and the body is more than raiment" (Luke 12:22).
There are certainly more ways we can uplift our thoughts so that our trips are full of harmony and joy, but these provide a great beginning. As we allow God to prepare our hearts, we can trust that we'll hear His voice every step of the way. So as we plan and take our trips, let's answer the call: "Rejoice evermore. Pray without ceasing" (I Thess. 5:16, 17). Let's enjoy our journeys with God!
To take along with you on your adventure:
Psalm 91:1-16
He that dwelleth in the secret place of the most High shall abide under the shadow of the Almighty. I will say of the Lord, He is my refuge and my fortress: my God; in him will I trust. Surely he shall deliver thee from the snare of the fowler, and from the noisome pestilence. He shall cover thee with his feathers, and under his wings shalt thou trust: his truth shall be thy shield and buckler. Thou shalt not be afraid for the terror by night; nor for the arrow that flieth by day; Nor for the pestilence that walketh in darkness; nor for the destruction that wasteth at noonday. A thousand shall fall at thy side, and ten thousand at thy right hand; but it shall not come nigh thee. Only with thine eyes shalt thou behold and see the reward of the wicked. Because thou hast made the Lord, which is my refuge, even the most High, thy habitation; There shall no evil befall thee, neither shall any plague come nigh thy dwelling. For he shall give his angels charge over thee, to keep thee in all thy ways. They shall bear thee up in their hands, lest thou dash thy foot against a stone. Thou shalt tread upon the lion and adder: the young lion and the dragon shalt thou trample under feet. Because he hath set his love upon me, therefore will I deliver him: I will set him on high, because he hath known my name. He shall call upon me, and I will answer him: I will be with him in trouble; I will deliver him, and honour him. With long life will I satisfy him, and shew him my salvation.