Test Prep: Don't Forget About Prayer
Taking exams is a regular part of high school and college life, and it can be nerve-wracking. Trying to figure out how, exactly, to prepare most effectively, plus worrying about the lack of time can sometimes feel overwhelming. But it is possible to take exams without feeling anxious and overwhelmed.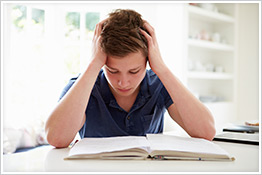 If you find yourself flooded with these feelings, you can literally take a step back from your study materials and take a moment to commune with God. You may feel as if you don't have time to pray. But listening to God's calming thoughts can actually help relax you and direct your study so that you focus on what's really necessary. Then your study becomes more productive.
The Bible offers ideas that calm anxious thoughts at exam time and beyond:
Don't worry about anything; instead, pray about everything. Tell God what you need, and thank him for all he has done. (Philippians 4:6,7 NLT)

Be humble under God's powerful hand so he will lift you up when the right time comes. Give all your worries to him, because he cares about you. (I Peter 5:6,7, NCV)
Just knowing that God cares about you can do wonders to calm down anxious thoughts. And since we have the choice to worry or pray, I pick prayer. We don't make very good decisions when we're worried, but when we're open to God—trusting in God's goodness, power, and wisdom—we're able to feel inspired and comforted. Moreover, being grateful for all God has already done for us and is doing for us opens us up to more blessings, more direction, more clarity.
Psalm 121 is also an excellent resource when preparing for exams. Eugene Peterson has a wonderful paraphrase:
I look up to the mountains;
does my strength come from mountains?
No, my strength comes from God,
who made heaven, and earth, and mountains.

He won't let you stumble,
Your Guardian God won't fall asleep.
Not on your life! Israel's
Guardian will never doze or sleep.

God's your Guardian,
right at your side to protect you—
Shielding you from sunstroke,
Sheltering you from moonstroke.

God guards you from every evil,
he guards your very life.
He guards you when you leave and when you return,
he guards you now, he guards you always. (The Message, Ps 121:1-8)
You can expect to have a clear mind throughout your exam and beyond. God is right there with you, every moment, guiding you and giving you great ideas. You can take positive steps to diligently prepare for your exams without worrying. God is guiding you, so you'll know exactly what you need to do to perform well.
Prayer is an essential element of test preparation and every other aspect of daily life. You have an opportunity to listen to God's loving guidance every day. Have a wonderful time taking your exams. God is guiding you!