The Power of Gratitude
Thanksgiving is truly one of the most important days for the United States of America. It is a time to be grateful for everything God has given us.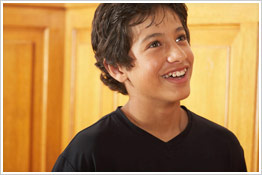 Giving thanks to God and counting our blessings is also an important daily activity. Sometimes, though, we get so caught up in everything we have to do that we forget to give thanks. And sometimes, it seems that we have nothing for which to be grateful. There are times in life when we feel down, when nothing seems to be going right. Friendships may have gone sour; school feels overwhelming; we don't ever seem to get the part in the school play or win the football game; we always seem to be arguing with our parents or siblings. These are the times when gratitude plays a powerful role in our lives.
We have a choice to make. And this choice has the power to alter our experience:
We can complain about the situation, focus on everything we lack, wallow in self-pity, feel victimized, and blame others for our misfortunes;

OR


We can be grateful for what is going right in our lives, appreciate the good that is ours, and look for the lessons we can learn.
Sometimes it's tempting to go with the first choice. But let's think about how we really feel when we focus on what we lack. We feel:
Inferior: We're not smart, strong, or good-looking enough. We don't have enough money, influence, friends, clothes, things.
Overwhelmed: Problems seem to engulf us. We don't know how to solve them. Sometimes we'd rather just sulk and talk about all of our problems.
Depressed: Life seems kind of worthless, rather dark.
Contrary or Moody: Complaining is easy. We can find fault in just about anything or anyone. We let little things affect us.
Victimized: We feel that others are out to get us, that life isn't fair, that we're not responsible for our situation, and that we get a raw deal.
Now, here's the alternative. Let's look at how we feel when we concentrate on what's going right or what's good in our lives. We feel:
Satisfied: We love who we are, like what we do, and are confident that we're going in the right direction. We appreciate our relationships and value our God-given qualities that make us uniquely ourselves.
Confident: We know that we can do whatever we need to do. We find solutions to problems. We are able to help others. We could climb Mt. Everest if we wanted.
Happy: We laugh and smile a lot. We're energetic. We make other people feel comfortable. There's a light, cheery atmosphere around us; a spring in our step.
Positive or Easy-going: We see the good in others and ideas. We roll with the punches. We don't take things personally. The world seems like a pretty good place to live.
In Control: We have a calmness about us, a strong trust. The rhythm of life is settled. We know that while we experience many different emotions, we don't have to act on every one of them. Indeed, we are able to think clearly and to make good decisions.
What is the power of gratitude?
It changes our perspective, our outlook, our feelings. It can even change how we express ourselves. As a result, gratitude changes our experiences.
But how can we feel grateful? How do we get to experience the joy that gratitude brings when things around us are really a mess?
Well, we have to take the first step:
Find ONE thing for which to be grateful.
Then, find something else for which we're grateful. It could be as simple as being grateful for a pet, or for a smile someone gave us, or for the Thanksgiving holiday.
Keep going. Pretty soon, we have a gratitude list. Sometimes it helps to write down the list because it tends to feel more concrete and real that way.
When we really fill our thoughts with gratitude, it's hard for there to be any room left for depression, criticism, etc.
And when we are grateful for all the good God has given us or others, we bring the blessings and the power of gratitude into our lives.
And if we're still having trouble finding something in our own experience, we can turn to the Bible to reassure us.
At least two different times, with only a few loaves of bread and a few fish, Jesus fed the multitudes:
And he commanded the people to sit down on the ground: and he took the seven loaves, and gave thanks, and brake, and gave to his disciples to set before them; and they did set them before the people. (Mark 8:6)
Before he broke the bread, he gave thanks. He had a grateful state of thought, a thought that saw the infinite possibilities of good, a thought that saw fulfillment rather than lack. This thought, this conviction really, provided for the multitudes.
Before Jesus raised Lazarus from the grave, he expressed his gratitude for God's power and his ever-present listening ear:
And Jesus lifted up his eyes, and said, Father, I thank thee that thou hast heard me. And I knew that thou hearest me always: but because of the people which stand by I said it, that they may believe that thou hast sent me. (John 11: 41-42)
Gratitude preceded the healing. Jesus made thanking God a habit. And we, too, can make thanking God a habit. The psalmist writes:
It is a good thing to give thanks unto the Lord, and to sing praises unto thy name, O most High: (Ps. 92:1)
And why should we be grateful to God?
The Apostle Paul exclaims:
But thanks be to God, which giveth us the victory through our Lord Jesus Christ. (I Cor. 15:57)

Now thanks be unto God, which always causeth us to triumph in Christ, and maketh manifest the savour of his knowledge by us in every place. (II Cor. 2:14)
God enables us to be victorious. Since we're winners with God, we can't be losers. We don't lack anything that we truly need because God supplies all of our needs through the Christ. If all of our needs are met, then there's no reason to complain, to wallow in despair.
And what does our gratitude bring into our lives?
O give thanks unto the Lord; for he is good; for his mercy endureth for ever. (I Chron. 16:34)
Mercy. Gratitude allows us to feel God's mercy, which is everlasting. His goodness, care, compassion, and unconditional Love for us are ever with us. Even when we make mistakes, God is merciful to us; He is tender. God's arms are always there to comfort us. This in itself is an elevating thought that should lift us out of the pit of complaint.
With such an elevated thought, we are open for whatever God has in store for us. We are open, ready to receive God's blessings for us, ready to have our lives changed by the power of gratitude.