The Promise of Resurrection
Jesus' words, prayers, and actions in the Garden of Gethsemane on the night of his betrayal have always amazed me. Knowing he's going to be crucified, he tells his disciples that his "heart is breaking with a death-like grief" and asks them to stay awake and pray (Matt 26:38 Phillips). Then he turns to God:
And he went a little farther, and fell on his face, and prayed, saying, O my Father, if it be possible, let this cup pass from me: nevertheless not as I will, but as thou wilt. (Matt 26:38-39 KJV)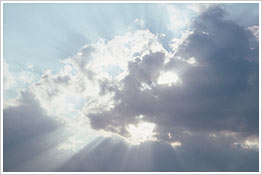 Jesus prays like this three times. He would rather not drink this particular cup, which promises tremendous suffering.
But there's that "nevertheless." He was about to endure torture, unjust accusations, taunts, insults, and crucifixion. Nevertheless, Jesus affirms, I'll do your will, God: "My Father, if it is not possible for this cup to pass from me without my drinking it, then your will must be done" (Matt 26:42 Phillips). This humble prayer has come down through the ages, has touched our hearts, and has served as an ideal example for us. As Christians, we yearn to do God's will.
During a recent re-reading of this ever-so-familiar story, a new and powerful insight dawned upon my thought, clarifying and beautifying the meaning of God's will.
God's will was -- and is -- the resurrection! That's a promise!
A wonderful sense of light filled my being. God's will is Life, never death. Where we see death, God sees Life.
Let's explore this. Jesus knows he will undergo extreme torture and crucifixion, but he also knows he will make it through alive. He explains this to his disciples:
"We are going up to Jerusalem, and the Son of Man will be delivered over to the chief priests and the teachers of the law. They will condemn him to death and will hand him over to the Gentiles to be mocked and flogged and crucified. On the third day he will be raised to life!" (Matt 20:18-19 NIV)
What an amazing promise, which the disciples never really get until after the resurrection. They can't conceive of the Messiah being humiliated with crucifixion. It simply is not in the realm of possibility. For eons, they have been interpreting scriptural prophesies to mean that their Savior will free them from foreign domination. So being captured by Romans and nailed upon a common criminal's cross just doesn't fit.
When Jesus' followers see that their dear leader has indeed been crucified, they're incredibly depressed. Every material testimony and record point to failure, defeat, death. They aren't looking at the situation with God's eyes. They are stuck in the tomb. Where we see death, God sees Life. And Jesus understood that vision.
Jesus allowed himself to go through the crucifixion to get to the resurrection. If he could have proved to the world that life was eternal and death could be defeated in any other way, he probably would have chosen it. But we humans are sometimes dense. Sometimes it takes a major calamity to wake us up to God's enduring and abiding love.
Do we really have to struggle? Maybe so, maybe not. Suffering on some level seems inevitable in this human experience. We all have our own individual journey to explore. Sometimes we bring on our own suffering. Sometimes we're faced with problems that we don't deserve. More than anyone, Jesus did not deserve the treatment he endured. But he faced the cross -- even though he didn't really want to -- because he loved God, and he loved us. He also had confidence in the resurrecting power of the Christ.
Jesus resurrection was not just for himself, but for his followers and for the world. What the resurrection tells us is marvelous: Death is not the end. Life is eternal. And … God loves us! Jesus' experience proves God's ever-present and all-encompassing Love.
How do we act when we know we are assured of victory? What would be our attitude if we knew we would come through each and every challenge successfully -- that we would resurrect, be born again, gain a new perspective on life?
Would it make the suffering more bearable? Would we express confidence? Would we be able to rejoice during the ordeal? Yes. Jesus shows us how!
When a tough or desperate situation crosses our path, we can rest assured that there is a resurrection waiting for us. As we walk toward our resurrection, we can do the following:
Crucify our own human will and listen to God.
Humbly and willingly yield to God's will.
Have that same sense of conviction and confidence that Jesus had.
Rejoice in the truth that God lifts, raises, and saves us.
We don't have to have a naïve attitude about going through a difficult time. Jesus didn't. But he saw that beyond the trials, there is triumph. Beyond the pain, there is peace. Beyond the grave, there is life -- here and now.
God loves us so much. It's impossible to explain just how much. That's why it's only natural that God's will for us, His dear and darling children, is Life … and a life of Love.