Why Worry?
Stress, anxiety, low-level fear. Do you live with it—that constant sense of concern? Worrying about friends, school, college, grades, jobs, relationships, clothes, food, cars, and on and on?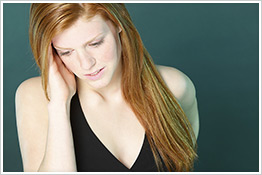 Jesus had some things to say about worry. It's in the Sermon on the Mount. He said, "Don't worry." He not only explained why we shouldn't worry, he also proved how to live a worry-free life. And there were plenty of things he could worry about—persecution and crucifixion at the top of the list.
God's got us covered from head to toe. That's why we don't need to worry. God's taking care of us. Jesus had such a great sense of humor: "Can any one of you by worrying add a single hour to your life?" (Matt 6:27 NIV). Or, "Has anyone by fussing in front of the mirror ever gotten taller by so much as an inch?" (The Message).
Worrying cannot fix a single thing. Stressing out about a test doesn't get us a good grade. Worrying about what we're going to wear for a dance doesn't help us pick the right clothes. Being concerned about problems in a relationship doesn't bring resolution.
We might not see a way out of all our problems, but listening to God brings healing solutions. Why? Because God gives us guidance, clarity, direction upon which we can act. "We can't pray and worry at the same time," a dear friend of mine says. We can't pray effectively, we can't hear God's voice, if all we listen to are fear-induced thoughts. But we want to hear what God is saying; we want to see what God is showing us. God's ways are always better than our ways, and they bring peace, comfort, assurance. All we have to do is trust God to care for us.
So how can we trust? Just look around. Look at nature. See what God has done. Nature is full of gorgeous symbols of God's love for us—the beautifully cared for birds, the resplendently-colored flowers, the majestic trees, the infinite variety of animals. God cares for all these animals, so God cares for each one of us even more. We better believe it!
And being in nature allows us to disconnect from all the things that tend to make us worry and enables us to commune more easily with the divine, to breathe more expansively, to rest and relax, to open up to God's amazingly beautiful universe of Love. So taking a moment every day to go outside and connect with God is a great way to stop worrying.
How else do we stop worrying? It can seem like a leap of faith. But that's what faith is. It's trusting in what we can't see: "Faith makes us sure of what we hope for and gives us proof of what we cannot see" (Heb 11:1 Darby).
We have a choice: worry or pray. Now God is taking care of us even if we do worry. But we'll have a much happier time, and we'll be more likely to hear God's voice and see our way out of any problem, if we pray—if we turn wholeheartedly to God and put all our trust in God. When we trust God to care for us, it really is hard to worry. See, worry means we don't believe that God can handle it. God's not capable. God's not all-powerful. God's not God. Well…God is God, and God is totally capable of caring for you.
God made you, and loves you, and wants you to be happy, and is sending you blessings continually. So, when we lean into God's blessings, when we look around and see how God is caring for every little thing, we can rest assured that God is caring for us. And if God is caring for us, why worry?
Matthew 6:25-34 The Message
"If you decide for God, living a life of God-worship, it follows that you don't fuss about what's on the table at mealtimes or whether the clothes in your closet are in fashion. There is far more to your life than the food you put in your stomach, more to your outer appearance than the clothes you hang on your body. Look at the birds, free and unfettered, not tied down to a job description, careless in the care of God. And you count far more to him than birds.
"Has anyone by fussing in front of the mirror ever gotten taller by so much as an inch? All this time and money wasted on fashion—do you think it makes that much difference? Instead of looking at the fashions, walk out into the fields and look at the wildflowers. They never primp or shop, but have you ever seen color and design quite like it? The ten best-dressed men and women in the country look shabby alongside them.
"If God gives such attention to the appearance of wildflowers—most of which are never even seen—don't you think he'll attend to you, take pride in you, do his best for you? What I'm trying to do here is to get you to relax, to not be so preoccupied with getting, so you can respond to God's giving. People who don't know God and the way he works fuss over these things, but you know both God and how he works. Steep your life in God-reality, God-initiative, God-provisions. Don't worry about missing out. You'll find all your everyday human concerns will be met.
"Give your entire attention to what God is doing right now, and don't get worked up about what may or may not happen tomorrow. God will help you deal with whatever hard things come up when the time comes.