Addressing Boredom
Question
I don't have much going on this summer, and I get so bored sometimes. What should I do?
Answer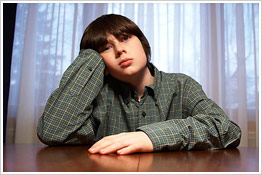 I think we've all been bored at some point in our lives, and there are only so many hours of XBOX you can play before it gets to be too much. The desire to be productive is a good one, and it doesn't go away just because it's summer. The normal school year routine may be paused, but your sense of purpose doesn't need to be interrupted.
When I'm feeling listless, a hymn called "Take My Life" often comes to mind. There's a beautiful YouTube version you can find. Letting God take your life, your hands, and opening your heart to God's purpose for you frees you from any sense of boredom or worry about what to do with your days. Living a life of service to others is always worthwhile.
Maybe you feel like you don't have anything to offer others. I've felt that way before, and a certain Bible verse from Jesus' Sermon on the Mount springs to mind:
You are the light of the world. A town built on a hill cannot be hidden. Neither do people light a lamp and put it under a bowl. Instead they put it on its stand, and it gives light to everyone in the house. In the same way, let your light shine before others, that they may see your good deeds and glorify your Father in heaven. (Matt 5:14-16 NIV)
Have you ever considered that you are the light of the world? God created you that way, so there's no denying it. When you get up in the morning and as you brush your teeth, look at yourself in the mirror and affirm, "I am the light of the world!" It will do wonders for your self-esteem, and God will guide you to ways you can be useful to others, not bored, this summer.