Being Beautiful
Question
How do you know when you are beautiful?
Answer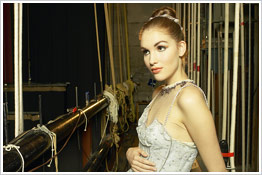 Everyone is born beautiful -- utterly divine, brilliant, intelligent, strong, and spontaneous. God is the source of our beauty, and we can never be separated from Him because He is All. We need to understand these important points and make sure our speech and actions are consistent with them. We should be grateful for everything we've been given.
For a while, I struggled with the idea of beauty. But then I found an interesting connection with gratitude. I realized that I wasn't being grateful for anything I had been given.
So one day, I randomly opened up the Bible to Psalm 96 (read below). This psalm meant a lot to me. I thought the first verse -- "sing unto the Lord a new song" -- was telling me to give gratitude for every single blessing that I have received and will receive.
This is true for all of us. We can give gratitude for the beauty God has given us, and we can stop worrying about what size clothes we wear, the hair color we have, whether or not our hips are too big -- whatever we think needs to be improved.
I learned that if I want to feel beautiful, I need to change my attitude and view of things. I also need to be grateful for everything I've been given. Here are some of the ideas that I found helpful:
Don't curse God for the way you look (whether it's huge pores or hips or a big stomach).

When you curse God, you are really saying that you don't have what you need or aren't satisfied with the way you were created. You are missing the point of the psalm.
The psalmist explains that "strength and beauty are in his sanctuary" (96:6)-- not in a material body.

Glorify God! Praise God.
Remind yourself of the truth that God totally reigns!

God would never deprive us of anything we need. God supplies everything. We will always have what we need, because He is SO great.
The psalmist tells us this: "Say among the heathen that the Lord reigneth" (96:10).
The results of changing your focus and viewpoint are astounding! Once you start giving gratitude and praising God, you will discover your true beauty. But you won't just see beauty in yourself; you will also see it in other people, in the world, and even in some of your worst enemies. You might even wonder why you never noticed it in the first place!
If you feel so gross and believe that no one wants to look at you, try being grateful! There is no one more beautiful than you, because God created you beautifully. And you reflect God's beauty.
It's really the qualities of God we express that determine the way we see ourselves and how others see us.
So if we want to feel beautiful, we need to be beautiful in our thoughts and actions. It isn't a stretch to do this. God has already given us everything we need to feel and live beautifully. It all starts with gratitude.
And here's Psalm 96, which helped me realize the connection between gratitude and beauty:
1 O sing unto the Lord a new song: sing unto the Lord, all the earth. 2 Sing unto the Lord, bless his name; shew forth his salvation from day to day. 3 Declare his glory among the heathen, his wonders among all people. 4 For the Lord is great, and greatly to be praised: he is to be feared above all gods. 5 For all the gods of the nations are idols: but the Lord made the heavens. 6 Honour and majesty are before him: strength and beauty are in his sanctuary.

7 Give unto the Lord, O ye kindreds of the people, give unto the Lord glory and strength. 8 Give unto the Lord the glory due unto his name: bring an offering, and come into his courts. 9 O worship the Lord in the beauty of holiness: fear before him, all the earth. 10 Say among the heathen that the Lord reigneth: the world also shall be established that it shall not be moved: he shall judge the people righteously.

11 Let the heavens rejoice, and let the earth be glad; let the sea roar, and the fulness thereof. 12 Let the field be joyful, and all that is therein: then shall all the trees of the wood rejoice 13 Before the LORD: for he cometh, for he cometh to judge the earth: he shall judge the world with righteousness, and the people with his truth.