Boston Marathon Bombing
Question
How do we live without fear when there's so much violence and terrorism, like the Boston Marathon bombing?
Answer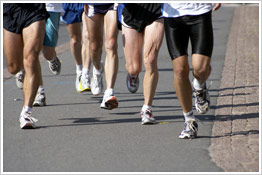 The point of terror is to put fear into people's hearts and lives. We have to say "No way!" We must live without fear because that's how we're supposed to live – within Love; therefore, without fear. We read in the Bible, "There is no fear in love, but perfect love casts out fear. For fear has to do with punishment, and whoever fears has not been perfected in love" (I John 4:18 ESV).
The only way to get rid of fear is to love – to love ourselves, to love the victims of violence and their family members, to love those who are helping us recover. We must turn to God to help us forgive the terrorists so we don't punish ourselves with resentment and fear. If we stay fearful, we are allowing ourselves to be punished. We're giving fear the power to keep us from living vibrantly and confidently.
So how do we avoid punishment, master fear, and love? When we feel fear come on, we can know that God is right here, right now. Fear can't stop God from being God. There's no reason to be afraid of fear either. If we find ourselves afraid, we can turn to God, who is certainly stronger than fear. With God by our side (and God is always by our side), we can triumph over terror.
Just look at the story of David and Goliath (I Samuel 17). Goliath was a huge and terrifying man. David was not. Goliath was a terrorist. David was a shepherd – a shepherd who knew how to protect his sheep from lions and bears, a shepherd who loved his flock. David was also a shepherd who knew who his true Shepherd was. He trusted that God would enable him to defeat this bully, this terrorist who was making the rest of the Israelites totally scared. Not one of the men in Saul's army wanted to go up against Goliath. But David was willing.
Why? He must have known how much God loved him. He must have loved his family, his friends, his fellow Israelites, and God so much that he wanted to help free them from fear. Goliath had been taunting them for 40 or so days with the Philistine army right behind him ready to squash the Israelites. So David slew Goliath. David faced down the terror. Justice prevailed.
We, too can trust that justice will prevail – that people are held accountable for their own actions. We can trust that it is God's love that truly reforms and frees – not anger or resentment or fear. The more we love, the freer we become. God's love for us is enough. And we can love our friends, our family, ourselves, our country, our world, enough to live our lives fully and freely, happy to be the beautiful, radiant, and love-filled individuals God created.