Different Beliefs
Question
When you are surrounded by a lot of different people who have different beliefs than you have, and a problem occurs, how do you respond?
Answer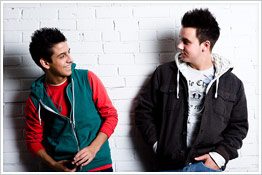 Sometimes it's easy to feel fearful and out of place when you get in a challenging situation with friends or strangers, especially when they are of a different religion. So this is a great question. Do you ask for help, or do you try to hide the fact that you are hurt or need help? Two Bible stories helped me when I faced this problem.
I recently started playing on a club volleyball team, and everyone on the team was a different religion from me. I was not exactly used to that, so sometimes I would find myself feeling afraid and out of place. Every girl on my team believes in different things and has different ways of fixing problems. I found myself trying to find reasons for not going to practice. I got out of a couple of practices, but then I realized that I was missing out on the real reason I signed up for club volleyball -- to play volleyball.
I thought of the story of Daniel in the lions' den. Remember why Daniel was in the den? He stood up for his beliefs and prayed to God rather than worshiping a statue. Remember how out of place Daniel could have felt when he was in the lions' den? He was in the midst of many lions that could have killed him. But Daniel stayed peaceful and calm while he was in the den because he knew God would take care of him. This helped win his release.
When the king came down to the den, expecting to see Daniel's dead body lying around, he was surprised to see Daniel sitting there perfectly fine. Daniel said to the king, "My God hath sent his angel, and hath shut the lions' mouths, that they have not hurt me: forasmuch as before him innocency was found in me; and also before thee, O king, have I done no hurt" (Dan 6:16 KJV). If we are ever trapped in an awkward situation where we feel out of place, giving up isn't our only option. We can be calm and peaceful like Daniel.
I was presented with a situation that could've landed me in a lions' den. One weekend, the girls on my team asked me to come to a sleepover that they had been planning. Making this decision was very hard for me because I didn't want the girls to think that I didn't like them. But I thought of the activities some of the girls enjoyed doing and realized that I really didn't want to get involved. I had only known them for about two weeks, so I decided to skip the sleepover.
When I heard about the adventures from the sleepover, I was very grateful I had decided not to go. I would never have thought of doing the things they did. I was grateful to see that staying strong in my beliefs saved me from the "lions" in my day. I became very grateful for the good I was accustomed to and didn't want to change at all.
There is another very good example in the Bible that can relate to feeling scared or even a bit anxious in certain situations. The children of Israel were probably scared and unsure of what to do during the forty years that they followed Moses around in the wilderness waiting to enter the Promised Land. They were most likely overwhelmed with fear, confusion, and doubt.
Moses told them, "Fear ye not, stand still, and see the salvation of the Lord, which he will shew to you to-day…. The Lord shall fight for you, and ye shall hold your peace" (Ex 14:13, 14). God was on the children of Israel's side and was protecting them the whole way. Moses told the people to "hold their peace," which is basically saying, "Don't get angry. Stay calm. God is always there for you. Trust God. God will help you!"
The feeling I had around my teammates really challenged me. Hearing about the things they would do on the weekends surprised me because I had always grown up around people who refrained from those kinds of activities. The biggest challenge for me was seeing these girls as God would see them. I told myself to remember that they were children of God, just like me, and that no matter what activities they decided to do, God was there for them, too, protecting them.
During this experience, I referred back to the story of Moses and the children of Israel. Moses wasn't sure if he could handle everything and said to God, "I am slow of speech, and of a slow tongue" (Ex 4:10). God calmed Moses down by saying, "I will be with thy mouth, and teach thee what thou shalt say" (Ex 4:12). God also told him that Aaron, his brother, would help him speak.
This made me think about the challenging feelings I was having: they were not so much about the girls; they were more about me. In other words, I couldn't change the girls, but I could change my thought about them. So it was up to me to see them perfectly. This idea helped a lot.
Maybe the next time people get into an awkward situation with friends or peers who are of a different religion or who have different values, these examples will be able to help them through it. It may feel uncomfortable to be around people who have a different faith from you, but you don't need to feel out of place or afraid. You can:
Use the examples of Daniel in the lions' den and Moses leading the children of Israel.
Patiently and peacefully wait on God to help you.
Look for the angels bringing you messages to stay calm and peaceful.
Branch out and make new friends, rather than be trapped by fear.
Listen to God who always will and does help you.