Finding Satisfaction
Question
I've recently begun to realize how much more I have compared to peers in less developed countries. With that said, I always want more. Why is this?
Answer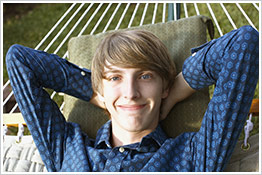 I believe what you're feeling is a side effect of modern consumerism. It's nothing to worry about. Really. Just buy a new iPhone on Amazon and take a nap. You'll feel better in no time. Just kidding.
To put my answer into perspective, I have a home, hot water, electricity—things that we sometimes take for granted. I also have a lot of stuff. Still, I can often be found looking on the Internet for new watches or moping around after realizing I can't afford the newest iPhone. Even if we live in luxury, many of us still have an appetite for more, for something different, or for something someone else has.
There's also Biblical evidence to suggest that we aren't the only ones who have been affected by this urge. The story of David and Bathsheba is reminiscent of someone who has everything, but who still wants more.
The story goes that while King David was walking along the roof of his palace at night, he saw Bathsheba, who was very beautiful, taking a bath, and sent for her. She came to David, and he got her pregnant. Tragically, she was already married to one of David's soldiers. The story continues with murder, intrigue, and a divine reproach. But we can stick with the simplified version: David had all he needed, but that didn't stop him from wanting more (Bathsheba), even if it meant taking it from someone else (Bathsheba's husband, Uriah).
Hopefully, we are already doing a little better than David—having neither stolen nor arranged for a murder. But we still may be guilty of lesser charges of the same crime––greed, an insatiable appetite for luxury, and placing our satisfaction in objects (or lustful desires), rather than in God.
When we place our satisfaction in the hands of consumerism and material objects, we are likely to notice a few things happening:
Satisfaction often becomes temporary and fleeting.
Our desires change with the trends.
Our appetites for more are never truly sated, only momentarily appeased.
If we want lasting satisfaction, there's a pretty simple way to find it. You, too, can know this secret for ten easy payments of $5.95 from my new book, entitled The Irony of Selling Biblical Advice to Buy a New Car. Kidding again.
Honestly, the secret is to entrust our satisfaction in something less temporal and material. If we place our satisfaction with God, we have a consistent standard and model from which to work.
At one point in his life, David declared, "I shall be satisfied, beholding your likeness" (Ps 17:15 NRSV). He understood that satisfaction comes from God.
David even sang, "The LORD is my shepherd; I have all that I need" (Ps 23:1 NLT), which can also be translated, "I lack nothing" (NIV). God gives us absolutely everything that we need. We are already complete. But apparently and unfortunately, King David forgot that in the presence of Bathsheba.
But we can remember this incredibly potent truth. We can find satisfaction in how God created us, as the complete "image" and "likeness" of God (Gen 1:26). God made sure that we are "very good" (Gen 1:31). There's no room or reason for greed there. There's only room and reason to feel content and at peace with exactly who we are and what we have, right now.
So, if we give our time to causes that help others, we are investing in Love and not in things. And when we give, we find that we are actually happier. There's even been a recent scientific discovery proving that giving actually increases our happiness and compassion. So, rather than feeling miserable that we don't have the latest whatever, we might try giving to others and giving to God because that will give us satisfaction.