God is Talking
Question
How do you know what's right to do in different situations? How do you know it's God who's talking to you?
Answer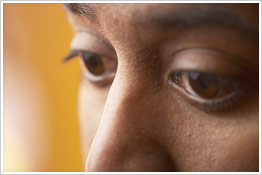 These are questions which we've probably all asked at one point or another, and the two questions go together. We know that we're doing what is right if God has told us to do it. One of my favorite passages from the Bible is:
Trust in the Lord with all thine heart; and lean not unto thine own understanding. In all thy ways acknowledge him, and he shall direct thy paths. (Prov. 3:5, 6)
So, if we're trusting in God, then we can be positive that He is telling us exactly what to do in each situation.
But, how do we know for sure that we're following God's instructions, rather than the advice of others or our own personal wishes?
Again, the Bible gives us some clues. Elijah, the prophet, was running for his life. When he was just about to give up, God spoke to him and told him to stand up. The Lord made a mighty wind blow around him. Then He caused an earthquake.
And after the earthquake a fire; but the Lord was not in the fire: and after the fire a still small voice. (I Kings 19:12)
That "still small voice" speaks to all of us. And it's that calm, strong, still, persistent voice which has the truth in it, God's Truth. Truth really does give us a sense of peace. If we don't feel that sense of peace, we need to keep listening until we do. When we're not sure if we are hearing God's voice, we need to get still and to quiet any noise that would try to confuse us. Just as we tune our radios to eliminate static so we can hear our favorite song, we need to tune into God's channel so we can hear our favorite Guide telling us what to do. But if we don't like what God tells us, it's tempting to ignore Him or pretend we can't hear Him. Thankfully God persists and will continue to direct us to the right path. He loves us that much.
Recently, when I was concerned about being able to listen to God, a friend asked me a question that has changed my understanding of listening. She asked me:
"Do you think God can communicate to you what you need to hear?"
"Yes, of course," I answered.
"Then do you really think that your ability to listen or not to listen can limit God's ability to communicate to you?" she continued.
"No." The answer was obvious to me.
Think about that for a minute. God is able to make us hear and recognize His voice. We recognize our parents' voices, so it's natural for us to recognize the voice of our true Parent, God. Our doubts and fears cannot keep God from making Himself heard and understood. That takes pressure off of us. Rather than trusting in our own abilities to listen, we can trust in God's infinite ability to communicate to us. Indeed, there is no anxiety or pressure in God's communication. It is clear, direct, and meets the need.