Helping Siblings
Question
How can we help a younger sibling (or any child) do the right thing and talk to her in a way she'll understand?
Answer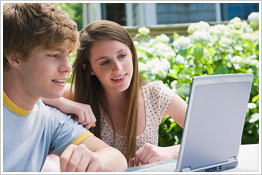 I worked at a daycare and also at a kids' shoe store where being able to explain things in kid-language was key. It's almost second nature for me to talk in simpler language since I get so much practice with a sister who is very young.
There's a passage from Galatians that addresses this question: Gal 6:1-10. I think the advice given is important for children and for people of any age. While The New International Version of this passage is already pretty simple to understand, there's still some language I'd change to help children. So I've rewritten it, imagining I was explaining it to my little sister in a way that would be most effective for her to understand. Here's what came to me:
Remember, children, when somebody is naughty you should always help them. Be careful -- don't do what they do, even if they are your friends. When someone thinks they are all that, but they really are just bullies, they're lying to themselves. Don't worry about it. Always think of what YOU do, not anybody else. Then you can be proud of yourself, because you're doing what's right!

Don't be fooled, God always knows your thoughts. You get back what you give out. When you aren't kind or say mean things about people, people won't be kind to you, and others may say mean things about you. But if you do nice things and are kind, you will have a long, happy life.

Always be good, even when it's hard, and you will see wonderful things happen in your life if you don't give up. Whenever possible, do good for all people, especially good friends.
Kirsten Johnson, age 19
---
Editor's Note:
It's also important to pray daily for our little ones – to know that their purity is their protection. Because they are innately good, they can only be attracted to good. We can tell them this. As they become teenagers, the biggest influence on them shifts from their parents to their peers. So it's incredibly important right from the start to help them learn to make good choices and decisions that will bless them … and bless others.

MFE

Here's Galatians 6:1-10 from the NIV
1 Brothers, if someone is caught in a sin, you who are spiritual should restore him gently. But watch yourself, or you also may be tempted. 2 Carry each other's burdens, and in this way you will fulfill the law of Christ. 3 If anyone thinks he is something when he is nothing, he deceives himself. 4 Each one should test his own actions. Then he can take pride in himself, without comparing himself to somebody else, 5 for each one should carry his own load. 6 Anyone who receives instruction in the word must share all good things with his instructor. 7 Do not be deceived: God cannot be mocked. A man reaps what he sows. 8 The one who sows to please his sinful nature, from that nature will reap destruction; the one who sows to please the Spirit, from the Spirit will reap eternal life. 9 Let us not become weary in doing good, for at the proper time we will reap a harvest if we do not give up. 10 Therefore, as we have opportunity, let us do good to all people, especially to those who belong to the family of believers.)