Keeping the Faith
Question
How do you persevere, keep the faith, and not give up in the wake of natural disasters, especially when recovery takes so long?
Answer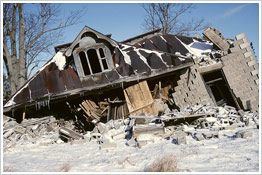 Sometimes it takes a long time to recover from natural disasters. There are people whose lives still haven't returned to normal since Hurricane Katrina hit the Gulf Coast of the US over four years ago. So there's the temptation to lose patience and give up hope for change. And now there are thousands of people whose lives have been disrupted or lost due to the earthquakes in Haiti and Chile.
There's a Bible passage that speaks of trusting God and remaining loyal to one's relationship with God even when more and more distractions arise that would make it harder to do. I think that the "forgotten" citizens of the Gulf Coast and those whose suffering is more recent need encouragement to continue holding on to their faith in God and their expectation of good.
I rewrote James 1:2-14, focusing on the concept of the value and benefit of persisting versus giving up. Here's what stood out to me, which I've translated in my words:
Giving up, accepting failure, and letting go of high ideals—
All these are ways of saying goodbye to God, of giving up on Him.
But we can't do that, and we shouldn't, because He's the best
Friend, the best Father, the best Pen Pal we'll ever have.

When God is your Pen Pal, never give into the thought that He's forgotten to write,
even when it appears as though His letters have stopped coming.
God sends you a letter each day.
If only you'd go out to your mailbox, you'd see that it's not long before they start piling up out there. Really!

So no matter how hard it may be to get to the mailbox, Go!
The scorching heat that'll kill your flowers won't hurt you; neither will the wind and waves toss you around when your front yard floods.
Even when pranksters come and move your mailbox a mile, two miles, twenty miles farther down the road, get out that door and do what it takes to get your mail.
And when you get there, don't ever blame the letter writer for your difficulty in getting to the mailbox—it's simply not His fault.

When your Pen Pal finds out how dedicated you've been to remaining in contact, your relationship will increase in strength, and you can then be even more assured of getting that daily letter. 
So trust, and remember that no one but you is capable of breaking up your correspondence with God
Emily Sander
---
So how do we persevere? We trust that God is communicating to us every day, every moment. This gives us the confidence to listen to God's directions and solutions and not get discouraged if things aren't working out in the way we'd like. Giving up would keep us from experiencing the blessings God is giving us.
The disciples and followers of Jesus certainly knew the need for perseverance under trials. After Jesus was crucified, resurrected, and ascended, many "followers of the Way" had to flee their homes and live among Gentiles because of the man-made disaster of persecution. In the end, this was a blessing because it helped spread Christianity.
During this time, James wrote to them to keep the faith, to keep persevering. Below is the passage from James, which Emily put into her own words. Notice his attitude and conviction in the face of trials and torture. As you read, you'll see that James speaks about riches. His point is not that you can't be rich, but that riches don't last, so pursuing material wealth doesn't bring security or lasting happiness. And the natural disasters we've witnessed show that housing and possessions can be lost in moments.
But trusting in God brings blessings. Verse 12 is especially helpful to those who are enduring hardship. There's a "crown of life" for "those who love" God.
MFE
James 1:2-14 and 17-18 NIV
2Consider it pure joy, my brothers, whenever you face trials of many kinds, 3because you know that the testing of your faith develops perseverance. 4Perseverance must finish its work so that you may be mature and complete, not lacking anything. 5If any of you lacks wisdom, he should ask God, who gives generously to all without finding fault, and it will be given to him. 6But when he asks, he must believe and not doubt, because he who doubts is like a wave of the sea, blown and tossed by the wind. 7That man should not think he will receive anything from the Lord; 8he is a double-minded man, unstable in all he does.