Messiah?
Question
Why did John the Baptist ask Jesus if he was the Messiah?
Answer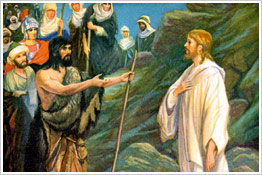 When John was in prison (sent there by Herod because he didn't like John criticizing him for stealing his (Herod's) brother's wife and marrying her), he sent some of his disciples to ask Jesus, "Are you the one we should be looking for? Or must we wait for someone else?" (Matt 11:3). Yet, when he baptized his cousin, Jesus, John knew that Jesus was the Messiah (Matt 3:13-17). So why does he question him now?
There have been different answers throughout history.
Most of the early church leaders couldn't deal with the concept of a doubting John, so they argued that John just wanted to help his own disciples have faith that Jesus was the Messiah (Bruner 506).
Others claim that John is just starting to believe in Jesus or that his faith in him was now growing (Morris 274, Barclay 3). But John knew Jesus' identity at the Jordan River.
Still, others argue that being in prison could have depressed John and that he just needed reassurance. But John was a pretty strong character, so capitulating to depression seems unlikely (Morris 275).
Some argue that John's question was one of "impatience" with Jesus "because he was not what he expected him to be" (Barclay 3).
Others claim that John was "puzzled" because he had different expectations of the Messiah (Morris, 275).
Some even say that John was "disappointed" in Jesus because he wasn't doing what John expected him to do -- overthrow Herod
(Wright 125).
These last three all deal with expectations. John's message was a strong, fiery call to the Jews to repent and change their ways because the Messiah was coming. They thought the Messiah would free the Jews from foreign (Roman) domination.
But Jesus wasn't calling for political change. Jesus was spending time with the poor people, those who had been marginalized, those who were destitute. He was teaching them about God's love, preaching to them that the kingdom of heaven is here now, and healing them of whatever problems they had. He wasn't trying to claim political power. He wasn't confronting Herod. He certainly wasn't going up against Rome. Bruner points out that he wasn't even performing his miracles in the "strategic" Jerusalem. Rather, he was doing most of his work in Galilee, which was not considered to be prestigious by any accounts (Bruner 505).
Jesus was being the Messiah of Isaiah 35 and 42, who would open the "eyes of the blind" and not break a "bruised reed." In other words, Jesus was a Messiah who would show his people how to obtain spiritual freedom -- a freedom ever more important than political freedom. And he would do so gently and firmly, with the spirit of Love. He came to show the Jews that God is a God of mercy, not of anger or destruction.
Naturally, this must have concerned John. John the Baptist had been preparing the way for the Messiah, but Jesus didn't look like the Messiah John expected. In prison, probably knowing that he was going to die, isn't it possible that John needed reassurance that he had not spent his life pointing to the wrong Messiah?
Jesus tried to reassure John by telling John's disciples to explain what they have seen and heard:
"Go and tell John what you have heard and seen. The blind are now able to see, and the lame can walk. People with leprosy are being healed, and the deaf can hear. The dead are raised to life, and the poor are hearing the good news. God will bless everyone who doesn't reject me because of what I do." (Matt 11:4-6 CEV)
We don't find out how John took Jesus' answer. But it would be wonderful to think that when John's disciples returned to him, John felt the presence of the Christ; that this gentle presence melted any concern John had, reassured him that his life's work had not been in vain, and eradicated John's concept of a judgmental and worldly powerful Messiah -- replacing it with a Messiah of peace, inner transformation, spiritual strength, and infinite Love.
Works Cited
Barclay, William. The Gospel of Matthew. Rev. ed. Vol 2. of The New Daily Study Bible. Louisville: Westminister John Knox P, 2001.
Bruner, Frederick Dale. Matthew: A Commentary; Vol 1: The Christbook Matthew 1-12. Grand Rapids: Eerdmans,1987.
Morris, Leon. The Gospel According to Matthew. Grand Rapids: Eerdmans, 1992.
Wright, N.T. Matthew for Everyone. Part 1. Cpts. 1-15. Louisville: Westminister John Knox P, 2004.