Paul's Source of Strength – Part I
Question
Why does Paul say, "When I am weak, then I am strong" (2 Cor 12:10)?
Answer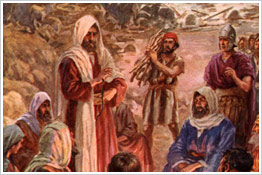 This seems an odd concept -- counter intuitive to what we know through the physical senses. From the perspective of a civilian in Corinth, one might expect to see God being worshiped through acts of courage, victory, strength, majesty, and might. That is the way the God of Israel often dealt with his chosen people. With the assumption that God=physical power, one might assume that when one is physically weak, he or she isn't expressing God.
What Paul is asserting in this statement is a refined position of their relationship to God. Paul is asking his audience to consider a side of courage that we don't commonly think much about -- a side that is revealed when one experiences or goes through great suffering and even death. Using Christ Jesus' experience on the cross, Paul is sharing with his audience a perspective of becoming closer to God through the absolute submission of one's self wholly to the divine will.
If we want a model of courage, Paul would encourage us to look at Christ's life, which was full of self-sacrifice and love, enabling him to overcome suffering. We should have courage in our suffering, knowing well that God's strength comes to us when we are completely vulnerable. When we have exhausted all our physical strength and turn to God, we find a strength that is all divine.
his sense of courage can "stand against the wiles of the devil" if we are willing to submit ourselves and "put on the whole armor of God" (Eph. 6:11 KJV). Only God has the power to destroy evil, which overcomes suffering and death. When we experience physical weakness and are exhausted by suffering, we can lean on God for strength and find that we will be expressing true courage and strength, which is rooted in God's love.