Sport Anxiety
Question
How do you deal with fear or anxiety when you're playing a sport?
Answer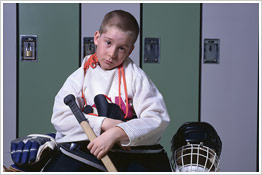 When I play football and baseball, there is always the fear and anxiety that I am going to forget the play, or I am going to throw a pass as Quarterback that is going to be intercepted, or I'm going to get blindsided and hurt myself severely. When I am up to bat in baseball, I sometimes fear that I'm going to strike out or get hit by the pitch. Before a game, all these things are going through my head, trying to distract me from the reason I play sports -- to have fun. I play for the love of the game.
But what helps me overcome any fear is to know that the real reason I play sports is to express and glorify God every minute I'm playing. A passage from the Bible has also helped me deal with these types of fears. We read in I John: "There is no fear in love; but perfect love casteth out fear" (4:18 KJV). Love destroys all fear. This is true for sports, too. When you express love for the game and the players, that love destroys all fear and anxiety, which allows you to express God 110% of the time during the practices and games.
One more thing that helps me is being friends with my teammates. If you're friendly with your teammates, and they're friendly, too, you develop great bonds. These bonds can help you get through difficult and even fearful situations. When a teammate is hurt, the bond you've developed can actually help that teammate get back up. He feels your support. Developing great relationships is also a result of glorifying God. It makes playing the sport more fun.
When we're focused on glorifying God and loving what we're doing, there's no room for fear.
N. D., age 15
---
Editor's Note
N.D. is obviously taking Paul's advice: "…do it all for the glory of God" (1 Cor 10:31 NIV).
It's also helpful to focus on the good – on what you do know, what you do well, how you're going to complete a pass -- and not on how you're going to mess up.
Knowing that God is doing the work helps ease any sort of anxiety. Paul affirms the truth: "And God is able to make all grace abound to you, so that in all things at all times, having all that you need, you will abound in every good work" (2 Cor 9:8 NIV).
It's important to stay in the "now." This enables us to meet and master what is going on in our present moment. If we think about all the things that could go wrong, it's easier to become fearful.
Most of the great Biblical characters – Abraham, Joseph, Moses, Elijah, Jesus – had opportunities where they could have been afraid. Some were. But they handled what was in front of them by turning to God. They loved God more than they feared a present situation. That love enabled them to overcome great obstacles with God.
MFE