A Healing Response to Violence
Categories: Tragedy
Reports of natural disasters, random violence, planned terrorist bombings headline the news worldwide. When such violence disturbs our daily lives, we could easily become fearful, feeling vulnerable and unprotected.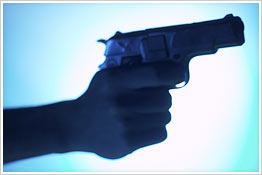 How do we respond to random (or planned) violence? We've probably either seen or felt various responses — such as shock, grief, sorrow, fear, anger, hate, revenge, guilt, pity.
But we've also witnessed or experienced the indomitable spirit of humankind touched by the presence of the Christ — expressed through courage, persistence, tenacity, humor, compassion, care, help, heroism, forgiveness, love. It's these inspiring qualities that help move us through and rise above extreme emotions.
It's okay to cry, to grieve, and to feel sorrowful. It's okay to have emotions. But if we want to have a settled sense of peace and to be able to move forward, then we can't let emotions throw us into indefinite despair or impel us to lash out with harmful actions. So how do we pray about violence and heal the wounded heart?
Trust Our Safety to God
One of the most beautiful and peace-giving answers is the 91st Psalm. It counteracts fear by letting us know that God is our refuge, our safe place:
Yes, because GOD's your refuge,
the High God your very own home,
Evil can't get close to you,
harm can't get through the door.
He ordered his angels
to guard you wherever you go.
If you stumble, they'll catch you;
their job is to keep you from falling.
(The Message, Ps 91:9-12)
Let's rest, smile, breathe, live in God's assurance of safety. Let's put aside any doubts about God's ability to protect us. Let's resist the temptation to think that we're not safe under God's sheltering "wings" and "feathers" (91:4).
Destroying fear and feeling safe is sometimes hard to do when violence blasts into our own or others' lives. But looking at Biblical proofs (and even current examples) of God's protection helps tremendously. Joseph found himself in a pit, a foreign country, and a prison. But Joseph never lost faith in God, who certainly directed his career. Moses' mother faced fear with courage and intelligence to save Moses' life. Jesus conquered fear by doing God's will every moment. He could have feared that the cross was the end. But God was right there, sustaining Jesus, resurrecting him.
We, too, can pray through life. We, too, can trust in God and see ourselves "in the secret place of the Most High" (91:1 NKJV). It's also vital to see everyone else under God's guidance, in God's home — those who are victims of horrible events and even those who are responsible for violent events. If everyone understood that everyone dwells in God's home where there is perfect harmony, there wouldn't be any violence. And people wouldn't feel loss, so there would be no need to be comforted.
Find Comfort
When tragic things happen, we sometimes just want to be comforted. The 91st Psalm lets us know that we can rush into God's arms. In fact, we're already and always there! Jesus' Beatitudes give us hope and comfort, especially the second one:
"Happy are those who know what sorrow means, for they will be given courage and comfort!" (Matt 5:4 Phillips)
Grieving seems to be a very natural part of the human experience. But it's important to go through the grieving process — not get stuck in it or let sorrow strip us of our humor or our love of life. This Beatitude is a promise. Knowing that we have the courage to endure grief and that we will be comforted can help us heal. We'll end up on the other side of grief more grateful for what we have, stronger for what we've learned, happier for an improved relationship with God, and more compassionate toward others.
Love
Compassion is what so many of us need. The most powerful response to violence is love — pure love. Jesus told his disciples:
"A new command I give you: Love one another. As I have loved you, so you must love one another. By this everyone will know that you are my disciples, if you love one another." (John 13:34-35 NIV)
Love dissolves anger, hatred, revenge. Love fills the emptiness engendered by loss. Love erases guilt, supersedes pity; and "perfect love expels all fear" (I John 4:18 NLT). It is our ability to love — to love the way Jesus loved — that determines our discipleship, and hence, our ability to bring healing to any situation.
How did Jesus love? He gave his life for us. Does that mean we have to die for someone else to be a disciple of Jesus? Hopefully not. But we do have to be willing. Such a willingness may lead us to give up our own personal way of viewing a situation and enable us to see it from a different perspective. Giving our life might mean letting go of grudges, resentment, or feelings of guilt. It might mean yielding up our own wishes and wants — even our expectations for how our life should have gone or should go.
So if violence dashes our expectations, we have the opportunity to pray — to turn to God and listen with our whole heart and soul. When we do, we'll discover that we live in God's house, find comfort in God's tender arms, and feel God's love, all of which helps us love others and ourselves in ways that bring healing.