A Ski Lesson: Lead from the Heart
Categories: Dealing with Emotions, Family and Friendship, Fear, Guidance, Motherhood
My young daughter was not having fun learning to ski, and I was struggling with that, especially since the last time up, she had left the mountain not only feeling good about herself, but also loving to ski. This time, when she looked down the hill, she froze. It was only her third day skiing, and fear was getting the better of her. The first run down was very trying for both of us.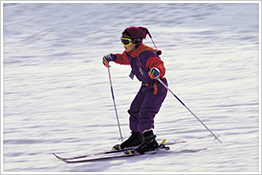 On the chair lift up, I took a breath and thought about how much I loved my daughter. We looked out at the absolutely gorgeous day and had a fun ride watching other skiers down below while we chatted. I was having my own internal chat, too. I decided to stop trying to figure it out, stop trying to solve the problem for her, stop trying to take away the fear she was feeling. God was going to have to do that.
And God is fully able: "For my thoughts are not your thoughts, neither are your ways my ways, declares the LORD. As the heavens are higher than the earth, so are my ways higher than your ways and my thoughts than your thoughts" (Is 55:8,9 NIV).
God could reach her and could tell me how to help. I got quiet and listened. As we started down the hill the second time, what came to me to say was, "Just feel the snow under your skis." And so she did. This seemed to lift her out of her concern and take away the fear. I wasn't telling her what to do with her skis or boots or body. I was asking her to listen in a different way—to feel.
Her whole demeanor changed. Her body relaxed, and she focused on feeling. As a result, she started to flow gently and in control down the hill. Rather than being concerned about doing it right, or falling because she wasn't doing it right, she was being present in the moment. She was conscious of what was happening as it was happening and learning to respond appropriately.
She was discovering for herself the connection between the snow, her skis, her body. She was allowing herself to learn. The worried look, the fear, had left. She was happy. And I was happy, too. I was allowing her to have her own experience, being there to support her and coach, rather than teach.
I was being reminded of some pretty important lessons:
Rather than try to figure out the right thing to say or do, let go and allow. Allow God to communicate to everyone involved.
Rather than instruct or teach, listen. Listen for what the person needs because each person learns differently. Listen for what God is saying. Listen with the heart, not the head.
Rather than overanalyzing with the head, let the heart lead.
Rather than getting stuck on the problem, be aware of the feelings behind the problem.
Rather than feeling frustrated, be compassionate—with the other person and yourself. People need love the most when they seem to deserve it the least—when they're acting out, etc.
Rather than fearing what may happen, be present in the moment to learn all that that moment can reveal.
With each turn, she became more confident, happy, and free. She was making rapid strides as a skier, getting better with each turn. We ended up having a glorious day.
That evening, she affirmed, "You know why I like skiing? You get to do it freely. You get to ski your own way. There's no one right way to do it." I couldn't think of a better end of the day than that. While I had been wanting to help my daughter, the whole experience helped me, too.
For there is no one right way to live life, not just one particular way to help someone, no one "right" way to do things. There are many right ways. And to live freely—that's the greatest gift.