Be Grateful for You
Categories: Expressing God, Gratitude (Thanksgiving), Identity, Jesus (Parables), Personal Growth and Progress
I love Thanksgiving. It's a day set aside to be grateful—to be grateful to God for all our blessings, including ourselves. That's right—us! It's important to be grateful that God made each one of us unique and wonderful.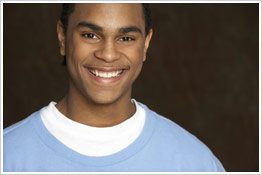 I'm not advocating egotism, selfishness, or vanity. Far from it. I am saying that it's incredibly important to love the individual called "me" whom God made. We read in the scriptures: "Love your neighbor as yourself" (Lev 19:18, Mark 12:31). So, we must love ourselves.
What if we feel that there's not a lot about ourselves to love? What if all we see about ourselves is a person struggling to do well in school, or to have friends, or to find a job, or to deal with depression or stress, or to look different?
Then we need to change our viewpoint. We need to see ourselves as God sees us—wonderfully whole, healthy, beloved, adored. We're God's children. Jesus shows us how to do this through his own example: He knew that God saw him as His "beloved Son" (Mark 1:11). The heavens had opened to him; the Spirit had descended upon him. What an inspiring experience—to see himself the way God saw him!
Every time Jesus healed, he was showing people how God saw them. And it was always good. That's why in Jesus' parables, God always cares for his children. Jesus compares God to a shepherd who runs after a lost sheep and brings it home. He reveals God as the loving father who never gives up on his children in the story of the Prodigal Son. To the older son who feels slighted, the father says, "Everything I have is yours" (Luke 15:31).
What if we open ourselves up to God's view and see ourselves as God's beloved son or daughter? What if we open our hearts to all the blessings our Father is giving us? What if we got the same glimpse of God and of ourselves as Jesus had? Wouldn't that inspire and transform us? Absolutely.
Just think about what God is—all-powerful Love. We are God's individualized expressions of Love. God's creation wouldn't be complete without each one of us. No one can take our place in God's universe. God wouldn't be fully expressed if one of us was MIA. No one else can express God's Love in the exact same way each of us does. We are loved, unconditionally loved, by God. There are no judgments, no limits in God's love.
So, this Thanksgiving, we can start our gratitude list with the greatest appreciation for ourselves because we now understand why we must love ourselves fully, abundantly, and enthusiastically. We can be immensely grateful for the individual God made, the individual God loves. Then it's easy to feel grateful for so many other blessings, and it's easy to share God's love with others.