Healing Responses to Hurricanes
Categories: Tragedy
For the past month, we've been seeing pictures and hearing sound bites about the wake of destruction Hurricane Katrina left behind in the Gulf states. And it'll continue to be in the news for some time as people in Louisiana, Mississippi, and Alabama work to rebuild almost every aspect of their lives. Like most other disasters, Katrina has brought out the best and worst in human behavior. We don't always have a say in what happens to us, but we can surely control how we respond to events and circumstances. Some people chose bestial and criminal activity. Some people politicized the disaster with specific agendas. And some expressed pure, unselfish love. When Rita came along heading for Texas and Louisiana, we were more prepared. But people still faced challenges: cars of evacuees running out of gas on the freeways, full hotels with no place to stay, fires, etc. In times of crises, it's very important for us to be able to respond in a positive, effective, healing manner.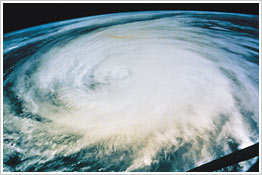 Pray
The best way to ensure that we respond with healing is to pray. When we pray, we open our hearts to God; we turn everything over to Him -- completely. Some people might try to argue that God was responsible for the disaster. But God doesn't send pain and sorrow, death and destruction. The prophet Elijah discovered this truth when he thought he was the only one left who believed in God and was running for his life. God had Elijah go to a mountain. And while he stood there,
...a great and strong wind rent the mountains, and brake in pieces the rocks before the Lord; but the Lord was not in the wind: and after the wind an earthquake; but the Lord was not in the earthquake: And after the earthquake a fire; but the Lord was not in the fire: and after the fire a still small voice. (I Kings 19:11, 12)
That "still small voice" is the voice of God, which is there to calm us when times are rough, to guide us when we need direction, and to comfort us when we feel loss:
But now thus saith the Lord that created thee, O Jacob, and he that formed thee, O Israel, Fear not: for I have redeemed thee, I have called thee by thy name; thou art mine. When thou passest through the waters, I will be with thee; and through the rivers, they shall not overflow thee…. (Isa. 43:1, 2)
Though the waters flooded so much Gulf land, we can rise above the destruction. We can refuse to fear or to be overwhelmed. We can maintain a healing atmosphere so that we can reach out to others with comfort.
Comfort
" Comfort ye, comfort ye my people, saith your God" (Isa. 40:1-5). As we listen to God for guidance, we will know what we need to think, say, or do to comfort those who have endured pain and loss. Perhaps it's a soft touch, a kind word, a place to stay, a job, a home-cooked meal, a listening ear, a new house built, a friendship. In his letter to the Corinthians, Paul expresses his gratitude for God's comfort and charges us to share this sense of comfort with others:
Blessed be God, even the Father of our Lord Jesus Christ, the Father of mercies, and the God of all comfort; Who comforteth us in all our tribulation, that we may be able to comfort them which are in any trouble, by the comfort wherewith we ourselves are comforted of God. (II Cor. 1:3, 4)
How wonderful it is to allow ourselves to feel God's loving arms surrounding us, taking care of us every moment. But we cannot comfort others (nor can we feel comforted ourselves) if we allow ourselves to get sucked down into hopeless misery, or if we try to place blame on someone or something else. How important it is for us to have the spirit of unselfish love and to love our neighbors -- whether we have all the money and possessions to spare or none at all! This is what we have been called to do:
Pure religion and undefiled before God and the Father is this, To visit the fatherless and widows in their affliction, and to keep himself unspotted from the world. (James 1:27)
Reaching out to help others is simply part of being who God made us to be.
Be a Good Neighbor
There are so many people, churches, organizations, and governments who are "visiting" those who have lost everything -- bussing down water; handing out blankets; providing water-proof plastic for people to roof their houses; opening and finding homes; providing free tuition, room, and board for education; helping rescue pets; sending money. But those who are there say there's still so much more to do. We are being called upon to demonstrate what it truly means to love our neighbors, to live the Golden Rule, to be friends to all those who are being relocated and have to start new schools, jobs, lives. The story of the "Good Samaritan" (Luke 10:29-37) certainly shows us how to be good neighbors to those in need. While others "passed by on the other side" (10:31), unwilling to help the wounded and victimized man, the Samaritan "had compassion on him" (33), cleaned and bound his wounds, put him on his "beast" to an inn, "took care of him" (34), left money with the innkeeper to make sure he would have what he needed, and promised he would stop by on his way back and give more if needed. We now have the opportunity to ask ourselves, "What are we doing to be good Samaritans?" Giving of ourselves cannot hurt us. Giving blesses all of us.
Refrain from the Blame Game
While giving lifts us out of problems, blaming sinks us into problems. It "spots," or corrupts, the good that's going on. Not even three days after the Hurricane Katrina hit, there were media and political personalities blaming the federal government for the disaster. Such criticism takes our focus away from being Good Samaritans and ends up negatively affecting the entire rescue, relief, and rebuilding efforts that are continuing out of a sense of love for our neighbors. Though others politicize a "natural disaster," we cannot afford to get caught up in the blame game! Paul has some pretty strong words:
For all the law is fulfilled in one word, even in this; Thou shalt love thy neighbour as thyself. But if ye bite and devour one another, take heed that ye be not consumed one of another. This I say then, Walk in the Spirit, and ye shall not fulfil the lust of the flesh. For the flesh lusteth against the Spirit, and the Spirit against the flesh: and these are contrary the one to the other: so that ye cannot do the things that ye would. (Gal. 5:14-17)
Biting criticism keeps us from moving forward. It keeps our thought mired in the problem, stuck in bitterness, rivalry, faults. It drags us down to an emotional level of frustration or anger which leaves us ill-prepared to heal the situation. It hinders our ability to discern between opinion and fact and to find harmonious solutions. How can we help others see the good if we can't pull ourselves out of the pit of criticism and fault-finding?! Our goal is healing, not further destruction.
Find the Blessings
The way to keep ourselves above the debilitating effects of blame is to look for the blessings. Jesus tells us:
Blessed are they that mourn: for they shall be comforted. Blessed are the meek: for they shall inherit the earth. Blessed are they which do hunger and thirst after righteousness: for they shall be filled. Blessed are the merciful: for they shall obtain mercy. (Matt. 5:4-7)
The Lt. Governor of Mississippi heard people of her state who had lost their homes and their loved ones say, "I'm blessed." What grace! It's humbling, actually, when we think about it. These people have lost everything, and yet, they can still be grateful. It certainly puts things into perspective. This attitude of gratitude enables us to feel God's love and share it with others, frees us to live in the now, and encourages us to claim our inheritance as God's children -- always loved. We will find whatever we look for. So if we actively look for good, we'll see good around us. Being able to see the good is one of the reasons why Jesus healed so effectively. He saw people as God's perfect children, even if it didn't seem that way to all appearances. And I am certain that when people saw the mayhem and the criminal activity that was occurring in New Orleans (which we have now learned was not as wide-spread as the media, picking up on gossip, led us to believe), that many, many people turned to God in prayer and asked God to help them see His children as He created them. We refused to believe that mob rule was all right. We insisted that the efforts that Good Samaritans were making could not be interrupted by corruption. It took some effort, strength, and physical and mental muscle, but the goodness in humanity prevailed, as it must.
Pray for the Government
Seeing the good around us does not mean that we ignore the bad. The Samaritan didn't ignore the maimed man's wounds; he cleansed them. We need to address problems head-on so that they don't become worse. As the recovery process continues, government officials are examining how we can better respond to such disasters. We want our government to be successful so that our country will be safe and harmonious. How important it is, then, to pray for our leaders and officials serving at all levels of government! It doesn't matter if we're of the same political party as governing officials or not. They need our prayers -- daily.
I exhort therefore, that, first of all, supplications, prayers, intercessions, and giving of thanks, be made for all men; For kings, and for all that are in authority; that we may lead a quiet and peaceable life in all godliness and honesty. (I Tim. 2:1, 2)
It is vitally important that we acknowledge God's government of our nation and of the entire world. We also need to pray to see our leaders (and all the leaders) as receptive to God's direction. We learn from the story of Moses and the burning bush that God can make Himself known (Ex. 3). Even though we may doubt the wisdom of decisions or actions from people, we must be willing to trust that God is ultimately and always in charge.
We cannot predict every single challenge that we will face. But we can be assured that when we humbly pray, actively listening to God and turning the world over to God, we will be able to face any disaster with an attitude that brings healing. The apostle John leaves us with a wonderful promise of a new beginning:
And he that sat upon the throne said, Behold, I make all things new. And he said unto me, Write: for these words are true and faithful. And he said unto me, It is done. I am Alpha and Omega, the beginning and the end. I will give unto him that is athirst of the fountain of the water of life freely. He that overcometh shall inherit all things; and I will be his God, and he shall be my son. (Rev. 21:5-7)