I Love Who I Am
Who am I?
We're not alone in asking that question. Moses asked it of God thousands of years ago when God wanted Moses to lead the children of Israel out of Egyptian slavery:
Who am I, that I should go unto Pharaoh, and that I should bring forth the children of Israel out of Egypt? (Ex. 3:11)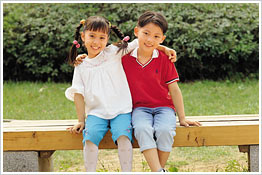 Do you know what God's response was?
Certainly I will be with thee. (12)
I can just hear Moses thinking: "Okay, God. You'll be with me. I'll just walk right into Egypt and free my people, the Jews. Remember why I left? I killed an Egyptian who was hurting a Jew. I can't even speak clearly. I stammer. You do realize who I am, right? I'm only a shepherd. I like my sheep. There's no way I'm capable of this." So Moses, feeling very inadequate, continues to press God. Moses asks God what to tell "the children of Israel" (13) when they ask the name of who's sent him:
And God said unto Moses, I AM THAT I AM: and he said, Thus shalt thou say unto the children of Israel, I AM hath sent me unto you. And God said moreover unto Moses, Thus shalt thou say unto the children of Israel, The Lord God of your fathers, the God of Abraham, the God of Isaac, and the God of Jacob, hath sent me unto you: this is my name for ever, and this is my memorial unto all generations. (14-15)
We know the rest of the story. Moses freed the children of Israel. God didn't care if Moses didn't know who he was or what he was capable of, or if Moses was still searching for his identity. God knew who Moses was, and that knowledge enabled Moses to be the man whom God had made.
We've probably all felt like Moses -- totally inadequate, not knowing who we really are, still wondering about our purpose in life, not clear about our identity as the beloved child of God. Often we're pretty good at coming up with reasons why we're not God's beloved child. We get ourselves convinced that we're too fat or ugly, incapable of doing anything, dumb, moody, frustrated, angry, susceptible to temptation, not worthy, out of control, not successful, ordinary, not quick enough, or too average.
Time to stop our excuses! Time to claim our inheritance! Time to love who we are!
Who am I? Well, God answers that. "I AM THAT I AM." Whenever we ask ourselves, "Who am I?," we are really asking, "Who is God?"
I am Alpha and Omega, the beginning and the end, the first and the last. (Rev. 22:13)
I am the Lord; and there is none else. (Isa. 45:18)
One God and Father of all, who is above all, and through all, and in you all. (Eph. 4:6)
God is a Spirit: and they that worship him must worship him in spirit and in truth. (John 4:24)
God is love. (I John 4:8)
Learning about God is our life's work. We will never be finished with that. But let's summarize these very important affirmations of what God is: God is All ("beginning and end"); God is the only ("none else"); God is our Parent ("Father"); God is spiritual, not in matter ("Spirit"); "God is love." Because we are of God, we are all spiritual, all loved, and all loving. This means not only that God loves us, but that we love ourselves. This is who we are. This is our identity.
Now, before we think that this does not describe how we picture ourselves, let's pause. We may need to repaint our self-portrait on a spiritual canvass with spiritual paints, with God as our model. When we do that, we can then easily love ourselves. We don't have to (and we shouldn't) love all the junk or all the personality traits that we claim make us who we are (even if we think those traits are good). We just have to love ourselves as God made us.
So, how did God make us?
God created man in his own image, in the image of God created he him; male and female created he them. (Gen. 1:27)
Since we are made in God's image -- God is the model for us, His creation -- and God is love, then we are pretty incredible. This is not egotism. This is recognizing our true individuality and identity. Let's look at the passage a little more closely: "male and female." Let's open our thoughts and embrace this idea: each one of us is "male and female;" we include both masculine and feminine qualities. Therefore, we are whole, complete -- just like God. It doesn't say "male OR female."
Now, let's feel God's love. This prayer from Psalms will help:
With your very own hands you formed me;
now breathe your wisdom over me so I can understand you.

..........................................................

Oh, love me--and right now!--hold me tight!
just the way you promised.
Now comfort me so I can live, really live;
your revelation is the tune I dance to.

..........................................................

And let me live whole and holy, soul and body,
so I can always walk with my head held high.

(The Message, Psalm 119:73, 76, 77, 80)
We want to be able to walk with our heads "held high." We want to feel good about who we are. In order to love ourselves, we have to let God love us. It's that simple … and that powerful.
God loves us because of who He is and who we are. What is our relationship to God? Who is God to us?
I will receive you. And will be a Father unto you, and ye shall be my sons and daughters, saith the Lord Almighty. (II Cor. 6:17, 18)
The Spirit itself beareth witness with our spirit, that we are the children of God: And if children, then heirs; heirs of God, and joint-heirs with Christ. (Rom. 8:16, 17)
Not only are we God's sons and daughters, His children, we are His heirs. That means that God has given each one of us everything that He is and has. Think about that for a moment. Think about how that relates to our lives. It gives us the incredible freedom to be who God made us. We don't have to be who we think others (parents, friends, teachers, boyfriends, wives, siblings, bosses) want us to be or even who we think we want to be (musician, accountant, astronaut, athlete, artist, girlfriend, parent). We will never discover our true worth if we look to others for validation. We certainly don't have to be trapped by the images the media sends out either. We are free to be who God wants us to be.
Who does God want us to be? What does he want us to do?
Obey my voice, and I will be your God, and ye shall be my people: and walk ye in all the ways that I have commanded you, that it may be well unto you. (Jer. 7:23)
Ye are my witnesses, saith the Lord, and my servant whom I have chosen: that ye may know and believe me, and understand that I am he. (Isa. 43:10)
God wants us to be His people and to obey Him. He has made us "witnesses" -- to see the good in others, to see the love of God, and to glorify Him in what we do. Whatever we love doing, we can do better by knowing that we are glorifying God and witnessing His power -- whether we are baseball players, actors, engineers, teachers, artists, swimmers, students, employees. God has also made us "believe" and "understand" Him. He didn't make us doubt Him, challenge Him, or hide from Him. He has told us that if we obey Him, all will be "well." One of the prophets in Isaiah acknowledges:
This people have I formed for myself; they shall shew forth my praise. (43:21)
God needs us just as much as we need God, as a playwright needs the actors and the actors need the audience. We each have our own unique role in life, and often that role will change. We may be a student, teacher, restaurant hostess, and older sibling all rolled into one. We will not always be leaders at all times. Often, it's more important to play the supporting role. Many plays feature certain characters while others are ensemble pieces. Regardless of the type of play, each role is significant; each person is needed -- both on and off the stage. The actors can't go on without the tech crew to support them. Each and every person is valuable to God and expresses God in his or her individual way. If everyone expressed God in exactly the same way, life would be pretty boring.
So, what does God think about us?
Since thou wast precious in my sight, thou hast been honourable, and I have loved thee (Isa. 43:4)
[H]e kept him as the apple of his eye. (Deut. 32:9, 10)
Isn't it comforting to know that God thinks of us as "precious" and that we are indeed the "apple" of His eye? What better place could we be than in the center of God's vision! If God sees us as precious, then we must see ourselves as precious, or we are denying our inheritance as God's children. As God's heirs, we'll experience the calm and peace from knowing who we are.
There is one more thing we must do for ourselves, for God. Jesus told us clearly what we, as the children of God must do, giving us our purpose:
"Let me tell you why you are here. You're here to be salt-seasoning that brings out the God-flavors of this earth…. You're here to be light, bringing out the God-colors in the world. God is not a secret to be kept. We're going public with this, as public as a city on a hill. If I make you light-bearers, you don't think I'm going to hide you under a bucket, do you? I'm putting you on a light stand. Now that I've put you there on a hill-top, on a light stand - shine! Keep open house; be generous with your lives. By opening up to others, you'll prompt people to open up with God, this generous Father in heaven." (The Message, Matt. 5:13-16)
If we understand that God has already formed us in His loving image, then we can be excited about who we are and love ourselves. We can rejoice that our identity is maintained by God. We can share our light with others. That indeed, is a precious gift, not only for ourselves, but for the world.