Infinite Supply
Categories: Elijah and Elisha, God's Provision
I wish…
I want…
I need…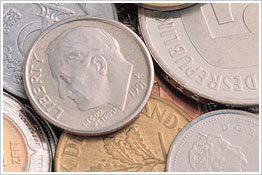 What usually comes after those phrases? Perhaps: I wish I had a better car. I want more money. I need a job. If only there were more hours in the day. We all could easily fill in the blanks with our own "wish list." But let's not -- not yet, not until we take a closer look at what we're really saying.
What assumptions do we make when we begin a thought with those words? We are assuming that we lack something, that there are shortages of job opportunities, money, time, energy -- you name it.
Operating from a basis of lack is commonplace today. Just look at the media, especially advertising. Products usually originate in one of two ways:
Someone sees a need and tries to supply that need by creating a product, or
Someone comes up with a great idea or product and then creates the need for it.
Many products change our lives (like the cotton gin, electricity, the computer). Other products aren't as revolutionary. So, advertisers work hard to create a need for their product, making sure that as consumers, we feel inadequate -- lacking beauty, health, security, love, power, wealth, etc. As a result, we have a large population of people who feel inferior and try to compensate for their "created" deficiencies by buying different advertised products or by trying other means to acquire what seems to be missing.
How do we effectively correct this sense of lack?
The world tells us that money can buy power, prestige, friends, work, cars, influence, and lots of things that we assume will make us happy. Yet, once we obtain money and things, we often want more and are not happy until we get it. This becomes a vicious cycle. We become like dogs trying to catch our tails.
Sometimes it's hard to stop ourselves from chasing our tails. It's helpful to realize that much of what we think we lack, we really don't need. What's more, many times our feelings of inferiority are manufactured; they're artificial. Why should we allow the media, or even people we know, to make us feel inferior? Aren't we the beloved children of God? Of course we are!
Because we are God's children, we can spiritualize our concept of supply. Sure, we may find immediate gratification and fun when we buy new toys, join a popular or elite group, get accepted into the college of our choice, or find a high paying job. Yet, happiness produced by material possessions, other people, or outside sources is fleeting and limited. Things run out. People change. Jobs come and go. So let's ask ourselves some important questions:
How would our lives change if we stopped looking to outside things to supply our "needs" and started realizing that obtaining things does not and cannot lead to true and lasting happiness, satisfaction, or fulfillment?
What kind of supply will really satisfy us?
How would we feel if we knew that our source of supply was unlimited?
From where does the unlimited source of supply come for ideas, friends, employment, education, transportation, and income? The answer is simple: God. God's ideas are forever lasting. They can never dry up and disappear. God meets all our needs.
Understanding this answer and feeling comfortable with trusting God to supply our every need tends to take more work, though. As usual, the Bible helps us spiritualize our thought, elevate our consciousness, and place our trust in God. The Psalmist says:
How excellent is thy lovingkindness, O God! therefore the children of men put their trust under the shadow of thy wings. They shall be abundantly satisfied with the fatness of thy house; and thou shalt make them drink of the river of thy pleasures. For with thee is the fountain of life: in thy light shall we see light. (Ps. 36:7-9)
There's one word in this psalm that stands out in particular -- the word "abundantly." Abundance is the exact opposite of lack. Abundance indicates an overflow -- of happiness, wealth, inspiration. In this case, putting our trust in God's "lovingkindness," gives us an abundance of satisfaction. We're "satisfied with the fatness," or largeness, of God's "house" and "pleasures." Moreover, God has given us the "fountain of life." What more could we want?
We might respond, "I really do need a job; I need it for myself, for my family. I don't have enough money to meet my basic needs. I do feel rejected and inferior because I didn't get into the college of my choice. I desperately want a relationship because I really feel lonely."
Rather than focus on what we lack, we have the opportunity to learn that we already have everything we need. That's a powerful, life-transforming thought. Psalm 23 wakes us up:
The Lord is my shepherd; I shall not want. (1)
"Shall" is a command, just like the commandments: "Thou shalt have no other gods before me" (Ex. 20:3). So, does the psalm mean that we can't ever have desires, wants, or wishes? We certainly should examine our "wants." Often our motives aren't quite right, or we want things that are not good for us, or that we don't really need. But what this psalm is really saying is found in the definition of "want," which can mean "lack"
God, my shepherd!
I don't need a thing. (The Message, Psalm 23:1):
Isn't that incredible? "I don't need a thing!" We don't lack anything. This expresses the attitude of gratitude. Adopting such a sense of gratitude can drastically alter our experience. If we are grateful for what we do have, we will not be spending time focusing on what we don't have. Our attitudes, outlook, and life will become lighter. We will be more open to opportunities that we may otherwise overlook. These opportunities may open doors that will lead to new, exciting, rewarding, and more lasting blessings.
Let's declare right now, "I don't need a thing!" We can be assured that this is true. We don't need a thing because we are God's beloved child. God has already given us everything we need to succeed, to live, and to glorify Him.
Elisha proved the power of gratitude, the power of operating from the basis of infinite supply. There was a woman whose husband had died, and she owed money. The creditor was going to enslave her sons to pay the debt. When she asked Elisha for help, he asked her, "[W]hat hast thou in the house? And she said, Thine handmaid hath not any thing in the house, save a pot of oil" (II Kings 4: 3). Even though it could have seemed silly to the woman, Elisha told her and her sons to borrow vessels from everyone possible, to come back, and pour the oil into the vessels. The oil kept filling the empty vessels. They were then able to sell the oil and live freely. Elisha worked with what the woman already had. She just had to change her attitude: she had to stop fearing, stop focusing on lack, and start being grateful for what she had, start expecting good. This expectancy of good produced an abundant supply.
So, when the thoughts, I wish…, I want…, I need… come to mind, we can change the content to reflect what we're learning about supply:
I wish I understood my relationship with God better, and I can.
I want to trust God more, and I will.
I need to be grateful for everything that God has already given me, and I am.
When we are grateful for the supply that God has already given us, we will find ourselves amazed at how much God loves us. We will be open to discovering just what infinite supply really means.
As you read Psalm 23 in Eugene Peterson's translation and in the KJV, notice:
How many different ways God meets our needs
How abundantly he provides for us
How loving His tender care of us truly is
How we are blessed by God's infinite supply
Psalm 23 (The Message)
GOD, my shepherd!
I don't need a thing.
You have bedded me down in lush meadows,
you find me quiet pools to drink from.

True to your word,
you let me catch my breath
and send me in the right direction.

Even when the way goes through
Death Valley,
I'm not afraid
when you walk at my side.
Your trusty shepherd's crook
makes me feel secure.

You serve me a six-course dinner
right in front of my enemies.
You revive my drooping head;
my cup brims with blessing.

Your beauty and love chase after me
every day of my life.
I'm back home in the house of God
for the rest of my life.
(The Message, Psalm 23)

Psalm 23 (KJV)
The Lord is my shepherd; I shall not want. He maketh me to lie down in green pastures: he leadeth me beside the still waters. He restoreth my soul: he leadeth me in the paths of righteousness for his name's sake. Yea, though I walk through the valley of the shadow of death, I will fear no evil: for thou art with me; thy rod and thy staff they comfort me. Thou preparest a table before me in the presence of mine enemies: thou anointest my head with oil; my cup runneth over. Surely goodness and mercy shall follow me all the days of my life: and I will dwell in the house of the Lord for ever.