Make Room for Peace
Categories: Perseverance
Up until this year, the number one thing people wished for at Christmas has been "peace on earth," according to the polls. This year, people's number one Christmas wish is a computer, and "peace on earth" has moved to second place. Rather shocking, isn't it? Rather sad, too. And slightly ironic since computers, when they stall, fail, or crash, tend to ruin our peace of mind.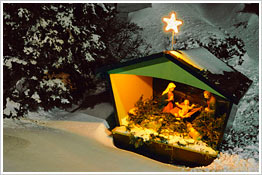 But many of us still wish for peace and sing about it in our Christmas carols, echoing what the angels sang over 2000 years ago, when they filled the night sky with their radiant voices:
And suddenly there was with the angel a multitude of the heavenly host praising God, and saying, Glory to God in the highest, and on earth peace, good will toward men. (Luke 2:13, 14)
The shepherds, carefully watching over their sheep, heard the "good tidings of great joy" which was meant for "all people" (2:10), and they ran (as quickly as they could with their sheep) to see the babe "wrapped in swaddling clothes, lying in a manger" (2:12). They wanted to be in the presence of one who fulfilled prophecy:
For unto us a child is born, unto us a son is given: … and his name shall be called … The Prince of Peace. (Isa 9:6)
How can we be like the shepherds?
Are we eager to stop what we're doing to let peace into our lives? Do we hear the "heavenly host praising God" in our families, homes, relationships, classes, and careers?
Or do we find excuses for not being able to be at peace or complain that we can't find it? Do we listen to the whispers of self-doubt, screams of fear, or grumbles of frustrations?
The shepherds followed the voice of peace. It's no wonder that they did as one of the synonyms for "peaceable" is "gentle as a lamb" (Rodale's Synonym Finder). Tending to sheep, they knew what it meant to be gentle. So they were able to welcome and appreciate the message of Christ Jesus, whom John the Baptist called "the Lamb of God" (John 1:29). That message was peace. "Peace be unto you," Jesus said (Luke 24:36). He told those he healed to "go in peace" (Luke 8:48). He stilled the storm with "Peace, be still" (Mark 4:39).
Are there storms in our lives that we need stilled?
Do we feel tempest-tossed by everything we need to do, not knowing how to get everything done for school, work, and home? Do we feel agitated about a rocky relationship, troubled by lack of money, concerned about arguments in our families, worried about our grades? Sometimes we let ourselves get caught up in these negative feelings. Sometimes we ignore them and rush from one activity to the next. And at Christmas, it's especially easy to get overwhelmed by the frantic pace of the holiday season and sometimes lose sight of what the Christmas season is all about -- ushering in "peace on earth" and "good will."
If we want peace, then somewhere amidst all the noise, we must earnestly desire peace. We must expect it. We read in I Peter: "he who would love Life and enjoy good days, … let him seek peace, making peace his aim" (I Pet 3:10, 11 Moffatt). We have to pursue peace.
Let's ask ourselves: What am I pursuing? Am I pursuing peace?
One way to tell what we're seeking is to see how we're spending our time, including our thought time. On what are we concentrating all our energy? Is what we're doing and how we're thinking bringing us peace or anxiety? If something is making us more anxious, then maybe something needs to change. Maybe we need to change where we're looking for peace.
So where do we seek peace?
We look to the "Lamb of God," the "Prince of Peace." Jesus said, "Peace I leave with you, my peace I give unto you." But he specifically tells us that the peace he is promising is a different type of peace. He continues: "…not as the world giveth, give I unto you" (John 14:27).
So what type of peace does Jesus give?
Not worldly peace, for the things of the world (computers, video games, designer clothes, cell phones, sports cars, popularity) don't bring us lasting peace. Wasn't Jesus talking about an inner peace that comes from welcoming the Christ into our lives? True, lasting peace comes from Christly conditions, from a Christly state of mind.
As God's "beloved Son" (Mark 1:11), Christ Jesus knew that "God is love" (I John 4:8). And he came to share this news with "all people." He revealed to us that we are all God's beloved children. This knowledge gives us an inner peace that cannot be taken away by anyone or anything. As a result, we are able to "follow peace with all men" (Heb 12:14). Happiness, tranquility, gentleness surround us when we are peacemakers. Jesus affirmed, "Blessed are the peacemakers: for they shall be called the children of God" (Matt 5:9). Knowing we're God's children enables us to stay calm regardless of what's going on around us and brings peace to tumultuous situations.
Jesus showed us the power of this peace. He calmed the storm because he himself was calm. He was so calm that he was sleeping in the stern of the ship. This is not an example of escaping what needs to be done by sleeping, which people sometimes do. When the disciples called him, he did not roll over on his pillow; he got up right away and "rebuked the wind…. And the wind ceased, and there was a great calm" (Mark 4:39). Jesus didn't ignore the wind; he "rebuked" it. He stilled it.
So what did Jesus do to have that sense of peace?
He often "withdrew" from the crowds; he went up to the mountain tops, he sailed into the middle of the sea; he prayed in the wilderness and in the gardens. He made space for stillness, for quietude, for reflection.
How can we make space for peace in our lives?
Let's start by making room for God.
Maybe we need to wake up earlier in the morning to have that quiet time with God.
We can open the Bible and be inspired.
We can sit quietly and listen to what God is telling us.
How can we make peace in our homes?
We can speak to each other peaceably and refuse to speak any other way.
Maybe we just need to spend more time together as a family.
Let's turn off the TV, the computer, and the video games and instead talk, play group games, laugh, and pray together.
How can we make space for peace at school or work?
At our breaks, let's take five minutes to calm ourselves and let God tell us what to do next.
We can read a favorite Bible passage.
We can let a favorite hymn fill us with peace before we go on to the next task.
When we make time for God, we will naturally feel a greater sense of peace within ourselves.
So when we think about what we want for Christmas, let's not forget to wish for peace. But let's also remember that the angels were being grateful for "peace on earth" over 2000 years ago. Peace is already here. Peace is present within us. We just have to make room for it.
---
If you'd like to read the angels' message and the shepherds' reply, it's here for you:
Luke 2:1-20 KJV
And it came to pass in those days, that there went out a decree from Caesar Augustus, that all the world should be taxed. (And this taxing was first made when Cyrenius was governor of Syria.) And all went to be taxed, every one into his own city. And Joseph also went up from Galilee, out of the city of Nazareth, into Judaea, unto the city of David, which is called Bethlehem; (because he was of the house and lineage of David:) To be taxed with Mary his espoused wife, being great with child. And so it was, that, while they were there, the days were accomplished that she should be delivered. And she brought forth her firstborn son, and wrapped him in swaddling clothes, and laid him in a manger; because there was no room for them in the inn. And there were in the same country shepherds abiding in the field, keeping watch over their flock by night. And, lo, the angel of the Lord came upon them, and the glory of the Lord shone round about them: and they were sore afraid. And the angel said unto them, Fear not: for, behold, I bring you good tidings of great joy, which shall be to all people. For unto you is born this day in the city of David a Saviour, which is Christ the Lord. And this shall be a sign unto you; Ye shall find the babe wrapped in swaddling clothes, lying in a manger. And suddenly there was with the angel a multitude of the heavenly host praising God, and saying, Glory to God in the highest, and on earth peace, good will toward men. And it came to pass, as the angels were gone away from them into heaven, the shepherds said one to another, Let us now go even unto Bethlehem, and see this thing which is come to pass, which the Lord hath made known unto us. And they came with haste, and found Mary, and Joseph, and the babe lying in a manger. And when they had seen it, they made known abroad the saying which was told them concerning this child. And all they that heard it wondered at those things which were told them by the shepherds. But Mary kept all these things, and pondered them in her heart. And the shepherds returned, glorifying and praising God for all the things that they had heard and seen, as it was told unto them.