Pray with Authority
Categories: Sermon on the Mount
Is there something in our lives we'd like healed? How do we pray about it? And when we pray, do we expect good results? Or do we just hope? What is required of us to pray with confidence and assurance? The end of the Sermon on the Mount may have a clue: "When Jesus had finished saying these things, the crowds were amazed at his teaching, for he taught with real authority…" (Matt 7:28, 29 NLT).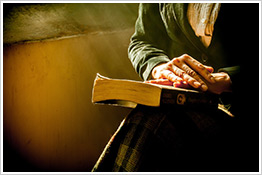 Jesus lived his whole life with "real authority," true power derived from God. His authority came as a result of his humility, his absolute reliance on his Father to lead him every step of the way. His confidence in God's ability enabled him to heal the sick, the blind, deaf, lame, insane, outcast, and more. And Jesus expected us to do the same: "I can assure you that whoever believes in me will do the same things I have done. And they will do even greater things than I have done…" (John 14:12 ERV).
What a statement! Jesus was assured of our success at living a healing life. Do we have that same assurance? We certainly can. The disciples did, and we're disciples, too. Let's think of ourselves as ambassadors of God. Just as ambassadors are given the power to act (it is not their own power), so God gives us the power to act with authority. This is where humility comes in. It's not our own power; it's God's.
So when we're faced with a situation that's scary—perhaps there's a physical challenge, or a teenager is falling victim to negative peer pressure, or there's discord in the family, or a child is not doing well in school, or the work environment is unethical or gossipy—there is something we can do. We skip the human wishing and hoping and pray with confidence. We humbly turn to God for authority over the situation. We refuse to let circumstances or situations drive us, make us fearful, or undermine our reliance on God.
God cares for each one of us so supremely and tenderly. So we can let go of our own human opinions and views and trust God's view. Holding onto God, we speak with authority. We tell our children they are good, that they are able to meet every challenge because God has equipped them with the ability to think. We affirm that harmony is normal and natural at home and work. We declare that God heals and maintains our health. We acknowledge the power and reality of God's goodness and blessings. And that is demonstrating authority.
Sometimes there are times when things just don't seem to work out, even if we're speaking with authority and expecting results. Jesus wasn't able to heal in his own town. But he didn't stop praying. He didn't stop turning to God. He didn't give up his trust in God's absolute authority over his life. For those few days after Jesus was crucified, the disciples must have been wondering what in the world went wrong. Maybe prayer is just futile. Maybe Jesus' words and works didn't really mean anything. But the resurrection, the ascension, the day of Pentecost sure changed their perspectives and lives. And they have given us proof of God's power.
So if we're ever concerned that we're not enough, that we don't know enough, or that God just doesn't hear our prayers, all we have to do is look at the lives of the patriarchs, the prophets, Jesus, and his disciples. When they healed, they spoke with the authority that came straight from God.
When the people were concerned about the bad water and the barren land, Elisha spoke and acted with authority: "This is what the LORD says: 'I have healed this water. Never again will it cause death or make the land unproductive.' And the water has remained pure to this day, according to the word Elisha had spoken" (2 Kings 21-22 NIV).
When Jesus healed, he spoke with authority: "Peace, be still," and the storm ceased (Mark 4:39); "Stretch forth your hand," and the hand was healed (Mark 3:5); "Stand up," and the lame man walked (Matt 9:6); "My child, stand up," and Jairus' daughter rose from death (Luke 8:54). The list goes on. And the disciples continued the work.
It's now our turn to turn to God completely, knowing that God can do the work. So when we pray, we can listen with humility, speak with authority, and expect results.