Prayer – A Remedy for Terror
Categories: Daniel, Shadrach, Meshach, and Abednego, Tragedy
We live in a world of extremes. Over the past few years, we have been pushed by circumstances to continue to redefine one such extreme: terrorism -- violence, or the threat of violence -- that brings on a feeling of intense fear. We identify this term in connection with trouble spots around the world and associate it with uncertainty. When confronted with terrifying situations (or those that are potentially so), we can turn to God with certainty and intense confidence and trust, or extreme prayer.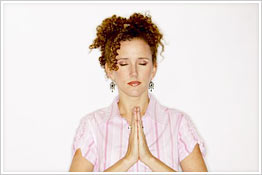 One Bible story has been particularly useful to me because it shows how trust in God brought one man through a rather traumatic situation. Daniel, a high-ranking and favored official in the king's court, prayed to God three times a day. A group of the king's officials (jealous of Daniel's power) devised a scheme to remove Daniel from power and kill him. These officials convinced the king to sign an irreversible decree that he would punish anyone who did not worship the king exclusively. The punishment -- imprisonment in a den of lions -- would be a decisive way to get rid of Daniel. In the face of this ominous threat, Daniel's trust in God did not waver; he did not change his behavior. He simply kept on praying as he had been doing. The officials caught Daniel praying and forced the king to carry out the punishment. Daniel spent the night locked in the lions' den. However, God was with Daniel in the lions' den, and Daniel was not hurt. When the king rushed to see Daniel the next morning, Daniel acknowledged God's presence. Daniel knew he had done nothing wrong in continuing to pray to God in spite of an unjust decree. He said:
"My God hath sent his angel, and hath shut the lions' mouths, that they have not hurt me: forasmuch as before him innocency was found in me; and also before thee, O king, have I done no hurt." (KJV Daniel 6:22)
The lessons I took from this story have been invaluable to me:
Praying to God did not prevent Daniel from being tossed into the den of lions. However, prayer and trust in God kept him safe from the harm that the other officials had expected the lions to inflict on him.
Daniel fully supported the king in his duties as an officer. In effect, Daniel's prayers supported his government. The first thing Daniel said to the king in the morning from the lions' den was, "O king, live for ever" (Dan. 6:21). It was a greeting of respect for the king's authority. There was no anger, no derogatory comment about the decree, no shouts of "okay, now get me out of here!" He knew that he was innocent and that his prayer could not bring any harm to the kingdom.
Daniel was not motivated by fear. He was not intimidated by the other officials into doing something he did not believe was the right thing to do. His confidence in God and the expectation that God would deliver him was proven correct in the outcome of the situation. No matter how terrible the threat seems to be, God's power is supreme.
Like Daniel, we can live with total confidence in God. We can maintain our focus on what is good and true and cultivate qualities such as innocence in our lives. This provides the resources with which to handle any challenging situation that might feel like a den of lions. We can know that God's loving presence is always with us, and live by the Golden Rule -- doing unto others as we would have them do unto us. We can also watch what holds our attention so as not to be tricked into doing something we know isn't right.
In the Bible, Paul writes, "For God hath not given us the spirit of fear; but of power, and of love, and of a sound mind" (II Tim. 1:7). Keeping our focus on God can annul threats, "the spirit of fear," with which anyone would like to menace us, whether it be a group of terrorists threatening violence, or individuals attempting to change our behavior with threats in any form. We can, like Daniel, turn to God with complete confidence (being of a sound mind) and fully trust in His protection.
"Wait on the Lord: be of good courage, and he will strengthen thine heart: wait, I say, on the Lord." (Ps. 27:14)
My job frequently takes me to Europe and Russia. Last fall, my team was scheduled to travel to Moscow. Just prior to the trip, a group of Chechen rebels had taken hostages in a theater, threatening to blow up the theater if the Russian government did not promptly begin to withdraw from Chechnya. As I prepared for that trip, I thought deeply about its purpose and how the meetings would help our project move forward. (See the description in Teen Time Feb. interview --Guest of the Month.) I had concerns about the situation. While the problem at that moment was limited to one theater, it was hard to tell whether it would spread to other areas in the city. Like Daniel, I prayed.
Some of the things I considered prior to the trip included:
We (U.S. and Russia) had a shared goal in this project (disposing of weapon-grade plutonium). Wouldn't it be right for this work to progress unimpeded?
Right after 9/11/01, would I have wanted foreign colleagues to refrain from traveling to the U.S. because of fear, or to travel here anyway so that we could continue to work together?
Was I being influenced by fear? Wouldn't it be better to listen to God?
Was I going to allow myself to be deterred by the fear of violence? Wouldn't this be giving in to terrorism?
I took my thought off of the theater in Moscow. I chose instead to place complete confidence in God and to make the trip and follow through with what I felt was an important project. I thought about another passage from the Bible:
"Behold, I send an angel before thee, to keep thee in the way, and to bring thee into the place which I have prepared." (Ex. 23:20)
The day before our departure, the Russian government took action -- took control of the theater without yielding to Chechen demands -- and the traumatic event concluded. In Moscow, our team opened the meetings by offering words of understanding and condolence to our Russian counterparts, acknowledging the challenging situation from which the city had just emerged. Our compassion was well received. It felt absolutely right to be there and participate in the meetings as planned. This feeling was tangible evidence of God's presence. It gave me a deeper appreciation of the grace of Daniel's leadership and trust in God -- a trust deep enough to destroy terror and bring peace.