True Brotherhood
Categories: Family and Friendship, Friendship, Relationships
True brotherhood is one of the most powerful forces in the world. And it's something the world greatly needs. Jesus showed us what brotherhood really is by doing three different things:
Loving his "brothers;"
Respecting everyone;
Bringing out the best in everyone.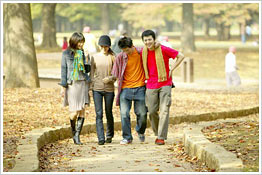 Loving His Brothers
The best definition of true brotherhood that I've heard is what Jesus told his disciples: "Greater love hath no man than this, that a man lay down his life for his friends" (John 15:13). And he followed his own words. He laid down his life for all of us.
Jesus proved to us that if you really love your friends, you will do anything for them, even if it includes dying for them. That is what brotherhood is to me -- a feeling of complete commitment to your "brothers," friends, that you would do anything for them.
Respecting Everyone
Jesus had such a tight brotherhood with his disciples that during the last evening they spent together before he was arrested and killed, he washed his disciples' feet. Even though Jesus was considered greater than his disciples because he was their teacher, he washed their feet as if they were greater than he was. This showed tremendous respect and love for them.
This is a humbling example because Jesus was so unselfish! If Jesus washed his disciples' feet, what should we be doing for each other?
After he had washed their feet he explained what he was trying to teach them:
"Do you understand what I have done for you?" he asked them. "You call me 'Teacher' and 'Lord,' and rightly so, for that is what I am. Now that I, your Lord and Teacher, have washed your feet, you also should wash one another's feet. I have set you an example that you should do as I have done for you. I tell you the truth, no servant is greater than his master, nor is a messenger greater than the one who sent him. Now that you know these things, you will be blessed if you do them." (John 13:12-17 NIV)
Bringing out the Best in Everyone
Jesus also made his students think about what they should be doing for each other. He urged us to be more compassionate, patient, trusting, and caring towards one another. All of these combined would create an indescribable brotherhood between everyone.
Experiencing Brotherhood in Action
I think I experienced true brotherhood recently when I was the only freshman on my school's varsity basketball team. Even though most of the players on the team were upper classmen, the sense of brotherhood I experienced was strong. We all had a lot love for each other.
The result was incredible! Our team won more games in our district tournament than we were expected to. Even when the games were hectic, we had a calm feeling that that kept us working as a team and brought out the best in each other. I think the keys to our team unity and success were respect, unselfishness, and trust. Our team was talented, but we would not have been nearly as good without the trust we shared.
Sharing Brotherhood
Brotherhood is loving one another as if there were no tomorrow. Doing so can bring extraordinary changes. But more than that, brotherhood is a powerful force for good, which comes straight from God.
Nothing is holding us back from expressing and feeling brotherhood. We don't lack anything we need to experience it. And we don't have to "make" or force it to happen, either. We just need to follow Jesus' example by loving and respecting one another and bringing out the best in each other.