Safe in Our Shepherd's Care
Whatever path we're pursuing -- whether we're students, artists, actors, athletes, business individuals -- we often have managers (teachers, mentors, directors, coaches) who oversee and guide our careers. The kind of management we're under impacts our experience. Sometimes we struggle and suffer; other times we flourish and thrive. The 23rd Psalm shows clearly Who is managing our careers and our lives -- it's God, our Shepherd.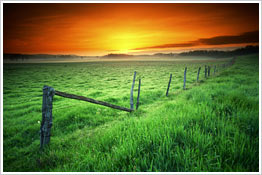 The Lord is my shepherd;
God is our sole manager, in charge of every aspect of our lives, entirely responsible for our care. We do not manage ourselves nor is another person responsible for our lot in life. People, like sheep, struggle alone. But when we acknowledge and claim that God is our Shepherd ever with us, we can confidently follow His directing.
I shall not want.
To me, this is a demand for us to be utterly content with God's good care. God is completely capable of establishing EVERY aspect of our lives. God wants us to be content, well fed, safe, and flourishing. We can trust our lives, as well as our desires, to Him. We do not need to want for anything else.
He maketh me to lie down in green pastures:
In Palestine (Israel and the surrounding areas) where David, the psalmist, lived, green pastures just don't happen. They're a result of careful preparation by the shepherd, as is success in our lives. It doesn't just happen. But we can know that God is working on our behalf to keep us in a fruitful place.
he leadeth me beside the still waters.
God provides our watering holes for us. He knows all the needs of our lives and careers and is fully capable of leading us to where we can be filled. On a deeper level, water is symbolic of inspiration. So, God is leading us to spiritual inspiration and fulfillment. All we have to do is to be willing to drink the water He's giving us.
He restoreth my soul:
Sheep can be easily cast down -- be turned on their backs and not able to get up by themselves. We, too, can be easily cast down by apathy, fear, disappointment, etc. One of the shepherd's most important jobs is finding the cast sheep and righting them. What's so wonderful is that God's never fed up or annoyed by those of us who have fallen down. He's ever attentive, ready to pick us up and restore our sense of well-being.
As an artist, I find that I have to combat the stereotype that artists are moody, depressed, discouraged. But these are not right states of mind for anyone, as they are states where we are very self-absorbed, thinking about how horrible our lives are. Such states are never productive. The Bible teaches us that life is always about God; we are created to glorify God; that's our sole purpose. In moments of searching, I think we need to claim our birthright as children of God. Good doesn't come from evil. Light never comes from darkness. Claiming our birthright leads us out of selfish depression and into the joy of knowing we belong to God. We can feel God lifting us up and restoring our soul.
he leadeth me in the paths of righteousness for his name's sake.
One of the most important aspects of shepherding is keeping the sheep on the move so they don't overgraze one spot. How easy it is to get our lives together and just stay there! We may get too comfortable with a certain way of doing things or in a particular career, which may cause us to feel like we're in a rut. So, this is an interesting parallel. God always has a plan of action (not inaction) for us. We have to follow and trust our Shepherd's path. It takes courage to leave the familiar, but we need to be on the move to lead a progressive life. We don't want to sit and be miserable for 40 years. We want to move in the direction God is moving us.
Yea, though I walk through the valley of the shadow of death, I will fear no evil: for thou art with me;
Sheep are driven into higher ranges in the summer. It's an arduous drive through treacherous paths and valleys. But the paths are not unfamiliar to shepherds who have already scouted them and are taking their sheep to a higher plane. Life isn't always easy: we may find ourselves in valleys or in scary places where we're alone. But when we acknowledge that God is guiding us, we find our life experiences better, especially after we've made the journey and have let God lead us to higher ground.
thy rod and thy staff they comfort me.
The rod is an extension of the shepherd's right hand to safeguard and correct sheep. Before each sheep enters the corral, the shepherd uses his rod to inspect each and every sheep. We don't always want to be corrected, but it's necessary. We read in Psalm 139, "Search me, O God, and know my heart: try me, and know my thoughts" (23). God knows us intimately. There is nothing hidden from God. All the corrections that need to take place in our thoughts and experiences will be brought out, and we'll see where we need to grow. The staff is symbolic of the spirit of God. The staff catches the sheep and draws them together to the shepherd. We are intimately cared for by God. He draws us to Him, and we have to be willing to be drawn to Him. God is always talking to us and leading us. We just have to be willing to follow his lead.
Thou preparest a table before me in the presence of mine enemies:
It's wonderful to understand that a table is a mesa on a high plateau and that the shepherd leads the sheep to it in summer during dry times. These mesas are remote and hard to get to, and it's absolutely impossible for sheep to get there on their own. Before the shepherd takes his sheep there, he determines the best places for them to graze. He looks for poisonous plants, "the presence of mine enemies," such as the clover that the sheep might eat, and rips them out of the ground. The shepherd gives right nutriments to the soil. These mesas are places of prosperity, which are truly right for us. We can't get to them by ourselves. We have to rely on God who is ever mindful of what we need and is willing to bring us to the place that is best for us: "Behold, I send an Angel before thee, to keep thee in the way, and to bring thee into the place which I have prepared" (Ex. 23:20). We can know that God is guiding us where we need to be and that we are ready to hear and follow the steps that are right for us to take.
thou anointest my head with oil;
Sheep are greatly annoyed by flies. Oil protects them from the disturbance of flies. As we are anointed and inspired by God's word, distractions of daily life will cease to bother us. We're then able to exchange restlessness, irritability, and impatience for our innate qualities of calmness, joy, peace, and contentment.
my cup runneth over.
When a sheep becomes chilled, it can cramp quickly and die. In Biblical times, a shepherd carried a flask of wine. Pouring a few spoonfuls down the throat of a soaked and dejected lamb would quickly renew the creature as warmth spread through his body. No matter what storms we may face, God's very life, His spirit, strength, vitality is pouring and overflowing into our lives from His cup so we can stand tall in times of trouble. It's also comforting to realize that in order to meet our sometimes distressing and immediate needs, our Shepherd is right there with us. We are not alone.
Surely goodness and mercy shall follow me all the days of my life:
When we follow God's diligent care, goodness and mercy are the results. We can have confidence in God, knowing that wherever God guides us is good. If it is good for us, it must of necessity bless others as well.
and I will dwell in the house of the Lord for ever.
We can be completely satisfied with our lot in life because we are at home with God. There's no better, safer, more productive place to be.
Below are two versions of Psalm 23 which provide unique inspiration applicable to our daily lives.
A Japanese translation of Psalm 23
The Lord is my Pace Setter, I shall not rush.
He makes me stop and rest for quiet intervals,
He provides me with images of stillness, which restore my serenity.
He leads me in ways of efficiency through calmness of mind;
And His guidance is peace.
Even though I have a great many things to accomplish each day,
I will not fret, for His presence is here.
His timelessness, His all-importance will keep me in balance.
He prepares refreshment and renewal in the midst of my activity
By anointing my mind with His oils of tranquility.
My cup of joyous energy overflows.
Surely harmony and effectiveness shall be the fruit of my hours, for
I shall walk in the place of my Lord and dwell in His house forever.
Eugene Peterson, The Message
GOD, my shepherd!
I don't need a thing.
You have bedded me down in lush meadows,
you find me quiet pools to drink from.
True to your word,
you let me catch my breath
and send me in the right direction.
Even when the way goes through
Death Valley,
I'm not afraid
when you walk at my side.
Your trusty shepherd's crook
makes me feel secure.
You serve me a six-course dinner
right in front of my enemies.
You revive my drooping head;
my cup brims with blessing.
Your beauty and love chase after me
every day of my life.
I'm back home in the house of GOD
for the rest of my life.