Appreciate Family
What is something that you take for granted in life? Is it how much you have -- things like iPods and phones? I know something that we all can take for granted at some point, and that's family. The fact that we have people to turn to, to care for us, people who will always be there for us, is something I know isn't always on my mind. I think of family in two parts -- parents and siblings.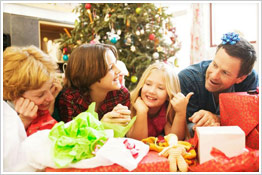 Parents seem to be the people who can hold you back when they want to, but they also provide you with love and protection. One story in the Bible that explains parents is Jesus' parable of the Prodigal Son (Luke 15:12-32).
This story gives a valuable lesson because the Prodigal Son sees how important his family is. At the beginning, the son tells his father that he really hates him and wants his inheritance money so he can leave his family. The father loves his son and protects him. He must have felt that giving him the money was the right thing to do. The son learns his lesson. He has no one to turn to when he is out on his own. He realizes how his father took care of him and loved him. He returns and apologizes to his father. His father keeps loving him. Jesus knew the importance of a loving family.
So how does this apply to us? Suppose you want to go to a friend's house late at night and your parents say no. Not only do they say no, but they also add, "It's because we love you!" or, "It's for your own good." At first you are frustrated by this remark. But maybe a week or two later, you realize that this remark is true. You find out that some bad things took place at this friend's house that night and a lot of negative results are coming from this. If you had been there, you would have been guilty by association.
The next part of family is siblings. There is a good passage in the Bible about what we should do with siblings: "Let brotherly love continue" (Heb. 13:1). Jesus demonstrated love to the world. He knew that brotherly love was an important factor and that it must be obtained and shared forever. If everyone loved each other, there wouldn't be any conflicts. Conflicts between neighbors, states, countries, would all disappear. If we could sustain brotherly love for the rest of our lives, little problems would disappear. When little problems disappear, big ones begin to vanish also.
Family is one of the most important things we have. True, genuine family gives you warmth and protection that you can always rely on when you are in need. We should never take our families for granted, never feel that we should be able to leave our families whenever we want. If we do, then all we'll find outside of our home is fear, uncertainty, and loneliness. The story of the Prodigal Son shows us this.
We should respect our parents for what they've experienced and know about life. They've had times when friends have made poor choices, and they don't want the same thing to happen to their children. Siblings should care for each other. When you are the older, you can know that the younger cares for you in so many ways and that he or she doesn't want to leave your side. If you're the younger, you can know that your sibling cares for you, but he or she may need space sometimes.
It's important to understand that family is what we usually rely on the most. It's the feeling and the people we assume will always be with us. We can't take them for granted. We must love and appreciate them for everything they are and for everything they do.
Here's the story of the Prodigal Son (Luke 15:11-32 KJV)
And he said, A certain man had two sons: And the younger of them said to his father, Father, give me the portion of goods that falleth to me. And he divided unto them his living. And not many days after the younger son gathered all together, and took his journey into a far country, and there wasted his substance with riotous living. And when he had spent all, there arose a mighty famine in that land; and he began to be in want. And he went and joined himself to a citizen of that country; and he sent him into his fields to feed swine. And he would fain have filled his belly with the husks that the swine did eat: and no man gave unto him. And when he came to himself, he said, How many hired servants of my father's have bread enough and to spare, and I perish with hunger! I will arise and go to my father, and will say unto him, Father, I have sinned against heaven, and before thee, And am no more worthy to be called thy son: make me as one of thy hired servants. And he arose, and came to his father. But when he was yet a great way off, his father saw him, and had compassion, and ran, and fell on his neck, and kissed him. And the son said unto him, Father, I have sinned against heaven, and in thy sight, and am no more worthy to be called thy son. But the father said to his servants, Bring forth the best robe, and put it on him; and put a ring on his hand, and shoes on his feet: And bring hither the fatted calf, and kill it; and let us eat, and be merry: For this my son was dead, and is alive again; he was lost, and is found. And they began to be merry. Now his elder son was in the field: and as he came and drew nigh to the house, he heard music and dancing. And he called one of the servants, and asked what these things meant. And he said unto him, Thy brother is come; and thy father hath killed the fatted calf, because he hath received him safe and sound. And he was angry, and would not go in: therefore came his father out, and entreated him. And he answering said to his father, Lo, these many years do I serve thee, neither transgressed I at any time thy commandment: and yet thou never gavest me a kid, that I might make merry with my friends: But as soon as this thy son was come, which hath devoured thy living with harlots, thou hast killed for him the fatted calf. And he said unto him, Son, thou art ever with me, and all that I have is thine. It was meet that we should make merry, and be glad: for this thy brother was dead, and is alive again; and was lost, and is found.