Be a Mother
How can you make a difference in your family? Take on the role of a true mother.
We all know what the Bible tells us as one of the Ten Commandments: "Honor your father and your mother" (Ex 20:12). So let's honor our mothers by being a mother, by expressing motherly characteristics.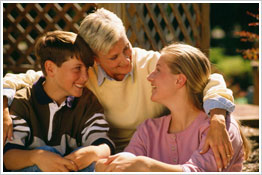 Mother your parents, your siblings, your pets, your friends. If you happen to be a young mother, take some time to learn even more about true motherhood.
It doesn't matter if you're a girl or boy -- you can still express mothering qualities. Yep, you can!
Let's define what it means to be a true, real, exceptional mother so we know what motherly characteristics to express. This is only a partial list.
A mother:
Loves unconditionally
Prays daily for her children
Sees each child's real, God-given identity – as God's "image and likeness"
Rejoices in her children's innate greatness, given by God
Tells her children truthfully how wonderful they are
Minimizes any faults or mistakes her children make and instead magnifies the good
Values her children and their unique contribution to the family and the world
Appreciates her children's ideas and perspectives
Encourages her children
Listens without judgment in order to understand
Is there 24/7 for her children and spends time with her children
Supports her children in every way possible
Comforts her children
Nurtures each child's individuality
Plays with her children – with lots of joy
Helps her children be responsible for their own choices
Goes the extra mile
Is aware of all the details
Helps her children learn, grow, understand, think, be independent
Keeps her children as safe as possible
Sets helpful and firm boundaries
Expresses patience and kindness
Teaches, instructs, guides with love and consistency
Sets an example
Follows through on her word
Keeps things neat and orderly
Prepares meals
Shares insights and inspiration
Let's her children explore and discover things
Knows when to talk and when to keep silent and just listen
Speaks with compassion
Listens to her child's heart
Is open to what her children have to tell her
Teaches her children what it means to be moral, living by example
Teaches her children to love God, especially by loving God and loving them and others
This is part of what it means to be a mother. Some moms do a fantastic job expressing these qualities. Others are still working on it. Regardless of what type of mom we have, we can bring these qualities of motherhood into our lives by expressing them – by living them.
We can honor our mothers by mothering them. As we do, we'll gain a clearer concept of motherhood, discover that these qualities are more abundant in our lives, and bless so many people – including ourselves.