Conquering Drought
There are places in the world that are dealing with severe drought or lack of water. We're told that conserving water is a must. Even freeway signs shine: "Severe drought. Conserve." Conserving or reusing water in different ways is exceptionally important. Yet conservation can't produce water. It can only help us make the water last a little longer.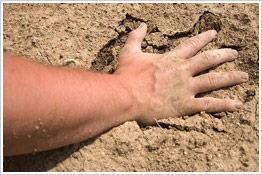 So how do we make a bigger difference? We turn to God, like we do for everything else. One of the prophets of Isaiah declares: "I will pour water on the thirsty land, and streams on the dry ground; I will pour out my Spirit on your offspring, and my blessing on your descendants" (Is 44:3 NIV). It's God who blesses us, God who inspires us, God who gives us everything we need.
The story of Elijah proves this point. When Ahab, king of Israel, marries Jezebel and starts worshipping Baal rather than God (and as a result, most of the Israelites follow their king's lead and worship idols), Elijah shows up to tell Ahab that there won't be any rain for a long time—not until he says otherwise (1 Kings 17:1). The drought is symbolic of a spiritual drought—a lack of the desire to understand, worship, obey, trust in God.
God takes care of Elijah, though. He sends him first to a place where there is a running brook, and then, when the brook dries up, to Zarephath, where God has "directed a widow there to supply" Elijah (17:10 NIV). When Elijah arrives, he sees this widow and asks her for water and bread. But she's preparing to cook one last meal for herself and her son before they die.
The responses of both Elijah and the woman are incredible. Elijah replies, "Don't be afraid" because God won't let your flour or oil run out (17:13). In the face of death, don't fear. And the woman believes him and serves him first. She is generous in the face of lack. As a result, her oil and her flour stay; she doesn't run out of food; she and her son are safe, blessed.
Eventually, the rain returns in abundance after Elijah has a show down with Ahab's people and proves that God is indeed God, and that Baal is an empty sham of a god who cannot answer prayers (I8). It is a spiritual awakening for many of the Israelites, a call to return to God. And so, the rain, the heavenly inspiration, comes to sustain and invigorate a now-thirsty people. The drought is over.
So how does this apply to us and our world and its people who often lack water, food, or other natural resources?
We turn to God for everything.
We decide not to be afraid, no matter the circumstances. We don't let fear run our lives or make our decisions for us.
We listen to God and obey God's direction. This includes taking practical steps.
We have a generous and giving spirit. We share what we have. Maybe it's water or food. Maybe it's prayer, work for others, clothes, a smile, a hug, support.
We spend time connecting with God, understanding how great God is, putting God first in our lives.
We pray for the world and its people, trusting that God can communicate to everyone, and everyone can hear God's voice.
We express gratitude. When we're grateful, we see the possibilities, and our heart is ready to receive the blessings God is giving us.
King David reminds us in his psalm: "The LORD is my shepherd; I have all that I need" (NLT Ps 23:1). "I shall not want" (KJV). "I lack nothing" (NIV). "I will never be in need" (CEV). What a wonderful statement of trust, of truth!
It is this truth, this sense of trust, that really conquers drought—knowing that God supplies all of our needs, and as a result, we (and everyone else) can never lack anything. God is the great supplier.