Feeling Dad's Presence, Even After He's Gone
I was talking with my friend, Buff Harris-Colarossi, who had lost her father quite suddenly. It was hard to come to terms with his passing. Her dad had been a constant presence in her life, so she missed him very much. But she didn't want the grief to last. She knew her dad would not want her to stay sad, either. Buff wanted to honor him and move forward with her life. But how?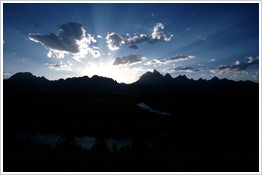 Buff realized that while she couldn't have her dad by her side, she would always have what he had given her. What she respected the most about her dad, the qualities she missed the most, she would try to express herself. He was a very gentle man. He was patient, unflappable, and helpful. He never spoke harshly. Buff decided to incorporate these qualities into her own life.
If she didn't express those God-given qualities the way she wanted to, she prayed to have God help her express them. She decided to be gentler with others and to be more patient with her family. She became more aware of her own actions and speech and gentled herself. This had a wonderful impact on her view of herself and on her relationship with her family. Once again, Buff began to feel the constant presence of her dad. And she felt herself again.
We may no longer be able to hold the hands of those we love or to talk with them on the phone. But Buff was very clear as she spoke:
You're still you. It feels different without your dad, and that part hurts. But you're still your own beautiful you. We're happy because we are us. You go and be you, and don't be you affected by your dad's absence. Be you because that's who God made you to be.
Powerful, uplifting truths! God made us each individually unique and complete. We are each on our own journey, and we have to let our loved ones continue on theirs, just as we continue on ours – even if we can't see where they are or where they're going. But we can keep them in our lives and honor them by following their good example.
Jesus set an example for his disciples and followers so that we would "go and do likewise" (Luke 10:37). Jesus explained that "whoever believes in me will also do the works that I do; and greater works than these will he do, because I am going to the Father" (John 14:12 ESV). So to honor our loved ones who have gone on (be it a parent, spouse, sibling, child, relative, friend), we can cherish the good in them and follow their example. We can figure out how to express the good they exhibited and so feel their presence. We can all turn to our Father, God, and let God father us with infinite, unconditional love.