Impact of Education on Women in the United Arab Emirates
I have been privileged to witness, even to participate in the revolutionary changes that are possible with the education of women in the United Arab Emirates. I worked at both campuses of a university for Emirati women in Abu Dhabi and Dubai in this current decade.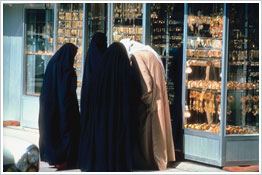 Though the cultural stereotypes regarding women define somewhat limited roles for them, some women are taking steps to use their education in leadership roles. The UAE now has four women ministers in their government, one whom I've met. I also know a few women personally whose education has made a huge impact in their lives.
Here, let me share a story of one of them. To respect her privacy, I'll keep her anonymous.
This woman is single, around 40, so I doubt that she will marry, but she is very happy with her life. She has a degree from UAEU in English Language and Literature and worked for years as an ESL teacher. Later, she was a coordinator of English Language learning for the Abu Dhabi Ministry of Education.
This woman, as is typical here, is very committed to her family and is devoted to her parents; she especially treasures her young nieces and nephews, for whom, I am sure, she must be a real inspiration. She is very committed to her religion and has completed the Haj to Mecca—on her own. She comes from a conservative family. Her father was a fisherman who became a councilman. Her mother's education was in a Qur'anic school (where women learn how to read the Qur'an). As an unmarried daughter, she lived at home with her parents. She was never was permitted to learn to drive, though she was allowed to take taxis when the family driver was not available to pick her up. Traveling between the campuses was not an issue.
I met this woman when she interviewed for a position as head of the Curriculum Resource Center in a library. Less than a minute into the interview, I knew I was in the presence of a formidable woman. She came with an impressive portfolio and a head full of ideas, as well as enthusiasm for our university and its potential.
I knew that this position represented less vacation, and a lower salary than her position in the Ministry. "Why would you apply for this job?" I asked. "Your other position is more comfortable and has more vacation." She confirmed that our position represented a 40% cut in salary—but affirmed that it offered her much greater potential for stimulation and growth. She had the job!
She was wonderful—not only in all that she brought to the job, but also as a role model for our students. She was their mentor, their counselor and a force on the faculty.
When our institution was preparing to offer a Masters Degree in Educational Leadership, I wrote to the Dean of the program stating that this woman should be allowed to take the course for free. She would provide a wonderful role model for other students in the program, and this would be a fitting reward for all that she had contributed to our institution.
The program was actually fully funded with scholarships, and one would have been given to her, but her father felt that her acceptance of a scholarship would reflect badly on their family—as if she needed a form of charity. He did not, however, pay for her studies. So she paid herself, leaving herself quite broke for the more than two years of her studies. She graduated with honors—of course.
This amazing woman talked for a long time about using her new knowledge in a new and challenging position. It took awhile, but she was finally offered a very good position with the Ministry of Education. She has just stepped down from the position of the Chief of Development for the Western Regions of Madinat Zayed and Al Ruwais— in areas whose educational programs cry for improvement and development. She has been well paid—and has had a challenge of revolutionary proportion. She is not certain what her next challenges will be—but has the dream of developing a publishing company for children's books in Arabic.
It has been a privilege to know my friend. She has certainly inspired me, and I know that she will provide inspiration for those she will help, those she will mentor. I envision her nephews and nieces as future leaders with high expectations, unlimited hopes, and undaunted courage. They will learn that from their aunt!