No To Pot is Yes to Freedom: How Some Teenagers are Taking a Stand
We have some teenage friends who happen to be in the minority—they don't do pot/weed (or nicotine or alcohol) in any form. Only one or two of their friends join them in their stance. The rest use substances. That's pretty discouraging.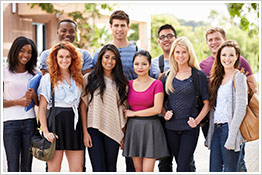 Our teen friends have noticed that their friends who are smoking marijuana have lost interest in many things they used to like; they've lost motivation and ambition. They don't feel like biking or hiking or going to a huge trampoline-jumping facility. They also think more slowly than before. Learning hip-hop dance choreography is more difficult for them: it takes them longer to figure out and memorize the steps.
What's awesome is that our friends have become active in their community to fight against pot/weed/marijuana/cannabis. They've met with their city council members to explain their views. Some of the people and in their town want to commercialize cannabis, grow and sell it for pleasure, not just for medicinal use. So our teenage friends have stepped up and become very civic-minded. They have gone to city council members, including the mayor, and have talked about why they don't want cannabis to be dispensed in their community. They're speaking up and standing up for what they believe.
Pot is ruining their friends. Dispensaries will hurt their town. For starters, pot smells bad! Plus, pot use has proven to increase traffic accidents. It also messes up friendships, degrades individual dignity, attracts the wrong type of tourism and business, and leads to other drugs.
Those who use marijuana may argue that it doesn't affect them, that it's not addictive, not a big deal, that you should do it with them. They may offer all sorts of reasons why pot is great: it feels good; it takes your mind off your problems; it is fun, etc. People may say it doesn't kill brain cells. Then why can't their friends think as well? They may say it's a safe drug. So why are their so many weed-related accidents? They may say it won't lead to using other drugs. Then why is it considered a gateway drug?
I had a friend whose brother introduced him to pot in high school. He smoked it for a few years and quit before college. To this day, decades later, he says smoking pot was one of the worst decisions he made. He says he's slower at learning things and doesn't think as quickly or as clearly. But he's super grateful he quit, and he has a successful life. His brother, however, got into stronger and harder drugs, had an illegitimate child, ended up in prison, and died from drugs in his 40s. Pretty sad.
It takes moral courage and conviction to say no when we're being pressured by friends to do something that sounds fun or exciting or adventurous. And sometimes we may feel an urge to be rebellious or court danger or prove we're invincible. But our friends have made it very clear to their friends that they won't engage in drug or alcohol use.
It takes humility to trust in God. But Jesus did. So did the prophets and the patriarchs. And they ended up being successful in life (even after some pretty major mistakes along the way).
When we say NO to drugs, we're saying YES to God, to dignity, to a life of freedom from oppression, to joy and success. We're saying YES to wonderful opportunities, to being aware of the blessings of life, to adventure and experience, to family and true friendship. I'm sure we can think of more that we're embracing when we say YES to God.
We all can be like our teenage friends and take the morally courageous stand. We, too, can make a difference. Who knows what our stand will do for others. I have heard many instances in which people have come up to the one person who says no to a drink and have thanked that person for saying no because it gave them the courage to do the same. We all can be lights in the darkness.
And for extra support, we can always turn to the Bible. Bible writers have shared with us excellent wisdom that can help us take a stand for what is good and right and pure—to make a stand for that which will bless us all. We'll leave off with some passages and questions for thought and action.
Take heed to yourselves, that your heart be not deceived, and ye turn aside, and serve other gods, and worship them…. (Duet 11:16 KJV)
When you use cannabis you're making it a god, making it more important than God, worshipping the feelings you get from getting high.
Do not be deceived; God is not mocked, for you reap whatever you sow. (Gal 6:7 NRSV)
Don't fool yourself. If you're bringing weed into your life, you are opening yourselves up to a life of hardship. It's just the way it goes.
Now the works of the flesh are obvious: fornication, impurity, licentiousness, idolatry, sorcery, enmities, strife, jealousy, anger, quarrels, dissensions, factions, envy, drunkenness, carousing, and things like these. I am warning you, as I warned you before: those who do such things will not inherit the kingdom of God. By contrast, the fruit of the Spirit is love, joy, peace, patience, kindness, generosity, faithfulness, gentleness, and self-control. There is no law against such things. (Gal 5:19-23 NRSV)
What do you want to sow? What fruits would you rather have?
Let no one deceive you with empty words…. Therefore do not be partners with them…. Live as children of light (for the fruit of the light consists in all goodness, righteousness and truth) and find out what pleases the Lord. Have nothing to do with the fruitless deeds of darkness, but rather expose them. It is shameful even to mention what the disobedient do in secret. But everything exposed by the light becomes visible—and everything that is illuminated becomes a light. This is why it is said:

"Wake up, sleeper,
rise from the dead,
and Christ will shine on you."

Be very careful, then, how you live—not as unwise but as wise, making the most of every opportunity…. Therefore do not be foolish, but understand what the Lord's will is. Do not get drunk on wine, which leads to debauchery. Instead, be filled with the Spirit, speaking to one another with psalms, hymns, and songs from the Spirit. Sing and make music from your heart to the Lord, always giving thanks to God the Father for everything, in the name of our Lord Jesus Christ. (Eph 5:6-20 NIV)
How can we detect deception, lies? How can we help others not get fooled? How can we all lead a life of light that blesses others and is blessed by God? How can we show our gratitude to God?
Enjoy taking a stand for God!