Persistence Brings Lasting Rewards
Note: The sources given at the end of each point link to the Biblical verses.
Rebekah made a difference by graciously meeting the needs of a stranger. Genesis 24:1-27
Abraham had sent his servant, Eliezer, and several camels to his hometown and country to find a wife for Isaac. When Eliezer finally arrived, he stopped at the well outside the city. Rebekah unselfishly and lovingly drew water for Eliezer and all his camels. This took a significant amount of time and effort. She also provided lodging for him and his camels at her father's house.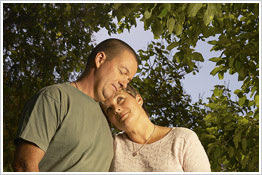 You can make a difference by meeting the needs of someone who is on the outskirts, someone who does not have a lot of friends, someone who needs help.
Turn a stranger into a friend. Get to know someone you don't know.
Help someone who doesn't seem to fit in by inviting him or her to sit with you or have lunch with you.
At school when you have to pick groups, ask someone with whom no one wants to work to join your group.
These may seem difficult. Your friends may wonder what you're doing. But you can tell your friends that you're helping someone. You can set an example. And your help could make a huge difference in that person's life.
Rebekah and Isaac made a difference by being devoted to one another and having a loving marriage. Genesis 24:51-67
Abraham sent his servant to find a wife amongst his kindred because he did not want his son marrying a Canaanite woman (who did not believe in God). In those days, fathers arranged marriages, and marrying one of your kindred was acceptable. The unique aspect of Rebekah and Isaac's story is that Eleizer didn't have to search for Abraham's family. Rebekah met him at the well. Neither knew who the other one was. She was kind and generous and expressed qualities that one would want in a spouse. And even though Rebekah's family had agreed to the marriage, they gave Rebekah the final say, which was unheard of in those times. She agreed to go with Eliezer immediately. What is more, over the course of time Isaac proved to be absolutely loyal to Rebekah, which was also not common in those days when men had more than one wife.
You can make a difference by improving your relationships with those you love.
Decide which relationship you'd like to strengthen (friend, parent, sibling). Ask that individual, "How can I love you more? What can I do to show you I value you?"
Then, do what he or she asks, given that the request is appropriate. It could mean that you need to listen to that person better, compliment that person more, find ways to appreciate him or her. It could mean not interrupting, doing the chores without complaining, or not picking a fight (with your sibling, for instance).
Isaac made a difference by being persistent in the face of trouble. Genesis 26:12-22
Isaac and his family were prosperous, and the Philistines were starting to get jealous. As a result, Abimelech, king of the Philistines, told Isaac and his family to move. So they moved to Gerar, where the wells of Abraham had been stopped up by the Philistines. Because they needed water to live, Isaac's servants dug another well. But the men of Gerar fought over it. This happened again. Finally, they dug a well and lived in peace. Isaac refused to feel defeated and refused to pick a fight even though there was good cause. Isaac persisted until there was peace.
You can make a difference by not giving up when things get hard.
If you feel defeated, instead of giving up, try again -- maybe in a different way. If you feel that you bombed big time in auditions or try-outs, work to improve yourself, and then try out again. If a sports activity is really demanding, instead of giving up because you're tired, go the extra mile.
If you're struggling in school, ask for help or get a tutor. You don't need to struggle alone.
If someone is picking on you in school, don't let him or her get the best of you by making you angry or lose control. If you see others starting fights, stop them. Find a way to make peace.
The following Bible passages from the King James Version correspond to and explain the above points regarding how Rebekah and Isaac made a difference.
Gen. 24:1-27
And Abraham was old, and well stricken in age: and the Lord had blessed Abraham in all things. And Abraham said unto his eldest servant of his house, that ruled over all that he had, Put, I pray thee, thy hand under my thigh: And I will make thee swear by the Lord, the God of heaven, and the God of the earth, that thou shalt not take a wife unto my son of the daughters of the Canaanites, among whom I dwell: But thou shalt go unto my country, and to my kindred, and take a wife unto my son Isaac. And the servant said unto him, Peradventure the woman will not be willing to follow me unto this land: must I needs bring thy son again unto the land from whence thou camest? And Abraham said unto him, Beware thou that thou bring not my son thither again. The Lord God of heaven, which took me from my father's house, and from the land of my kindred, and which spake unto me, and that sware unto me, saying, Unto thy seed will I give this land; he shall send his angel before thee, and thou shalt take a wife unto my son from thence. And if the woman will not be willing to follow thee, then thou shalt be clear from this my oath: only bring not my son thither again. And the servant put his hand under the thigh of Abraham his master, and sware to him concerning that matter. And the servant took ten camels of the camels of his master, and departed; for all the goods of his master were in his hand: and he arose, and went to Mesopotamia, unto the city of Nahor. And he made his camels to kneel down without the city by a well of water at the time of the evening, even the time that women go out to draw water. And he said, O Lord God of my master Abraham, I pray thee, send me good speed this day, and shew kindness unto my master Abraham. Behold, I stand here by the well of water; and the daughters of the men of the city come out to draw water: And let it come to pass, that the damsel to whom I shall say, Let down thy pitcher, I pray thee, that I may drink; and she shall say, Drink, and I will give thy camels drink also: let the same be she that thou hast appointed for thy servant Isaac; and thereby shall I know that thou hast shewed kindness unto my master. And it came to pass, before he had done speaking, that, behold, Rebekah came out, who was born to Bethuel, son of Milcah, the wife of Nahor, Abraham's brother, with her pitcher upon her shoulder. And the damsel was very fair to look upon, a virgin, neither had any man known her: and she went down to the well, and filled her pitcher, and came up. And the servant ran to meet her, and said, Let me, I pray thee, drink a little water of thy pitcher. And she said, Drink, my lord: and she hasted, and let down her pitcher upon her hand, and gave him drink. And when she had done giving him drink, she said, I will draw water for thy camels also, until they have done drinking. And she hasted, and emptied her pitcher into the trough, and ran again unto the well to draw water, and drew for all his camels. And the man wondering at her held his peace, to wit whether the Lord had made his journey prosperous or not. And it came to pass, as the camels had done drinking, that the man took a golden earring of half a shekel weight, and two bracelets for her hands of ten shekels weight of gold; And said, Whose daughter art thou? tell me, I pray thee: is there room in thy father's house for us to lodge in? And she said unto him, I am the daughter of Bethuel the son of Milcah, which she bare unto Nahor. She said moreover unto him, We have both straw and provender enough, and room to lodge in. And the man bowed down his head, and worshipped the Lord. And he said, Blessed be the Lord God of my master Abraham, who hath not left destitute my master of his mercy and his truth: I being in the way, the Lord led me to the house of my master's brethren.
Gen. 24:51-67
Behold, Rebekah is before thee, take her, and go, and let her be thy master's son's wife, as the Lord hath spoken. And it came to pass, that, when Abraham's servant heard their words, he worshipped the Lord, bowing himself to the earth. And the servant brought forth jewels of silver, and jewels of gold, and raiment, and gave them to Rebekah: he gave also to her brother and to her mother precious things. And they did eat and drink, he and the men that were with him, and tarried all night; and they rose up in the morning, and he said, Send me away unto my master. And her brother and her mother said, Let the damsel abide with us a few days, at the least ten; after that she shall go. And he said unto them, Hinder me not, seeing the Lord hath prospered my way; send me away that I may go to my master. And they said, We will call the damsel, and inquire at her mouth. And they called Rebekah, and said unto her, Wilt thou go with this man? And she said, I will go. And they sent away Rebekah their sister, and her nurse, and Abraham's servant, and his men. And they blessed Rebekah, and said unto her, Thou art our sister, be thou the mother of thousands of millions, and let thy seed possess the gate of those which hate them. And Rebekah arose, and her damsels, and they rode upon the camels, and followed the man: and the servant took Rebekah, and went his way. And Isaac came from the way of the well Lahairoi; for he dwelt in the south country. And Isaac went out to meditate in the field at the eventide: and he lifted up his eyes, and saw, and, behold, the camels were coming. And Rebekah lifted up her eyes, and when she saw Isaac, she lighted off the camel. For she had said unto the servant, What man is this that walketh in the field to meet us? And the servant had said, It is my master: therefore she took a veil, and covered herself. And the servant told Isaac all things that he had done. And Isaac brought her into his mother Sarah's tent, and took Rebekah, and she became his wife; and he loved her:
Gen. 26:12-22
Then Isaac sowed in that land, and received in the same year an hundredfold: and the Lord blessed him. And the man waxed great, and went forward, and grew until he became very great: For he had possession of flocks, and possession of herds, and great store of servants: and the Philistines envied him. For all the wells which his father's servants had digged in the days of Abraham his father, the Philistines had stopped them, and filled them with earth. And Abimelech said unto Isaac, Go from us; for thou art much mightier than we. And Isaac departed thence, and pitched his tent in the valley of Gerar, and dwelt there. And Isaac digged again the wells of water, which they had digged in the days of Abraham his father; for the Philistines had stopped them after the death of Abraham: and he called their names after the names by which his father had called them. And Isaac's servants digged in the valley, and found there a well of springing water. And the herdmen of Gerar did strive with Isaac's herdmen, saying, The water is ours: and he called the name of the well Esek; because they strove with him. And they digged another well, and strove for that also: and he called the name of it Sitnah. And he removed from thence, and digged another well; and for that they strove not: and he called the name of it Rehoboth; and he said, For now the Lord hath made room for us, and we shall be fruitful in the land.