Practical Ways to Make "Brotherly Love Continue"
Easter always provides us with the opportunity to rejoice in the resurrection and be thankful for Jesus' amazing love which continues to provide hope, healing, and transformation for all of us. It's also a good time to remember what he expected of us:
This is my commandment, That ye love one another, as I have loved you. Greater love hath no man than this, that a man lay down his life for his friends. Ye are my friends, if ye do whatsoever I command you. (John 15:12-14 KJV)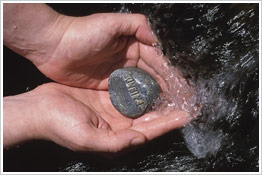 Jesus laid "down his life" for us, so the least we can do is follow his command and love others. But sometimes we hesitate. Maybe we're not sure exactly what to do or if our outreach will be accepted. Perhaps we assume others are there helping people, and so we don't reach out when we could do so.
The letter to the Hebrews gives us both encouragement and practical ways to help "brotherly love continue" (13:1).
"So don't sit around on your hands! No more dragging your feet!
Clear the path for long-distance runners so no one will trip and fall, so no one will step in a hole and sprain an ankle.
Help each other out. And run for it!
Work at getting along with each other and with God. Otherwise you'll never get so much as a glimpse of God.
Make sure no one gets left out of God's generosity.
Keep a sharp eye out for weeds of bitter discontent."
(format adapted from The Message, Heb 12:12-15)
So, let's make sure that we share "God's generosity" with others and stop any "bitter discontent" that would try to defeat or separate God's children -- all of us.
Here are some ways that Hebrews suggests we help:
"Stay on good terms with each other, held together by love.
Be ready with a meal or a bed when it's needed. Why, some have extended hospitality to angels without ever knowing it!
Regard prisoners as if you were in prison with them.
Look on victims of abuse as if what happened to them had happened to you."
(format adapted from The Message, Heb 13:1-3)
In other words, we must feel and express genuine compassion. We don't always know what others have endured. But we can be ready to lend a healing hand. And when we do, we find that the blessings just keep growing.
Are there people in our schools, churches, or neighborhoods who need help? Perhaps they have just suffered a loss; are feeling ill; find themselves in the middle of a major problem, have been abused in some way, or are recovering from an ordeal. If so, we have the opportunity to take care of others in practical ways and make them feel loved.
In addition to the previous suggestions, here are some simple ideas that have proven to be effective in making others feel loved. Each time we give of ourselves, we help uplift others' lives anew:
Make or take them a meal.
Make them extra food that they can freeze to heat up later.
Go over to their house and clean up for them.
Buy them groceries.
Give them a book to read or an audio book to listen to.
Run errands for them.
See if something in their house needs fixing, and then fix it.
Do the yard work that they can't do.
Plant new flowers.
Get a whole group of friends together and re-landscape their yard, paint their house, inside or out.
Hebrews encourages us: "Let's see how inventive we can be in encouraging love and helping out"(The Message, 10:24, 25). There are many other ways we can reach out to people through love, help to lift their spirits, and share with them the transforming power of the resurrection. With a motive to love, with our hearts open to God's messages and direction, we will be guided to do what will best help meet the needs of others.