Pray for the World – Write and Share a Psalm
The Psalms are prayers to God, songs of praise, inspiring poetic yearnings from the heart asking for God's help, guidance, and protection. The book of Psalms is divided into five different song books. King David, King Solomon, and Moses are some of the writers of the psalms in the Bible. But we all have the opportunity, humility, and intelligence to pray our own psalms and to let those psalms help people who are in difficult situations.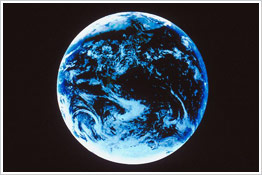 You can help the world.
September will never be the same for us in the U.S. as it's the month of 9/11. Therefore, we have the opportunity each September (and every other month) to pray for the U.S., the world, its people, and its leaders. Let's make sure our prayers are felt and heard.
Listen to God to hear what God is telling you to pray about -- for the U.S. or the world or for individuals you know who are serving our country. You can pray about several different things!
Get rid of any personal agenda or opinion about the war, our government officials, the world.
Read the Psalms. They give so much comfort and encouragement; and our world needs comforting.
Let your prayer take the form of a psalm.
Write a psalm or two (or five!) of your own. There are different types of psalms:

Lament of an individual (Psalms 5,7, 11, 17, 26, 59, 109)

opens with "O Lord"
gives a description of the problem
asks and pleads for God's help
promises to praise God

Thanksgiving of an individual (Psalms 30, 34, 56, 57, 92, 107, 116, 128)

gives gratitude to God
describes the problem
shows how God has saved and helped

Lament of the community (Psalms 44, 74, 77, 79, 80, 85, 89)

different from an individual in that it's written in the plural
includes history of God's relationship with people

Hymn or Song of Praise (Psalms 100, 148, 150)

opens with invitation to praise
gives reason for praise
recaps invitation to praise

Royal Psalms written by the kings (Psalms 2, 18, 20, 21, 89, 101, 110, 132, 144)
Wisdom / Torah Psalms explaining common sense and wisdom (1, 37, 73, 128)

There are different ways to write psalms, too:

Question/Answer entrance into a psalm

begin with a question
give an answer that comes from God
end with a blessing

Synonymous (most frequent)

1st line or verse sets out an idea
2nd line or verse echoes or intensifies the same idea in a different way
continues in this fashion

Antithetical

1st line or verse sets out an idea (God upholds the upright)
2nd line or verse offers the opposite (and destroys the wicked)
continues in this fashion

Synthetic

there is no parallelism as there is with synonymous and antithetical
more free form

Now, share your psalms with others:

Send (mail or email) it to friends who are fighting in or working to rebuild Iraq or any other community elsewhere in the world.
Share it with your family members or anyone else who you feel it would benefit.
If you want, you can send the psalms to individuals in our government, who would benefit from psalms of prayer.
Send it to Teen Time, and we'll post them so we all can feel comforted by your prayers and insights.
Enjoy praying for our nation, the world, and its people -- and seeing your prayers in action.
*Note: Information about the Psalms came from the Interpreter's Bible Dictionary.