Prayerful Preparation = Awesome Results
The different seasons offer so many opportunities for outdoor activities. No matter what the activity -- wakeboarding, snowboarding, playing soccer or ice hockey, camping, or climbing -- there are always things we have to do to get ready. We have to get our gear, check that everything's in working order, possibly check out the weather conditions, or prepare with our fellow adventurers. We want to do everything to make our activities fun and rewarding. So, we prepare appropriately.
But the preparation that makes the most difference in the success of the trip is our mental preparation -- our prayerful preparation. Are we mentally fit? Are we prayed up? Are we aligned with God?
One of our former Guests, Kathleen Arnold, is an experienced mountain climber. She shares how prayerful preparation for a serious back-country mountain climb brought incredible results. Here's her awesome story:
MFE
---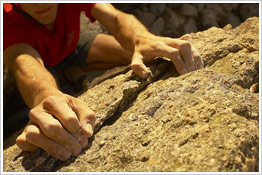 Last summer, I was climbing in Bridgeport, California, south of Reno, north of Mammoth Lake. I had gone there to do this climb with a friend. We rode 6 miles on mountain bikes, then spent 6 miles hiking in. It's called "The Hulk," but we call it "The Incredible Hulk" climb. It's a beautiful granite spire in the mountains. We were planning on doing some pretty serious climbs. Because of the remoteness, you have to be an experienced climber to go in; it's way back in the wilderness. If anything happens, no one is going to rescue you because no one knows you're there.
For safety reasons, I will not put myself into a situation that I'm not mentally prepared for. So the week before we went, I started praying with the 91st Psalm. I put myself into the psalm. For this particular climb, I prayed, "I dwell in the secret place of the most High. She is my refuge. She shall give Her angels charge over me." I put myself in feminine comfort and felt very comforted, knowing I was kept safe.
I also saw that I had masculine strength: "For the Lord shall be thy confidence, and shall keep thy foot from being taken" (Prov 3:26). I've used this proverb a lot for climbing, running, mountain biking, and work. I knew I could have confidence. I prayed to know that God would take me all the way on this climb, not just half way. I affirmed that God would keep my "foot from being taken," so I couldn't fall.
My prayerful preparation kept going throughout the entire time we climbed. If ever I'm scared in the middle of climbing (on any climb), I just think about the part, "For he shall give his angels charge over thee, to keep thee in all thy ways. They shall bear thee up in their hands, lest thou dash thy foot against a stone" (Ps 91:11, 12).
On one climb, we realized when we were getting close to the top that we still had two hours to go, and it was already 9 p.m. and dark. We would have to navigate in the dark on a rock that we hadn't been on before. My partner had done another route on that rock, so he knew the descent. At that point, he would be able to know where to go. It was a full moon; the stars were out; and we had head lamps. So instead of being afraid that night was falling, I knew that my confidence came from God. I prayed for that God-given confidence, and I got it. I really embraced the whole experience that God's angels are all around, above, beneath, and beside me and us, guiding the way. We found the way.
When you climb, one person climbs ahead of the other, sets an anchor, and then the next person comes up. Every command was clear. We went about the climb calmly, double checking everything. We were motivated to get up to the top, then go down and sleep in our sleeping bags. We topped out at 1:00 a.m., got on our tennis shoes, and walked down. It took us an hour and a half. We climbed into our sleeping bags at about 2:30 a.m.
The whole experience couldn't have been more perfect.
Because of where this climb was, I knew I had to prepare mentally for it. I spent a full week praying, knowing that God is my only help. It was so clear. Prayer is effective.
Kathleen Arnold
So, let's be like Kathleen and prepare prayerfully for every activity -- outdoor or indoor. That way, we'll be sure to see the difference that God makes in our lives. Have fun praying!
MFE