Seeing God Expressed...in Basketball Changed My Outlook on Life
It's the third quarter, and it's the first basketball game of the season that I've been a bench warmer. 
"Yeah, Sarah! Nice move!" She had made a sweet move, and we scored! What could have been more exciting than that!? It was amazing. Oh look, they're coming down the court again to play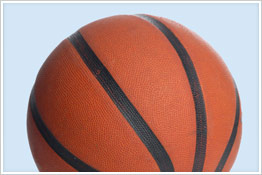 offense. 
"Look at JJ! She's open, she's open!… No!" The offensive player on our team threw the ball right into the defender's hands, and she shot down the court for an easy lay-up. Two points for them. How could they let that happen?
"Come-on! Hustle! Get back on defense! Oh, nice pass." Maybe we'll get the shot this time.
… FREEZE!
That's exactly what I did. On the bench for that game, in that moment, I froze. I stood still for just a few moments. Both my actions and emotional involvement in the basketball game froze. I could still hear everyone around me cheering, yelling, and screaming, but it felt like I wasn't there. I was alone in thought.
And those few moments of stillness changed the way I view sports forever. In those few moments, something made me step away from myself and look and observe through eyes I rarely look through. In that moment, flashbacks of years and years of playing sports, not only basketball, raced through my head. For these few moments, I saw everything in my past, present, and future differently.
… UNFREEZE!
Questions flowed through my head:
Was I really getting that caught up in a game?
How many years have I been letting my emotions be determined by whether or not we made a good pass or threw the ball into the defender's hands?
That moment -- when I had a quiet, peaceful, stillness -- enabled me to step back from myself and see how much I was immersed in a simple game. With no effort involved, something in me changed; it was completely unexpected. Even if I tried, I could not change it back. My love for the game of basketball (as I knew it) left; it was gone! "Voilá!" That was all it took. 
But wait, there is more to it. I did not decide to quit basketball simply because I didn't love it anymore. My love of the game didn't just leave me and disappear. I just didn't love it in the same way. I love different aspects of the game now. 
I love looking out on the court and seeing God expressed through joy, harmony, supportive teammates, and so much more. This is what I now love in basketball -- God. So it really isn't basketball that I love anymore; it's the experience of living and moving as the expression of God that is so dear to my heart. Playing basketball is a wonderful way to rejoice in the glory of God. Basketball is not the only place you can do that. This experience has made me enjoy things in my life that I have never enjoyed before. Simple things have touched my heart.
Basketball is great. I am always going to be grateful for the role it has played in my life and the lessons I've learned through it. But now I want to share with others what I have learned. 
It's more rewarding when you love something for what it stands for, not just for what you are physically gaining or experiencing.
Life is about love.
So no matter what you are doing, whether it's playing basketball, doing school work, chilling with friends, or knitting, as long as there is Love, each experience can be unforgettable and life changing.
Psalms 32:11 declares, "Be glad in the Lord, and rejoice, ye righteous: and shout for joy, all ye that are upright in heart."
Let's take that to heart and rejoice in the Lord!