September's School Survival Guide
As summer vacation ends and the new school year begins, our emotions tend to vary from excitement to fear. Often, we are so caught up in buying new clothes and school supplies that we forget to pay attention to our spiritual needs. So, before zipping up that new backpack full of fresh notebooks and sharpened pencils, remember that the most important part of your life is not something you can purchase: it's your relationship with God. No matter what activity you participate in, keep yourself near to God -- in class, during athletic practices and games, at music rehearsals, and with family and friends. He's already your number one fan.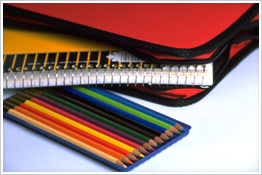 Being able to balance homework, friends, family, extracurricular activities, and spiritual growth is not easy. In fact, it requires determination and some well-planned organization. Here are some suggestions:
One fun first step to starting a successful school year is putting all your summer vacation adventures in a scrapbook. During the first few weeks of school, it is very common to hear people mumbling, "I wish it were still summer!" or, "I can't believe summer is over!"
It is important to remember to live in the now and not in the past.
No, it doesn't mean that we must forget about that day at the beach or the trip to New York; we just can't let those good times interfere with moving forward.
So, when it comes to putting away those memories in a scrapbook, either choose a store-bought book or just keep the memories close to your heart.
And, since you can't spend all day swimming in your pool or out surfing in the ocean or wakeboarding in your favorite lake, remember that you can still walk on water (Matt. 14). Unlike Peter, though, keep this in mind:
Don't fall or sink:

in the churning drama of others;
or in the heavy homework load of classes;
or in reliving an awesome or not so awesome summer;
or in thinking you are not able.

Rather, be like Jesus and have the courage to:

put your full faith in God to handle whatever may arise;
maintain a sense of calm confidence;
remain above, untouched, by trouble -- "hid with Christ in God" (Col. 3:3).
The New Testament begins with Matthew telling of Jesus' journey. Let's use it to begin our school-year journey. As Jesus makes his mark, he meets many people. So, get out there and introduce yourself just like Jesus did!
Not everyone you encounter will be a friend, but there is always something positive to gain from the experience of meeting new people.
You might learn that you need some practice in breaking out of being shy, or that maybe you can help someone in need.
Even though you might be returning to the same school, there will be new students who may need help finding their classes. So, help them out.
If you are new to a school, let God lead your orientation, and remember that everybody has been new to a school at some point; so you are not alone.
While meeting new people, stay true to yourself. Don't alter your interests and dislikes just because the person you are talking to disagrees.
Knowing that we all children of God relieves all tension between those who disagree.
The Beatitude that begins, "Blessed are the meek" (Matt. 5:5), holds a great message to keep in mind. The Message gives this reading of the Beatitude: "You're blessed when you're content with just who you are -- no more, no less. That's the moment you find yourselves proud owners of everything that can't be bought." Therefore, be you; be unique; be an example -- just like Jesus!
Another key to making this school year a success is flexibility. This is especially true when it comes to classes and try-outs for music, drama, or sports.
One common scenario is that you have planned your class schedule with your best friend. You hope that you get all the same classes just like last year. Unfortunately, when you get your schedule, you realize that you didn't get the same English class together.

It is important that you immediately stay calm.
It is so easy to want to yell at someone or make someone fix the schedule.
But God never lets us be in need.
Being in a different class gives you the opportunity to make new friends.

Being flexible when you don't get on the sport team, make the play, or get into the choir you wanted will help you see God's plan for you and will help you see the good in various opportunities.
Remember that God is still there and always will be. God is:

the support that helps you walk into a class full of new faces;
the cheerleader who cheers you on not only at the football game but in the halls;
the comforter who makes your feel better when you score lower than you thought you would on that first test;
and the bodyguard who keeps you safe from the school bullies.
Even though your schedule may seem overwhelming, make sure to schedule in time for yourself.
Sometimes the best time for yourself is doing something that makes you happy. Often we do things only because they look good on a college application. Applications are important, but it's is also important to have fun and do what you truly love.
Maybe it is possible to get your college application's extracurriculars and fun time in the same activity.
So, think about your interests or activities that you may want to try. Getting involved with school activities helps keep you active in your school and meet new people in an environment where you all share a common interest.
Try getting involved in sports, theatre, musicals, choir, band, the school newspaper, yearbook; student government, volunteer community work, clubs, honors groups.

Make sure that you can commit to whichever activities you like and choose so that you are productive and happy.
Over-committing yourself usually makes life more difficult, harried, and less successful because you can't focus your energies, skills, and time.
Since waking up in the morning and getting back into a routine can be a little challenging after a long and exciting summer, find ways to get yourself motivated and ready to take on the day. One great self-motivator, which a good friend of mine told me, was to stick Post-It notes with inspirational phrases in places that you see every morning.
Take about 10-15 minutes before going to bed each night to reflect on your day and come up with notes for your Post-Its. Try using your favorite Bible verses!
Post them around where you'll notice them.
Then in the morning, you'll find you'll wake up with a positive attitude and that you're learning to start and end each day with God.
Now is the time to get involved, and make your mark on the world! Enjoy your school year, and remember what Jesus said to his disciples: "Go ye therefore…. I am with you always, even unto the end of the world" (Matt. 28: 19-20).