Serve Others with Humility
The Passion Week was an emotionally charged week of conflict, humility, teaching, prayer, healing, and fulfillment of prophecy. It ended in the final triumph - the resurrection.
Ways Jesus made a difference with humility: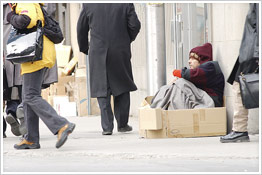 During the feast of the Passover (the night Jesus was betrayed), Jesus washed his disciples' feet. It made many of them, particularly Peter, uncomfortable because washing someone's feet was a servant's job, not the job of a revered and respected teacher and leader. Yet, in washing their feet, Jesus taught his disciples a lesson: that with humility we are to serve others. John 13:1-17
Ways you can serve others with humility:
They may seem trivial compared to the Master's example, but every little step makes a difference in someone's life.
Help someone in need, even if it means washing feet, dishes, clothes, etc.
Join or start a school club that provides community service. Help beautify the campus by planting trees, picking up garbage after lunch (there's much more than you think out there!!!), or doing something that your campus community needs.
Start an Easter food drive. Easter is about the resurrection - "He is risen!" What better opportunity to uplift the lives of those in need! Usually food drives are done at Thanksgiving and Christmas. But there are people who need food throughout the year. You can donate food to a local charity organization or shelter.
"Resurrect" - that is, uplift! - the thoughts and actions of those around you: refuse to take offense or be brought "down" by someone's comments or attitude. Instead, lift up the general atmosphere by loving your neighbor!
---
John 13:1-17
Now before the feast of the Passover, when Jesus knew that his hour was come that he should depart out of this world unto the Father, having loved his own which were in the world, he loved them unto the end. And supper being ended, the devil having now put into the heart of Judas Iscariot, Simon's son, to betray him; Jesus knowing that the Father had given all things into his hands, and that he was come from God, and went to God; He riseth from supper, and laid aside his garments; and took a towel, and girded himself. After that he poureth water into a basin, and began to wash the disciples' feet, and to wipe them with the towel wherewith he was girded. Then cometh he to Simon Peter: and Peter saith unto him, Lord, dost thou wash my feet? Jesus answered and said unto him, What I do thou knowest not now; but thou shalt know hereafter. Peter saith unto him, Thou shalt never wash my feet. Jesus answered him, If I wash thee not, thou hast no part with me. Simon Peter saith unto him, Lord, not my feet only, but also my hands and my head. Jesus saith to him, He that is washed needeth not save to wash his feet, but is clean every whit: and ye are clean, but not all. For he knew who should betray him; therefore said he, Ye are not all clean. So after he had washed their feet, and had taken his garments, and was set down again, he said unto them, Know ye what I have done to you? Ye call me Master and Lord: and ye say well; for so I am. If I then, your Lord and Master, have washed your feet; ye also ought to wash one another's feet. For I have given you an example, that ye should do as I have done to you. Verily, verily, I say unto you, The servant is not greater than his lord; neither he that is sent greater than he that sent him. If ye know these things, happy are ye if ye do them.