Serving Church through Music
As a musician, I love serving God through music. When I play, I'm glorifying and reflecting God. So as a music teacher, one of my goals has been to help train my church-going students to serve their churches, regardless of denomination.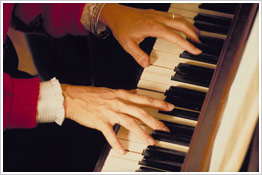 Hymns are very comforting. And prayer through singing hymns has been proven to be effective. Peter was in chains in prison at night, and his friends sang hymns. The chains fell off, and Peter and Silas were freed. The people of his "church" had gathered elsewhere to pray – their singing certainly contributed to Peter's release. So why should not we be singing hymns?
When I lived in California, I would have hymn sings every November. I figured Thanksgiving was a good time to praise God and express gratitude through singing.
In preparation, I asked my students to bring their church hymnal to their lesson so they could learn their own church's music. The students played at different levels, so they learned hymns of varying difficulty. Some churches have hymns for beginning pianists who can only play one note at a time, which is how I worked with my little kids. The ultimate goal was for them to be able to play hymns in their own churches.
For the hymn sing, my students had to each play two hymns. I made copies of the words for our audience. The hymn sing was a learning situation, like a workshop, with parents and friends singing along as the students played. A parent gave a blessing at the beginning and the end. If my students were in junior high or high school, they got up and publically said a prayer for the benefit of the recital. The parents were pleased and gratified that their children could give such a meaningful performance.
I am still in touch with some of the students. I have had students playing the piano all over the world, serving their churches.