Stopping Gossip
A group of peers and I would come together and talk from time to time. I noticed that this group liked to talk about another group of people whom they were not familiar with. I found that my group of friends did not have a lot of nice things to say about this group of people.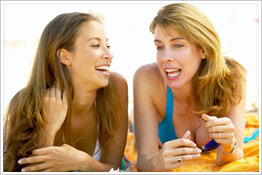 Because of this, I found myself becoming very angry and frustrated with my peer group. At first, it was challenging to stand up and tell them that talking badly about another group of people does not solve any of their problems. Standing up for what you believe in is most often a puzzle and a stress when no one else supports what you think is right.
Daniel was thrown into a lions' den for standing up for his beliefs and thoughts about God. He would not betray God. The next morning, Daniel was found alive in the den. He explained, "My God hath sent his angel, and hath shut the lions' mouths, that they have not hurt me: forasmuch as before him innocency was found in me; and also before thee, O king, have I done no hurt" (Dan 6:22). Because Daniel's motives and worship of God were pure, he was safe from punishment and persecution. Daniel shows that we can take a stand and be calm about it.
I started to make small comments about why berating others was not necessary. As I began to assert my confidence, confronting them became easier, and their gossip became less.
Haley Morton
---
Gossip tends to find a way into our lives pretty easily. But gossip can really hurt people and can get pretty nasty. When we refuse to listen to or engage in gossip, we are making a difference: we are improving our mental environment; we are helping others to speak kindly; and we are protecting the targets of gossip. We are setting a good, moral, and high standard for ourselves and others. And that does so much good! So whenever we're tempted to engage in gossip or even listen to it, let's find the strength to speak up, like Haley.
MFE