Strive for Wisdom – Start "Wisdom Circles"
Background on Proverbs
Proverbs are wise sayings that guide us in our lives, warn us of dangers, explain how to succeed, and encourage us to learn. They also promote the pursuit of wisdom. Most of the sayings in the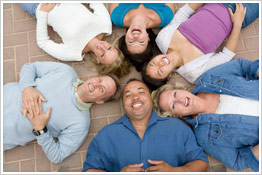 book of Proverbs are from Solomon, who, according to the Bible, "spake three thousand proverbs: and his songs were a thousand and five" (I Kings 4:32). That's a lot of proverbs! But Solomon was known for his wisdom. When he was a young man becoming king, "the Lord appeared to Solomon in a dream by night: and God said, Ask what I shall give thee" (I Kings 3:5). Solomon asked God for wisdom to rule effectively. God gave him "a wise and an understanding heart; so that there was none like [him]" (12). He also gave him "riches, and honour" and promised to make him live longer if he would follow God's commandments (13, 14).
How many of us, when given the chance to ask for whatever we want, would ask for wisdom -- without any strings attached -- like Solomon did? He was amazingly wise and humble. The effect was that he became legendary in wisdom and riches.
You can make a difference
Decide individually to search for and gain wisdom:
Humbly ask God for wisdom -- and mean it.
Ask God for wisdom when you really would rather ask Him to make sure you can get something you want (like a bike, car, money) or do something you want (like go to a concert, get on the tennis team, pass the SATs with flying colors).
Then, in every situation, whether big or small, listen to what God tells you to do.
Take action based on God's answers.
Don't be afraid to stop and change what you are doing if God guides you differently.
Start a "wisdom circle" and work with others to become wiser.
The concept of wisdom circles has already been established.
Its purpose is "to give voice to the values of compassionate community and the [sic] make integrity a visible force in the world" (www.wisdomcircle.org/intro.html). It's a way for people to get together, make connections, and make a difference in their own and others' lives.
There are guidelines for the wisdom circle.
Get a group of people together. It might be nice to make sure that there are some "new" faces -- people who don't already know each other.
Figure out when you're going to meet, your purpose, and the guidelines you will follow.
You may want to leave the duration of your wisdom circle open-ended.
You may want to vary the exact purpose or structure of your time together in your wisdom circle and make it unique to your community and the people around you. So, here are some ideas for things to do:
Decide on the purpose and goals for your group. You may have multiple goals and/or different ones for each time you meet. Some possibilities are:

to learn more about each other and have fun;
to help out people in school who need help;
to learn what real wisdom is;
to grow spiritually;
to learn more about the Bible and how it affects our lives.

Ways to achieve your goals:

Movies can be thought-provoking. Find some good ones (often not in the mainstream media).

Attend them together or rent them on video/DVD.
Have dinner or dessert afterward and discuss the ideas in them.
"What the #$*! Do We Know" is an excellent movie to watch which is currently out (September). It talks about the power of thought to affect our lives. It deals with quantum physics, the concept of unity, and the idea of infinite possibilities. GO SEE IT! Other movies - "Serendipity," "Matrix" (the first one), "Gandhi," "Sliding Doors," "The Gods Must Be Crazy," "Being There," "Wag the Dog"….

Books are good sources for ideas and information. Select a book of the month. You might want to ask other people for ideas on good books.

They could be on anything that you're interested in -- relationships, spirituality, business ethics, the environment, history, wisdom. Possible books to consider: And There Was Light, Mutant Messages Down Under, The DaVinci Code, Fingerprints of the Gods, Don't Sweat the Small Stuff for Teens, The Dance of Anger, You Can Be Happy No Matter What, A Story Like the Wind and A Far Off Place, Watership Down, Fahrenheit 451, Harry Potter series, The Lord of the Rings….
The book could be the Bible. If it is, make sure you come to the discussions to share ideas and inspiration, not to push your own agenda or theology.
Read them and then meet to discuss the issues over lunch or dinner or a picnic.

Have a "Hot Topic" issues circle.

If people have certain issues they want to bring up, have those issues be the purpose of the meeting.
Look at what's involved.
Work together to find solutions.
Do NOT make these gossip sessions.
You might want to read and discuss the articles from "Hot Topics" or the interviews from "Guest of the Month."

Have a "Make a Difference" circle.

Look at past and current Make a Difference ideas.
Come up with your own ways to make a difference.
Implement the ideas you discuss.

These "wisdom circles" should be making a positive influence in your lives.
Here are some proverbs that remind us why wisdom is so important:
Prov. 1:5
A wise man will hear, and will increase learning; and a man of understanding shall attain unto wise counsels:
Prov. 2:1-11
My son, if thou wilt receive my words, and hide my commandments with thee; So that thou incline thine ear unto wisdom, and apply thine heart to understanding; Yea, if thou criest after knowledge, and liftest up thy voice for understanding; If thou seekest her as silver, and searchest for her as for hid treasures; Then shalt thou understand the fear of the Lord, and find the knowledge of God. For the Lord giveth wisdom: out of his mouth cometh knowledge and understanding. He layeth up sound wisdom for the righteous: he is a buckler to them that walk uprightly. He keepeth the paths of judgment, and preserveth the way of his saints. Then shalt thou understand righteousness, and judgment, and equity; yea, every good path. When wisdom entereth into thine heart, and knowledge is pleasant unto thy soul; Discretion shall preserve thee, understanding shall keep thee:
Enjoy becoming wise and sharing your wisdom with others!