Support Tsunami Relief and Pray
Even though it's been a few months since the December 26, 2004 tsunami hit the Indian Ocean rim countries, those countries still need support. Donations have trailed off recently, but the clean-up and rebuilding work still continues. Some countries lost 80% of their population. Those who survived could use our help. Rebuilding houses, businesses, lives doesn't happen over-night. Sometimes it even takes years. That's why follow-through and long-term aid are really important. Just because the tsunami is no longer on the front page every day does not mean it's not still front-page news for those living in the countries that were hit. Some of us may have already given to tsunami relief funds, but we can always do more. We can also give those people the best possible support: we can pray for them. Below are practical and prayerful ways we can help those affected by the tsunami (and of course, those affected by disasters of any kind).
Practical Support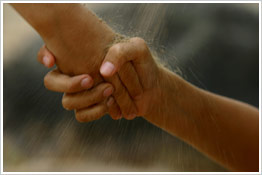 There are several ways to raise money for the victims of the tsunami through your school and clubs, church, or neighborhood community.
Decide on your monetary goal. Set a higher goal rather than a lower goal. If you aim high, you might actually get it. If you aim low, you'll settle for less.
Be aware of how different organizations are helping:

Donating livestock;
Taking care of abandoned animals;
Building houses and providing low-cost building materials;
Meeting health, water, food needs;
Helping orphaned children.

Decide how to get your aid to these people.

Decide which organization(s) you'd like to use to help facilitate your donations.
Make sure you pick the organization(s) carefully. Do your research. There are several sites on the internet, but look below the surface.
Some organizations do not give a very large percentage of the money raised to the actual victims, and instead, keep a lot for their own organization. You want your gift to help the people in those countries who need it.

Come up with a plan for raising money.

Create your own flea market or have a booth at the flea markets in your area.
Set up a garage/block sale for your neighborhood.
Sell bracelets or pendants or lemonade.
See if your school or church choirs or actors would do benefit performances.
Have a bake sale or car wash.
Simply ask for money by explaining the reasons why one should contribute.
Adopt a family.
Use your imagination!

Follow through.

Thank the people who donated to your cause.
Be aware of how the money is used once you donate it, and continue to check in with the organization to be sure it's doing its job.
Pray.
Prayerful Support
While money, food, housing, and other supplies may help to meet the basic needs, they are unlikely to meet all of them, and they can't meet the emotional needs of those individuals, the needs of the heart. But prayer can do both.
Pray to see the people who have been affected by the tsunami as God's children, not as victims. If we keep seeing them as victims, it's hard to see them as competent individuals who can go on with their lives. Yes, they need help. But seeing them as strong individuals helps them, whereas seeing them as weak keeps them in the mold of a victim.

Thou madest him to have dominion over the works of thy hands; thou hast put all things under his feet. (Ps. 8:6)
I can do all things through Christ which strengtheneth me. (Phil. 4:13)

As we pray for them, we want to make sure that we're not sending pity their way. Pity does nothing to help people. At best, pity may make people feel comforted for a moment. But our clear, honest, sincere prayers for their comfort, safety, health, and harmony will be long-lasting.

Sing, O heavens; and be joyful, O earth; and break forth into singing, O mountains: for the Lord hath comforted his people, and will have mercy upon his afflicted. (Isa. 49:13)
Blessed are they that mourn: for they shall be comforted. (Matt 5:4)
God is our refuge and strength, a very present help in trouble. (Ps. 46:1)
Behold, I will bring it health and cure, and I will cure them, and will reveal unto them the abundance of peace and truth. (Jer. 33:6)

Realize that when we pray for others, we are doing them good; we're not copping out.

We're told to "pray one for another, that ye may be healed. The effectual fervent prayer of a righteous man availeth much" (James 5:16).
When the lame beggar looked at Peter and John, "expecting to receive something of them … Peter said, Silver and gold have I none; but such as I have give I thee: In the name of Jesus Christ of Nazareth rise up and walk" (Acts 3:5-6). Peter healed the man, which meant much more than money to that man.

Trust that our sincere, honest, and deep prayers will make a difference.

Therefore I say unto you, What things soever ye desire, when ye pray, believe that ye receive them, and ye shall have them. (Mark 11:24)
If ye have faith as a grain of mustard seed, ye shall say unto this mountain, Remove hence to yonder place; and it shall remove; and nothing shall be impossible unto you. (Matt 17:20)

If we're tempted to feel like our prayers can't reach across the ocean and touch others' lives, we can remember that we're not the ones making the people's lives better from this great distance; God is. The healing power is in God. We certainly don't want to limit God. It is our job to turn to God, to affirm that He is in charge -- loving and caring for each one of us. God is fully capable of all good.

Look unto me, and be ye saved, all the ends of the earth: for I am God, and there is none else. (Isa. 45:22)
Not that we are sufficient of ourselves to think any thing as of ourselves; but our sufficiency is of God; Who also hath made us able ministers of the new testament; not of the letter, but of the spirit. (II Cor. 3:5,6)
For with God nothing shall be impossible. (Luke 1:37)

The Bible holds much more inspiration that can help us pray for the lives of those affected by the tsunami (and other disasters). Enjoy allowing God to lead you to new discoveries.
As we pray, let's thank God for all the good He has already given His entire creation, every single child. Let's thank God that all of us already have everything we need, since God made us all complete.

And God saw every thing that he had made, and, behold, it was very good. (Gen. 1:31)
My grace is sufficient for thee. (II Cor. 12:9)