Time to Celebrate Mothers!
Some of us have wonderful relationships with our moms. Others struggle for various reasons. So whether it's easy for you to be grateful for your mom, or whether it's difficult, let's take this entire month (not just the one day devoted to moms) to focus on and appreciate our moms. James' letter in the New Testament has some great ideas on how to improve our relationships. (All citations are from Eugene Peterson's The Message, James.)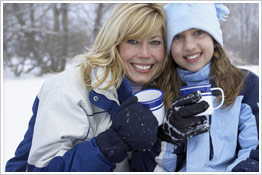 Be grateful for your mom.
Write thank you notes throughout the month to your mom, telling her how much you appreciate all the things she does for you.
Thank her for being there for you, for doing laundry, for teaching you discipline, for helping you with homework, for making lunches. The list goes on.
Put thank you notes on post-its and place them on mirrors, on top of the washing machine, on the frig.
Write a card and put it on her bed.
Tell her you love her.
Or write her a letter telling her all the things you've never been able to say to her face.
Make time to talk with your mom. Ask her how her day was. Find out what's on her thoughts. Share some of your triumphs and struggles.
If it's hard to make a gratitude list and give it to your mom, start your own list.

Start with 1 thing that you appreciate about your mom and add to it daily. It could end up being the same thing, but at least you're expressing gratitude for it.
Don't let yourself go to bed without finding something good about your mom. This will help you see the good in your mom and help you experience the good.
Work on your relationship with your mom.
Put in the time and effort it takes to develop a strong, solid, lasting, and beautiful relationship with your mom. And follow James' advice:
Real wisdom, God's wisdom, begins with a holy life and is characterized by getting along with others. It is gentle and reasonable, overflowing with mercy and blessings, not hot one day and cold the next, not two-faced. You can develop a healthy, robust community that lives right with God and enjoy its results only if you do the hard work of getting along with each other, treating each other with dignity and honor. (The Message, James 3:17, 18)
Speak with love to your mom.
Sometimes we are not that loving to our moms even though we really do love them. Sometimes we say things we don't mean.
So think before you speak. James says, "A word out of your mouth may seem of no account, but it can accomplish nearly anything -- or destroy it!" (3:5).
Make sure that whenever you talk with your mom, your tone of voice is loving.
James counsels, "Lead with your ears, follow up with your tongue" (1:19).
If you disagree with her or don't understand something she's said or done,

be calm first,
seek to understand her point of view,
and work together to find a solution that will bless.

This doesn't mean that she'll change her mind, but it will mean that

the communication process will be better,
you'll have kept your dignity, and
you will have had a respectful interchange of ideas.
Do the gardening (in the ground and in your thought).
Pull out weeds.
Plant flowers.
Water the plants.
It's simple but true that when we pull out the weeds, water and fertilize the flowers, the flowers grow.
So spend time watering the things you want to grow -- and this doesn't just mean the garden that's planted in the ground.

Tend to your own spiritual garden.
Get rid of the weeds in your thought. Get rid of any criticisms of your mom.
Replace criticism with appreciation.
Do what James tells us: "In simple humility, let our gardener, God, landscape you with the Word, making a salvation-garden of your life" (1:21).
Do things for your mom.
Instead of expecting her to cook the dinner every night, cook the dinner for a couple of nights.
Rather than wait for her to ask you to do something, take the initiative.
Do your chores cheerfully.
Bring her flowers -- and not just on Mother's Day.
Give your mom a break by taking care of a younger sibling.
Buy her a book you think she might like, and give her time to read.
Give her a pedicure or manicure.
Help her with something she's been wanting to get done and just hasn't had the time.
If there are real issues with your mom, pray, pray, pray.
Pray to see that your relationship is in God's hands.
Pray to know that God is mothering her and you.
Pray to be able to see her as Jesus would see her -- perfect, beautiful, satisfied, loving.
Pray to understand what you can do to help the situation, improve your relationship.

Be willing to hear an answer you don't want to hear and follow it.
Be willing to change.
Pray for your mom daily.
Mom's so often pray for us.
They need our supporting prayers, too.
Include your mom in your daily prayers and know that she has the strength, love, energy, peace, wisdom, grace, compassion, and everything else she needs to be able to mother and be mothered.