Walking the Path of Service
Nimo Patel is a hip-hop music artist and humanitarian. After college, he worked in New York doing strategic planning and business development, which he later left to focus on his music career, which was quite successful. He also had a successful comic strip and animation studio. But then, he decided to spend his time helping others—making a difference in their lives.
He works with underprivileged children (as well as women) in India. He is currently directing some of them in a show, which he hopes he can take on tour. The songs he writes, which center on kindness, he offers to the world as gifts. During our interview (which you can read on our site), I asked him if he had any stories to share. This is what he said:
---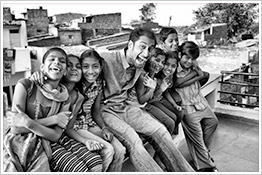 Every day is a storybook adventure. It's hard just to give one. Just a few months ago in Madison, Wisconsin, I was at a school assembly with a bunch of children. One of the boys asks a question. After the assembly, he gives me a big hug. I ask him his name; he says, "Thank you so much for coming to the school;" and the kids leave. A teacher gives me a pile of letters, and this boy's letter happens to be right there. It reads, "Thank you for coming. I'm going through a tough time in my life, and you give me hope." I asked one of the teachers about his life story and found out he's homeless right now, and his mom and brothers are living in shelter. It struck my heart deeply. I wouldn't have imagined it simply by meeting him because he's so grounded, gentle, and light.
I asked his teacher to see if we could pull off meeting him and his family during the week sometime in what has a super tight schedule for me. His mother responded with great joy, so we had an evening out in the city and went for ice cream with his mother and brothers. It was really special for me. I feel so blessed getting to travel to meet so many different souls. These types of opportunities inspire me to keep living, to stay aligned to my values, and to try to walk a path of service. This boy is reflecting that light, teaching me what it means to be humble and to stay connected to my spirit.
So as we are walking down the street, he says, "Can I ask you a question? There are so many kids. Why did you choose to have ice cream with me?" I was taken aback by his grace and humility and love. For me, that was a powerful moment. He thinks I'm doing something for him, but like all the kids, they're the ones who are giving so much back to me, to us. They're reflecting love, fueling our souls. As a result, my work feels more effortless. There's a natural flow of life that people like this young boy pave for us and teach us.
I told him I thought he was special, loving, kind, helpful, so genuine and pure hearted. I was inspired by how he acted in this time of his life. I told him that it will get better. That shelter was a very dark space with the type of people and energy and conversations I saw. But to see him, his mother and their spirit … he's the one who is inspiring. My time with him was such a blessing. It touched my heart deeply.
---
Nimo took the time to go out of his way during his busy schedule to meet with someone who really needed it. And Nimo felt blessed – hugely.
Helping others is a gift we give others, but it blesses us even more. Living a generous, giving, unselfish life is the way God created us to live. We see the world in a more positive light; our hearts open wider; we feel more satisfied and fulfilled. So let's make a concerted effort as we head toward the end of the year to take time out of our heavily scheduled lives to be kind to others, to notice them, serve them, and give them hope.