Welcoming 2017 with Unity and Peace
January is all about newness. We change our calendars, train ourselves to write 2017 instead of 2016 on anything we date, and set goals for the new year. But, that's the easy stuff. At times, the harder thing to do is to keep a good perspective on life—on the bigger issues we face as individuals, within our families, our schools, nations, or world. So we can shift our perspective and focus on seeing as God sees, acting as God has created us to act. We can listen closely for divine guidance, which is available to everyone at all times and in all circumstances. For inspiration, we can turn to the Bible and read in Ephesians: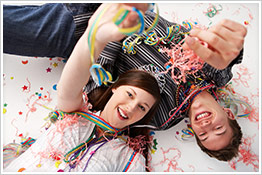 "Be completely humble and gentle; be patient, bearing with one another in love. Make every effort to keep the unity of the Spirit through the bond of peace. There is … one God and Father of all, who is over all and through all and in all" (4:2, 3, 6 NIV).
Be humble and gentle
Ponder this passage and feel peace take over your thoughts. Real humility brings with it the strength of God because you understand that God is working through you. You're not the one doing the work and claiming the glory. When you yield to God, it's easy to be gentle, to speak softly. You're not trying to force your own ways or opinions on others. Forcing is the opposite of humility and gentleness. When you focus on being excellent examples of humility and gentleness, you will affect everyone you interact with in positive ways. That's powerful!
Be patient, loving one another
When you love others, you are able to bear them up, support them, even allow them their own viewpoints without trying to make them see yours. It's easy to be patient with others when you love them. You don't have to force them to do something you want them to do, change in a certain way, or even make them hurry. You can trust that God is working with them just as God is working with you. It's in God's time, not yours. Such patience and love enable you to find solutions that are effective and inspired.
Keep unity through peace
We are to make every effort to stay united. Every effort. That's a lot of work. You do so by being active peacemakers. You give it your all to find what unites us, rather than emphasize what divides us. That brings peace. We do not incite hatred, enable gossip, or believe in lies. Rather, we dispel fear, stop rumors, and discover and speak the truth. You can trust God to give you answers of peace that unite us all in love.
One God, Father, is over and in all
We are all part of God's family. You can think of everyone as your brother or sister. God is the Father of us all; He's over, in, and through us all. Take comfort in the knowledge that everyone comes under the umbrella of God's infinite, all-encompassing love. That doesn't leave anyone out. We are all included. We are all united.
Don't fear the future
God's blessings are present for you to enjoy today. Don't waste time worrying about what might or might not happen in 2017. Know that God is always nurturing us and helping us progress in tangible ways. Focus on the good that's going on, and you'll find that it is amplified. Know that God's love is enveloping you and each one of His other children, too. There's no escaping God's love—and why would anyone want to, anyway!
Happy New Year
Welcome 2017 with open arms, trusting that God has many blessings in store for all of us. God is in control of every heart and every nation. Expect to see tangible expressions of God's love for you and for every citizen of the world in 2017, and always. Happy New Year from all of us at BibleWise!