Disaster Preparedness
Categories: Expressing God, God's Provision, Putting God First, Tragedy
With all the disasters we've had recently—from hurricanes and floods to earthquakes and fires—there is a great need for restoration and healing. There has also been a focus on disaster preparedness. While looking at the list of recommended items and supplies to prepare our family's "grab bags," I was struck by the spiritual idea behind each physical component.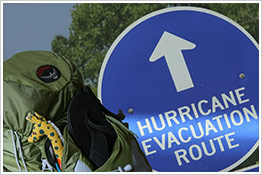 Important Documents
Birth, marriage, adoption, naturalization certificates; social security, driver's license, passport, proof of address; trust, will, power of attorney; credit card/ATM info, insurance, Medicare cards, medical/immunization records (put copies of these docs in a zippered, waterproof bag)
These documents help establish and prove our identity. So what is our spiritual identity? Who does God say we are?
We are the children of God, made in God's very own "image" and "likeness" (Gen 1:26).
Our home is in the kingdom of God. And that kingdom is "within" us, "with us" everywhere (Luke 17:21).
Our trust is safe in God: "In God I have put my trust; I will not fear what flesh can do unto me" (Ps 56:4 KJV).
Basic electronics
Extra phone, computer, phone chargers, battery pack chargers for electronics, extra batteries, AM/FM radio, hand-crank with extra batteries, flashlights, LED
These represent power, communication, light. How can we stay plugged into God?
Keep thought elevated. This will give us more energy, which is power.
Listen to God for guidance and trust the angel messages, keeping us safe. Remember the angels who guided Joseph to keep Jesus safe? The angels are here with us, too.
Shine. Jesus declared, "You are the light of the world" so "let your light shine" (Matt 5:14, 16). There are people who need your light, which comes from God who created light. We can shine. We can smile. We can uplift the downtrodden and help comfort those who feel deep loss and grief—including ourselves.
Personal Daily Necessities
Travel-size toiletries; glasses, magnifying glass; first aid kit, baby wipes, Swiss army-type knife with can opener
Daily prayer centers us and sets the foundation for the mental space we inhabit. Taking time to center ourselves with God in the morning and taking good care of ourselves throughout the day enable us to be more responsive to others. So we want to pack that which will uplift our thought, keep us mentally prepared, and help us be generous.
Pack a Bible and any other hard copies of articles or books that lift you spiritually (and don't require batteries or chargers). You can turn to these daily at any time for inspiration, comfort, support. Psalms 23 and 91 are particularly comforting.
Magnify good. We can focus on the crisis, or we can focus on all the good that is going on. Focusing on good, on God, brings healing.
Trust God as our first aid. God answers our prayers: "But you [God] heard my cry for mercy and answered my call for help" (Ps 31:22 NLT).
Clothing
Pack in layers, enough for a few days, as well as lightweight rain gear and waterproof boots
Clothing protects and comforts our bodies. We need to protect and comfort our thoughts, our souls, our spirits as well. How do we do that?
While we cannot choose where fire or earthquake or hurricane floods hit, we can choose how we clothe our thoughts and how we respond to the disaster.
We choose to be happy in miserable conditions, strong in the face of destruction, grateful despite loss.
We protect our thoughts from hate, despair, anger, jealousy.
Even amidst sorrow and pain, destruction and loss, we can be resilient and grateful for something, no matter how small it may be. And that makes all the difference. Gratitude is strong enough to lift us out of a deep, dark pit.

Food and drink
Water and granola/energy bars

God sustains us. He made water come out from a rock in the wilderness for the children of Israel, provided them manna and quail to eat. And Jesus reminds us that we don't have to worry about a thing: "Therefore I tell you, do not worry about your life, what you will eat or what you will drink, or about your body, what you will wear. Is not life more than food, and the body more than clothing?" (Matt 6:24 NRSV). God's got us covered.

Cash
Enough money for a few days, including small bills and a roll of quarters for vending machines, etc.

God supplies all our needs: "The Lord is my shepherd; I have all that I need (Ps 23:1 NLT). We can never lack: "And my God will fully satisfy every need of yours" (Phil 4:18 NRSV).

Pets
If we have pets, they need provisions, too. So let's think about everything they need: food and essentials, dish for water and food, leash, blanket, poop bags, etc. Then pack a small bag for them.

God created everything, including our beloved animals, and we have the privilege of caring for them. What a joy!

Bag
So as we prepare our bags (which need to be lightweight and small enough to run with), we can also prepare our thoughts. This includes praying for all those who have been hit by disaster that they can feel protected, safe in God's care, and able to move forward with peace and hope. May we all feel the comfort of God's tender mercy carrying and sustaining us.

And if we lose it all…
We can know that our inheritance is secure, for "since we are [God's] children, we are his heirs. In fact, together with Christ we are heirs of God's glory" (Rom 8:17 NLT). God's goodness continues forever: "For the Lord is good. His unfailing love continues forever, and his faithfulness continues to each generation" (Ps 100:5 NLT).

Also featured this month:

The news spreads images of disaster. But we can have a healing response: "What Do You See?" It can change the world.